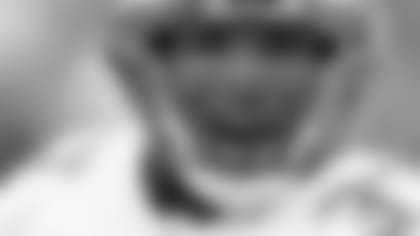 ]()ST. AUGUSTINE, FLA. – Rodney Harrison has gotten a lot of attention this week for his vociferous rebuttal to Eagles wide receiver Freddie Mitchell's comments about the Patriots secondary. Over his career he's gotten a lot of attention for being one of the most fined players in NFL history and his reputation as an overly physical, borderline dirty player.
But what he should be getting noted for is his play on the football field. Harrison led the Patriots with 138 tackles this season while adding three sacks, two interceptions and three forced fumbles. Maybe even more impressive was the job the 11-year veteran did holding together a defensive backfield that lost both Ty Law and Tyrone Poole to injured reserve and went to battle with the likes of Troy Brown, Don Davis, Earthwind Moreland and Randall Gay at times during the season.
It's a role that Harrison, one of New England's defensive captains, embraces.
"Basically my job as the elder spokesperson back there in the secondary is just really to help those guys out," Harrison said in his Thursday morning press conference at the Renaissance World Golf Village. "They always joke with me and call me 'Old Man.' They call me the old guy on the team but it's just a matter of me trying to set that example on and off the field, challenging these guys, making sure that we get the most out of them. It's tough sometimes dealing with young guys because sometimes they have a sense of 'We know it all.' But our young guys -- I've been fortunate to play with these guys and they listen, they're humble guys and they work every day to get better. That really helps me out with my job."
"Each week we emphasize everyone getting better, especially if you're a young player, inexperienced. You have to get better each and every week. And these guys, they listen. And that's the key ingredient for the success they've had this year. They listen, and they want to get better. It's not like they got complacent once they had a successful game. Our motto is kind of, 'Regardless if we win or lose you try to put that game behind you as well as your performance.' It doesn't matter if you went out there and had ten tackles and two interceptions, you have to put it behind you and move forward and learn from your performance to get better each and every week. Those guys did a great job of that. It's so hard to see that, because when you're a young guy sometimes you start to feel good about yourself. But we have so many veterans on our team that keep them right where they need to be, keep pushing them down so that they can continue to work hard to get better."
But even Harrison admits to having doubts early on in getting past the potentially devastating injuries in the secondary.
"When you lose an All Pro cornerback and a guy who played on a Pro Bowl level like Tyrone Poole, I think we all kind of thought, 'what are we all going to do now?'" Harrison said. "But I really think that sent out a personal shot at our corners saying that they're going to have to step up their game as well as everyone else stepping up their game and putting more pressure on the quarterback. For the most part, we've done everything that we've done in the past. We're not changing anything. We don't have any special game plan in. We're just playing. If it's man, it's man. If it's zone, it's zone. I think Coach Belichick and Romeo (Crennel) have done a great job just letting us play and not being scared that our guys are going to get beat out there and just playing football. And those guys have done a great job just making plays."
Harrison and his fellow defensive backs face their final challenge of the season on Sunday against Donovan McNabb and a versatile Eagles offense. And based on the results of the rest of the group's tests this season, betting against Harrison and Co. isn't a wise proposition.
Rookie reportDefensive linemen Vince Wilfork and Marquise Hill are at opposite ends of the Patriots rookie spectrum. Wilfork started six of 16 games played during the season while Hill saw action in just a single contest while being listed as an inactive for 13 games. But both players have enjoyed their first NFL season in New England.
Hill's last year has been a tumultuous one, going from winning a National Championship at LSU to preparing for a Super Bowl.
"It's been a long season for me," Hill said of easing into his limited rookie role for the defending champs. "I went straight from the National Championship to the combine to the pro days and now to here. The regular season would have been long, but then the Super Bowl, it's been an experience.
"Hey, I am not complaining. I am just saying it's different. It's not like I can relate to the other rookies because nobody else has done it," he added jokingly.
![]()For Wilfork, the transition to life in New England was easy. The former University of Miami star found comfort in the Patriots workman-like environment.
"It's one thing to go out to practice and see your veterans sitting on the sidelines and not doing anything. It's another thing to go to practice and see your veterans working harder than some of your rookies or first year guys who are starting their career," Wilfork said. "So when I got here I saw a lot of guys just working hard. In the offseason program they were just working their tails off. I knew I was at home. It felt like I was at home right then and there. I am happy to be a part of it. They are all about winning. It's all about football. It's a family. That's what it's all about."
OvertimeNot that it's anything out of the norm for NFL coaches, but it's a well-known fact that Patriots coaches put in as much office time as any staff in the league. From Bill Belichick down to the lowest assistants, working overtime is just the way it is at Gillette Stadium and that is one of the underlying reasons for New England's success.
"Our coaches do a great job of scheming," veteran linebacker Willie McGinest said. "Belichick and our staff, Romeo Crennel and Charlie Weis, those guys spend countless hours inside that building. I mean if you look in their offices some of them have those little blow-up beds where they sleep some nights. They do a great job. They definitely put in the time and the hours to get the best game plan and best schemes we play against. There is something new every week and they put in countless hours to prepare us to put us in the best positions to go out and play."
NotesTom Brady's grandmother passed away Wednesday night at the age of 94. According to the Associated Press, Margaret Brady had suffered a stroke earlier in the week. Brady, who said Thursday that he was "really, really close" to his grandmother, will use the loss as extra motivation. "It has been a long road for my family," Brady said. "It will be really nice to get this game underway. My mind has been here but my heart has been home. It's going to be nice to go out and play this game and now I have an even better reason to play this game … I really wish I was [with his family], but duty calls here." … For the second straight day, New England did not report any injuries on Thursday's injury report. … Patriots Head Coach Bill Belichick and Eagles counterpart Andy Reid will hold press conferences Friday at the Prime Osborn Convention Center in Jacksonville. The media activities will also include a press conference by NFL Commissioner Paul Tagliabue as well as the announcement of the Walter Payton NFL Man of the Year. … Harrison is another guy happy to see Richard Seymour back on the practice field. "We're only talking about the best defensive tackle in the game -- a big physical presence at 6-6 and 320 pounds. He looks pretty good to me. I'm excited to have him back. Richard is a leader, he's a playmaker. He's such a big, dominating presence you have to account for Richard. We're excited with Richard being able to play this week, just his leadership which he brings to the locker room and his presence on the field." … Patriots practice was cut short by 12 minutes due to slippery conditions at Bartrum Trail High School on Thursday, costing the team three scheduled practice segments. "I just don't want to lose a guy at this point," Belichick said. … Seymour was held out of portions of practice but Belichick said his Pro Bowl defensive tackle is "ready to go." "We'll see exactly how much he can do, but at least we will have him more than last week," Belichick said.