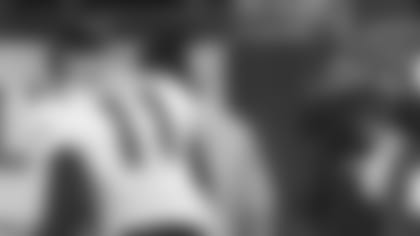 ]()Patriots safety Artrell Hawkins was not on the Patriots' 53-man roster when the season began. In fact, he wasn't on any team's opening day roster. Hawkins, an eightyear veteran from the University of Cincinnati, was with the Washington Redskins when they opened training camp this season but was released after suffering an injury early in camp. Hawkins kept thinking positively and continued to work hard while he waited for his next opportunity in the NFL.
"You have to keep your spirits up and continue to prepare and eventually the hard work pays off."
It was not easy for Hawkins to watch the games on Sundays at home. He knew he belonged out on the field and he was just waiting for his phone to ring.
"It's hard to watch football because you know you should be playing." Hawkins said. "You're just hoping for another opportunity and that opportunity came for me in the form of Coach Belichick and the Patriots."
Hawkins, who had started 78 games at cornerback, was moved to strong safety upon his arrival in New England.
Switching positions, especially in the defensive backfield, is no easy task. If that was not challenging enough, add on to the fact that he was joining a new team in the middle of the season and had to learn one of the most complex defenses in football. Although it was a lot to ask for any player, Hawkins relished the opportunity to just play football again.
"If it gets me on the field in a greater capacity, then I'm willing to play nose guard," Hawkins said. "I learned that early in my career. You can stick to your guns and put yourself in a box and say I'm just this kind of player. I'm a corner, I'm a tailback. But just look at Troy Brown. He's a receiver who plays defense when needed, and if you can get on the field that's the most important thing."
However, it's one thing to be willing to switch positions but being mentally and physically able to do so is a totally different story.
"It's like going from being a righthanded hitter to being a left-handed hitter," Coach Belichick said. "Now you're seeing the game from inside out versus seeing the game from outside in. Some players can't make that transition adjustment. Some players see it better from one perspective or the other, for whatever reason."
Hawkins has proved that he has been able to make the transition smoothly. His coming out party came in the Week 14 matchup against the Tampa Bay Buccaneers, when he recorded seven tackles and a sack. Most notable was his goal-line stop of Buccaneers running back Cadillac Williams, which showcased Hawkins' physical nature that as cornerback he wasn't able to utilize as much as he would have liked.
"I played tailback the first 10 years I played football, so contact is something I've never been afraid of," Hawkins said. "It's just an attitude. Every week I do a little bit of meditation and put myself in different situations. I knew that situation was going to come up."
It would be fair to say it has been a season of firsts for Hawkins. Not only has he made the transition to safety, he is also making the first playoff appearance of his career.
"Understanding and realizing what's at stake I get kind of nervous because this is what I've been working for my whole career and not just my NFL career. As far back as I can remember, I've wanted to play in the Super Bowl, and in order to play in the Super Bowl you have to do well throughout the playoffs."
Hawkins, who played his first six seasons for the Cincinnati Bengals (1998- 2003) and one season with the Carolina Panthers, had never played on team with a winning record.
"This is why you play the game. You play to win. This is my first winning record and my first playoffs, so I'm excited."
Hawkins is also playing football with a different approach than in previous seasons. The challenge of learning a new position on a winning team has lit a fire inside of him.
"It's a challenge. I've kind of regained my love for the game," Hawkins said. "Because I'm playing a new position, I have to sit down, I have to study. I'm more prepared. I have guys asking me questions now. It feels good. I'm learning things in the NFL at 29, things I haven't known or paid attention to for eight years. It's a rejuvenation."
Hawkins is living his dream right now. All he wanted was an opportunity to get back in the NFL and he was fortunate enough to be picked up by a playoff-caliber team. After playing eight years in the NFL, the versatile defensive back is going to try to propel the Patriots back to the Super Bowl.
"I couldn't really ask for a better situation. It's a great team, with great ownership and with a head coach who has won the big game more than once...more than twice."
There is no doubt Hawkins will make the most of his opportunity tonight, just as he has throughout the season.