It's the heat of the summer, but already, some high school football teams have begun preparations for this fall's new season. You might see a group of teenage boys running down Main Street in your hometown or running through cone drills on a nearby field. In some states, particularly down south, football season begins with games in August, which is only a few weeks away. August is also the month when most Pop Warner and other youth football leagues begin practicing.
That got us thinking ... Each of today's New England Patriots was, at one time, a high school football player (including right guard Stephen Neal, who eschewed football in college to focus on wrestling). Did they come from successful programs? How many different positions did they play back then? Did they dream of one day playing in the pros, or did football even matter much to them at that time?
The answers to those and other questions posed to several Patriots were as varied and entertaining as the individuals themselves. Turns out, the quality of their high school experiences depended, in many cases, on geography (just wait till you learn linebacker Adalius Thomas' thoughts on the subject).
But a common thread in all their stories was evident – they each relished the simple joy of playing high school football.
Actor Robert Downey, Jrplayed a convincing Iron Man in last summer's silver screen adaptation of the eponymous comic book hero.
But he's got nothing on offensive lineman Russ Hochstein, who played a pretty good iron man, too – several autumns ago on the fields of Nebraska. You see, in tiny towns like Hartington, from which Hochstein hails, corn-fed boys like him could grow to be quite large; there just weren't enough of them to go around.
"We had around 30 kids come out for football. And that's all we had," he explained. "You played iron-man [both offense and defense], you were in good condition, and you helped out on every special team you could, wherever you were used. That's how we rolled."
While the rosters may have been thin, Hochstein was not. At well in excess of 200 pounds, he went on the play for his hometown Cornhuskers at the University of Nebraska, becoming the first blue-chip recruit and college scholarship player to come out of his alma mater, Cedar Catholic.
Despite their small squads, Hochstein said his teams never got to a point where they were in jeopardy of not being able to field 11 players. In fact, his Cedar Catholic Trojans were quite competitive.
"We had pretty good teams and made it to the playoffs every year I was there," he pointed out. "We made it to the semi-finals one year … never made it to the championship game."
Which means he never got to play on Thanksgiving, when Nebraska's state championships are held. But the playoffs provided Hochstein with his most enduring high school football memory.
"When the two schools in my small town ended up facing each other in the playoffs my senior year, my best friend happened to be playing for the other team. That was my fondest memory, and we both talk about it to this day. It was a great time playing against each other."
Kicker and former Madison (Miss.) Central Jaguar Stephen Gostkowskiknows something about playing against friends. He did so twice last season. Two of his former high school teammates are now on NFL teams: linebacker Parys Haralson of the 49ers and center Chris Spencer of the Seahawks. Gostkowski said he also keeps in touch with some of the other guys he played with back at Madison, at one time a nationally ranked program.
"We were really good my sophomore year. We were, like, tenth in the nation and we won the state championship, which was pretty cool," Gostkowski proudly recalled. "They showed the game on TV, and that was huge at that age. It's really exciting. When we got our state championship rings, everybody was wearing them to school."
Several thousand fans would show up to watch Madison play during Gostkowski's career there.
"We had a decent sized stadium for Mississippi," he said, "and it was always full."
Unlike iron man Hochstein, Gostkowski, from day one, played just one position at Madison. The one he plays to this day. He tried out for several positions his freshman year, but the varsity needed a kicker, and he won the job.
Knowing he wouldn't see much, if any, playing time at another position, he stuck with kicking. But he admitted it bored him, and Gostkowski, who also played soccer and baseball for the Jaguars, almost didn't return to football as a result. College recruiters offering scholarships soon changed his mind.
"I went out for free safety and quarterback my junior year," Gostkowski continued, "but I had a sit-down with my coaches and they said, 'Getting a scholarship coming out of Mississippi is pretty rare.' They didn't want me to ruin my chances when I already had offers.
"They said if I wanted to, I could play another position, but I just made what I thought was the smartest decision for me. It was just the best chance to get a scholarship."
Mississippi may not be the hot bed of football talent that states like Texas, Pennsylvania and California are, but it's certainly on colleges' radar screens. The same cannot be said of the place where another Patriot played his high school ball.
Serious hockey fans have at least heard of Brantford, Canada, hometown of The Great One, Wayne Gretzky. Most college football scouts, however, would probably have difficulty finding it on a map (it's in the province of Ontario, about 90 miles northwest of Buffalo, NY, by the way).
That helps to explain why Nick Kaczurwasn't recruited coming out of Brantford Collegiate Institute, where he was voted the offensive MVP in his junior and senior seasons.
The rules for Canadian high school football, according to Kaczur, are a mix of both the NFL and Canadian Football League (CFL).
"We still had the 12 guys and the fields were bigger, like they are in the CFL," he explained. "But we had four downs. That was probably the only different part. We don't get into three downs [in Canada] until college. Other than that, a lot of the rules are the same."
Brantford had decent teams, two of which were champions during Kaczur's time there. But there was a catch.
"Yeah, we won two championships. The thing is," Kaczur laughed in his gargling baritone, "we only had four teams in our league. It was really small, you played every team twice, and then everyone made the playoffs. So, if you had the worst record, you were still in it. There was only a semi-final game and a final game. But we were there every year in the championship game. Lost it once, won it twice."
What about the fourth year? That game didn't get played due to a teachers' strike.
Kaczur knew all along that he wanted to play big-time college football, but the odds of being discovered where, he also knew, decidedly against him.
"I really don't think anybody's going to go up there and watch one of those games," he declared, grinning.
It finally took an impressive showing at a Canadian football summer camp, attended by several Division I American colleges, to catch the eye of the University of Toledo coaching staff, which offered him his coveted scholarship.
While Kaczur was doing whatever he could to get noticed, his fellow Patriots lineman, Logan Mankins, couldn't have cared less.
"I don't remember too much about it," he said of his football experience at Mariposa County (Calif.) High School. "It wasn't that big a deal to me."
It didn't occur to this eventual Pro Bowl guard that football would be in his foreseeable future. For one, Mankins' green-and-gold Grizzly teams never made the playoffs. And it wasn't until after his senior season that colleges – actually, one college – became interested in him.
It just so happened that Fresno State decided to visit Mariposa that year for the first time, and they liked what they saw in the latent talent, Mankins. He accepted the coaches' offer with all the excitement of an IRS audit.
"They looked at me and said if I walked on, they'd give me a scholarship the next year. I was like, 'All right.'"
When he enrolled at Fresno State the following fall, he became the first Mariposa alumnus to play Division I football. And that's when he realized he should start taking this pigskin thing a little more seriously.
"I went down there and ended up starting my freshman year and thought, 'I can play this game.'"
Mankins' apathy toward high school football provides a stark contrast to the views of Adalius Thomason the subject.
Thomas was enjoying some alone time, quietly surfing through text messages on his phone. He was sitting facing his locker, looking about to nod off at any moment, when a question about high school football woke this bear of a man from his near hibernation.
Turns out he is a bear with a bee in his bonnet over the way high school football is treated here in New England.
"Football is totally different down south than it is up north," he declared, his eyes becoming wide as saucers as he began his passionate diatribe.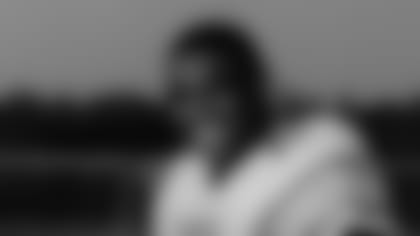 ]()"Everybody plays on Friday night, under the lights, 7 o'clock, and it's on the news everywhere. I haven't seen a high school game on the news here since I got here. I mean, back home, there's Channel 6, Chopper 6 … they'd fly in the chopper and go from game to game covering high school football.
"Here? I didn't even know they had teams. I've never seen anybody practice, I've never heard anybody talk about it. I've never heard a [news] segment talking about high school football. You never see it. All you hear is Patriots, Celtics, Red Sox. Only thing you ever hear about here. So, high school football here …When do they play? Saturday?"
Informed that some games take place on Friday nights, while others are on Saturday mornings or early afternoon, Thomas shook his head in disbelief.
"No, you have to play on Friday nights," he countered. "7:30? It's going down. That's what my memories are."
Thomas recalled several thousand people attending his high school games in Alabama, despite the team's record.
"We were never really good at football," he admitted (Oddly enough, Thomas' Central Cougars were a basketball powerhouse, and he was recruited by colleges more for his court skills than for football. But he ultimately chose the gridiron because he felt his chances of playing were better there.).
"Went to the playoffs a few years ago, but we weren't good when I was there. It was a new school at the time."
And being a new school, Central didn't have an archrival because the two schools from which it was formed were once rivals themselves.
"And that was a 40- or 50-year rivalry. Rockford versus Goodwater. Black and gold versus red and white. Mom went to one school, dad went to the other," Thomas added, laughing.
The bear was happy once again.
When asked if he ever played in a Thanksgiving Day game, Thomas shook his head and smiled.
"No, we were eating turkey."
Not surprisingly, eating was a favorite part of high school for Florida native Vince Wilfork. In the Patriots media guide, the 6-2 nose tackle is listed – generously, perhaps – as weighing 325.
"Man, partying," Wilfork began as a huge grin appeared on his face, "the day after the game and the night after the game. Basically going out to eat with your friends and going to parties.
"I'm a big chicken guy, and we had this little wiiing place that we went to every night after a game."
You can detect a slight southern accent in Wilfork's voice as he slowly, carefully emphasizes 'wing' by stretching out the 'i' in the word longer than most people would.
"We used to order about 300 wiiings. There'd be probably 10 of us, and we'd just sit there and eat wiiings all night. R.J. Gators … that was our place."
It was easy for Wilfork to work us such an appetite because it seems he never left the field during games.
"Everythiiing," he noted, stretching out that 'i' again. "You name it, I played it."
"If it was on the line of scrimmage, or linebacker, I played it. I played safety, quarterback, running back, fullback, receiver."
The only position he admitted he didn't play was cornerback, and only because his coaches wouldn't let him.
"Nah. Corner is tough. I wanted to play it, but they were like, 'Uuuuuuh … you ain't gonna cover no guy that's running full-speed down the field.'"
The crowds that came to Lantana, Fla. to watch Wilfork's Santaluces High School games were nearly as big as the ones he sees in the NFL.
"The stands would have 50,000 people," he boasted. "You'd have people standing around the field."
Especially when Santaluces played rivals like Atlantic High School of Delray Beach, or Lakeworth High School.
"I made the playoffs every year I played, all four years. Made it as far as the semi-finals and lost it. We had some talent ... It was big-time."
Impressive, no doubt. But as they say, everything's bigger in Texas, and that's certainly true of high school football.
"We had a couple of rivals. Leveland, Texas and Plainview, Texas," recalled tight end David Thomas. "It's always town bragging rights and all that stuff. Usually, you know a lot of the guys on the other teams in rivalry games."
Thomas, who, in addition to tight end, played QB, linebacker and kick/punt returner in junior high and high school, was given a choice to play offense or defense at the University of Texas when recruiters came calling.
"I chose offense because I felt that was the best spot for me," he said.
Thomas wasn't the first Frenship [sic] High Tiger to play Division-I football. Typically, one player per class makes it, he said, while a few others may wind up in I-AA or Division II.
"This year at my high school, there was a kid who's going to go play at Texas, where I did," Thomas revealed. "I try to keep up with him and keep in contact with him."
Which is what it seems to all comes down to for these young men – the camaraderie and bonds they forged in high school that remain long after graduation.
"I think high school football is a lot of fun," David Thomas concluded. "It really shapes your character when you're a kid learning to play."
"Yeah, I was really good friends with some guys," said Kaczur. "They're life-long friends now. I talk to them every now and then."
"I was on the varsity as a freshman," Gostkowski pointed out. "It was good way to help fit in with the older guys. Just the excitement behind it. There's no other sport in high school that brings that kind of excitement. Other sports I played were exciting, but not to that degree."
Of them all, Hochstein perhaps summed up high school football the best.
"You played everything you could to help your team, and I loved every minute of it."