With pro days all but wrapped up, it's time to take another look at the top prospects heading into the 2012 NFL Draft. Several players greatly improved their stock since we last checked in after the NFL Scouting Combine at the end of February. As a result, other players were passed and slid down the board.
So here are my updated rankings of the top 100 prospects (previous rank in parentheses):
1. Andrew Luck, QB, Stanford (1)
Luck has better speed and athletic ability than expected. He has great concentration and the work habits that are needed to be a successful NFL quarterback. He completed 77.8 percent of his passes in the fourth quarter, which is six percent better than the next-best QB in the draft (Brandon Weeden at 71.6). That's very telling of Luck's ability.
2. Robert Griffin III, QB, Baylor (2)
Griffin has great self-confidence and poise. He completed 67.2 percent of his passes on third down for 558 yards and five touchdowns last season. Against the blitz, he completed 62.5 percent of his passes for seven touchdowns and no interceptions. He had a quarterback rating of 187.6. He can be a special player.
3. Matt Kalil, OT, USC (3)
Kalil's father played in the NFL and his brother, Ryan Kalil, is presently an All-Pro with the Carolina Panthers. Matt's very light on his feet and has long, 34.5-inch arms. He looks like a tight end playing the position and competes with a great deal of passion.
4. Quinton Coples, DE, North Carolina (4)
Coples has the traits that lead to success at his position. He ran a 4.8 and did 25 bench reps. But he has played better on third down than on first or second. On third down, he had seven pressures; he had just five total on first and second down. He doesn't rate as high as Ryan Kerrigan or J.J. Watt did when they came out.
5. Trent Richardson, RB, Alabama (6)
Richardson surprised everybody when he ran 4.48 and had 25 bench reps. He caught the ball with ease, including a great one-handed grab. He's a compact player with quickness and explosiveness and can be a good pass protector.
6. Ryan Tannehill, QB, Texas A&M (7)
Had a great workout on in front of 32 teams and moved well, especially to his left, which is not common for right-handed quarterbacks. He completed 65 of 68 passes, including two drops. He had more drops last year during the regular season than any other quarterback.
7. Morris Claiborne, CB, LSU (5)
Long arms might be his best asset and he ran better than expected (4.4) at the LSU pro day. He can turn and run with receivers and has good ball skills to go along with outstanding quickness.
8. Melvin Ingram, OLB/DE, South Carolina (10)
Can play three positions: defensive end, tackle and linebacker. He was a high school running back and has a good motor with wide receiver speed.
9. Luke Kuechly, LB, Boston College (11)
Can play inside or outside and has a great worth ethic. He posted a 4.58 40 and performed 27 bench reps with a 38-inch vertical, which tells you he's fast, strong and athletic. He makes tackles in the hole and still covers in space. He is a rare talent who will be very good for a long time.
10. Riley Reiff, OT, Iowa (8)
Reiff has been well-coached in fundamentals. He has very good quickness and footwork and was an outstanding wrestler in high school, going 131-1. He will play in the NFL for a long time.
11. Dre Kirkpatrick, CB, Alabama (9)
Kirkpatrick has good ball skills and can play press coverage. At 6-foot-1 with 4.51 speed, he can turn and run with receivers and has good running and jumping ability.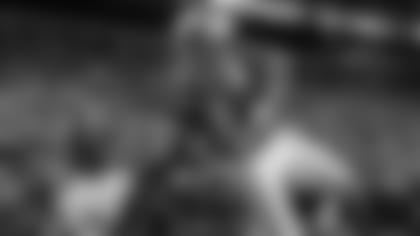 Michael Floyd, WR, Notre Dame (16)**
Floyd had a great workout when he brought back Jimmy Clausen to throw the ball to him. He caught 95 passes last year for 1,106 yards, but 557 of those came after the catch. He's very athletic, has long arms, good jumping ability and good long-range potential.
13. Justin Blackmon, WR, Oklahoma State (12)
He's more advanced than Floyd at this point and is dangerous after the catch, particularly on quick slants. He was targeted on third down 32 times and made 25 catches resulting in 19 first-down conversions.
14. Michael Brockers, DT, LSU (21)
Brockers has a big frame with very good upper-body strength, although he has not played a lot of football. He's about a year away from reaching his full potential as a defensive lineman. This is a very big man.
15. David DeCastro, OG, Stanford (14)
DeCastro is the prototypical lineman at 6-5 and 316 pounds. He did 34 reps on the bench press. He can pull, lead and is also good in pass protection. DeCastro's similar to Steve Hutchinson, who has made more Pro Bowls than anyone else in his 2001 draft class.
16. Courtney Upshaw, DE/OLB, Alabama (17)
Upshaw ran a 4.74 at 279 pounds. I think his best position is defensive end, and I don't think he has enough ability to play linebacker in the NFL.
17. Dontari Poe, DT, Memphis (13)
Prior to the combine, he was 51st on this list. He's a big boy, but did 44 bench reps and ran under 5.0 in the 40. He played better at the end of last season. He doesn't seem to play hard on every down, but that might be because he doesn't have that good of recognition. This is a take-a-chance player -- he could be great or he could end up like Albert Haynesworth.
18. Janoris Jenkins, CB, North Alabama (15)
Jenkins is an excellent football player. He's very smooth in coverage and has good speed, long arms and plays taller than his size (5-10). But his off-field issues may prevent him from being drafted as highly as his raw talent suggests.
19. Mark Barron, S, Alabama (26)
Barron had a really good pro day. He's very smart and gets people lined up in place on defense. He ran a 4.54, but wasn't completely healthy. He has excellent ball skills and will tackle.
20. Fletcher Cox, DT, Mississippi State (25)
I probably should rate him higher (and might do so when I file my final Hot 100 during draft week). He's a good inside player and goes hard every down. He'll be a very steady NFL player.
21. Cordy Glenn, OL, Georgia (23)
Glenn is a very versatile player who can play three positions if needed: tackle, guard or center. Plus, Georgia players seem to perform better in the NFL than what they show in Athens.
22. Jonathan Martin, OT, Stanford (20)
Martin is a technically sound offensive lineman. He's regarded as somewhat of a finesse player and some scouts would like to see him be more aggressive.
23. Nick Perry, DE, USC (24)
If you want to see a dominant performance, watch Perry against Washington and you will see what he can do. He can rush the passer and play in space. He ran a 4.57 at 271 pounds and pumped out 35 bench reps.
24. Whitney Mercilus, DE, Illinois (29)
Mercilus only started for a year and a half at Illinois, but he had a great 2011 with 16 sacks. He is somewhat of a risk, but offers plenty of upside.
25-A. Jerel Worthy, DT, Michigan State (30)
Worthy can rush the passer and has excellent athletic ability. The biggest thing with him is he needs to work harder and be more competitive.
25-B. Stephon Gilmore, CB, South Carolina (59)
Gilmore stood on his outstanding times at the combine, but did work out at South Carolina's pro day and looked great. He solidified his status as a likely first-round pick. (Editor's Note: Gilmore was inadvertently left off an earlier version of this list.)
Kevin Zeitler, OG, Wisconsin (52)
Devon Still, DT, Penn State (19)
Dont'a Hightower, LB, Alabama (37)
Stephen Hill, WR, Georgia Tech (32)
Alshon Jeffery, WR, South Carolina (75)
Kendall Wright, WR, Baylor (27)
Coby Fleener, TE, Stanford (46)
Brandon Weeden, QB, Oklahoma State (56)
Kirk Cousins, QB, Michigan State (86)
Brock Osweiler, QB, Arizona State (63)
Kendall Reyes, DT, Conneticut (33)
Andre Branch, DE, Clemson (38)
Zach Brown, OLB, North Carolina (18)
Dwayne Allen, TE, Clemson (32)
Rueben Randle, WR, LSU (22)
Shea McClellin, OLB, Boise State (53)
Doug Martin, RB, Boise State (68)
Vinny Curry, DE, Marshall (41)
Harrison Smith, S, Notre Dame (78)
Brandon Boykin, CB, Georgia (33)
Mike Adams, OT, Ohio State (48)
Jayron Hosley, CB, Virginia Tech (42)
Chandler Jones, DE, Syracuse (73)
Amini Silatolu, OG, Midwestern State (83)
Peter Konz, C, Wisconsin (47)
David Wilson, RB, Virginia Tech (34)
Lamar Miller, RB, Miami (Fla.) (36)
Brandon Thompson, DT, Clemson (40)
Jamell Fleming, CB, Oklahoma (44)
Orson Charles, TE, Georgia (43)
Bruce Irvin, OLB/DE, West Virginia (51)
Lavonte David, LB, Nebraska (58)
Juron Criner, WR, Arizona (71)
Mychal Kendricks, ILB, California (NR)
Bobby Wagner, LB, Utah State (92)
LaMichael James, RB, Oregon (62)
Josh Robinson, CB, Central Florida (84)
Billy Winn, DL, Boise State (54)
Rishard Matthews, WR, Nevada (Reno) (NR)
Kelechi Osemele, OL, Iowa State (28)
Chase Minnifield, CB, Virginia (49)
Alfonzo Dennard, CB, Nebraska (50)
Bobby Massie, OT, Mississippi (90)
Trumaine Johnson, CB, Montana (77)
Chris Givens, WR, Wake Forest (45)
Jared Crick, DL, Nebraska (57)
Jeff Allen, OT, Illinois (NR)
Mohamed Sanu, WR, Rutgers (55)
A.J. Jenkins, WR, Illinois (65)
Casey Hayward, CB, Vanderbilt (66)
Ronnell Lewis, DE, Oklahoma (67)
Sean Spence, LB, Miami (79)
Chris Polk, RB, Washington (82)
Mike Martin, DT, Michigan (76)
Alameda Ta'amu, DT, Washington (88)
Tyrone Crawford, DE, Boise State (72)
Keenan Robinson, LB, Texas (93)
Trevin Wade, CB, Arizona (94)
Joe Adams, WR/KR, Arkansas (80)
Donald Stephenson, OT, Oklahoma (96)
Bernard Pierce, RB, Temple (89)
Ladarius Green, TE, Louisiana-Lafayette (NR)
Zebrie Sanders, OT, Florida State (60)
Cam Johnson, DE/OLB, Virginia (NR)
Brandon Taylor, S, LSU (NR)
James Brown, OG, Troy (85)
Brandon Washington, OG, Miami (Fla.) (70)
Nigel Bradham, LB, Florida State (91)
Brian Quick, WR, Appalachian State (NR)
Brandon Hardin, DB, Oregon State (NR)
Dwight Bentley, CB, Louisiana-Layfayette (95)
Josh LeRibeus, OG, Southern Methodist (97)
Brandon Mosley, OT, Auburn (98)
Trenton Robinson, S, Michigan State (99)
Taylor Thompson, TE, Southern Methodist (NR)