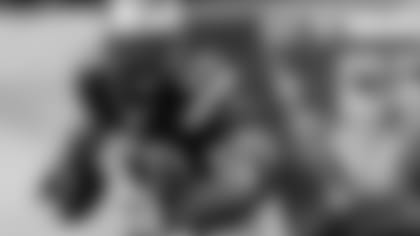 Rob Ninkovich** was originally selected by New Orleans in the fifth round of the 2006 NFL draft. He suffered a knee injury as a rookie and was waived a year later. The Dolphins then picked him up, and he spent time between Miami's practice squad and active roster for the next year and a half before being re-signed by New Orleans. The Saints released him again at the end of July 2009.
What's your earliest football memory?
Stepping on the scale in eighth grade - I'd just moved to a new town, New Lenox, Ill. - and I tried to play for the Mustangs. I was 185 pounds and the weight limit was 135, so, they said, 'Just wait till high school.' I was disappointed. Freshman year of high school I was a guard.
And still bigger than most kids?
Yeah, that's why they stuck me there (laughs).
What was it like putting pads on for the first time?
There's film of me running around freshman year not touching a soul, just missing people, not even knowing because it was my first year and kids had been playing since Pee Wee and knew a little about the game. I had no clue what I was doing. I'd see someone get hit and say, "Man, that doesn't look fun right there. Looks like it hurts."
What was your first big play?
My sophomore year they switched me to defensive end, and that was more my style. Got moved up to varsity and had a sack. It was pretty sweet.
Who did you root for in sports then?
Well, the Bears were terrible, so, in the '90s, I was a big Cowboys kid. Had the bedspread, Emmitt Smith posters. I wanted to be a running back my whole life. That only happened my senior year of high school. That was it.
What was your first job?
I worked landscaping when I was 15. I remember walking in, the guy saying, "How much do you want to get paid an hour?" I said, "Seven dollars?" He said, "Fine." I thought, "I should've asked for more." It was awful because I was just filling up barrels of stone. That's all I did was shovel stones.
Overworked, underpaid.
Exactly (laughs).
What was your first car?
A 1987 yellow Mustang. My neighbor down the street had this car, it had white doors, red body, blue trunk, blue hood. Then he repainted it and it looked sweet. I think it was $1,000. It was a convertible, too, and the snow in the winter, as I was driving, there'd be little flakes coming inside the car. It didn't last too long, maybe a year, then my dad had to get me a different car.
Was it difficult to say goodbye to that one?
No, it was bright yellow, of all colors. I was cool to jump in my dad's truck. He just gave me his with 200,000 miles on it.
What was your first place of your own?
Palmetto Creek Apartments, my first year in the NFL, in New Orleans. One couch, one TV and a lot of Rubbermaid bins for all my clothes. Then my bed, obviously. Didn't want to spend too much money. Very bare bones. I tore my ACL, so, I thought I might not be around too long.
Who was your first crush?
Lindsey Dudzek. That was probably… second grade (laughs). She was like the Winnie Cooper type (from "The Wonder Years" TV show), tall, brunette. I haven't seen her in years. I wonder what she looks like now? (laughs)
Did you ever follow through on it?
No, what's a fifth-grade date? You pass a note to someone. She knew, though. I think she liked me, too. I was like her little, first boy crush.
How about your first date?
Would've been my first girlfriend, probably 15. Val Pabin. Went to the movies, and had to wait outside for my mom to pick me up. Can't remember which movie we saw.
Was it everything you expected?
Yeah, probably. Awkward and nervous out of my mind.
We were talking earlier … you're a pet person?
Ruby (a Mastiff) is my first dog of my own. Growing up my mom and dad had dogs. Getting married this offseason, I finally could get a dog of my own, so, I got the biggest dog I could find.
And she's 180 pounds?
Yeah, and standing up, about 6-2.
But she's a sweetheart?
Oh, yeah, a teddy bear. Protective of her home, but very nice.
OK, if you could acquire any skill, talent, or power you don't currently have, what would it be?
Regeneration would be pretty sweet, like Wolverine (the X-Men comic book hero). How crazy would that be?
Yeah, you get hurt on the field …
Boom, I'm back. I'm good.
If you could play a character in a movie, whom would you choose?
You know, I like Vince Vaughn in "Made" or "Swingers."
If we made your life into a movie, who would play Rob Ninkovich?
Can't say Sylvester Stallone because he's, like, 80, and 5-2. Who's that guy who played "Thor?"
Chris Hemsworth.
Yeah, yeah. I don't look like him at all, but he could play me. I think my wife likes him.
Then, we're sold. OK, if you could be a musician …?
Probably anything '80s rock.
Hair bands?
Yes! Think about being the head guy of Mötley Crüe. I mean, just everything about the lifestyle. You couldn't do it for long … probably wear out and die, but just for a little bit. A little Def Leppard.
You'd wear the skin tights and all that?
Well, it was back in the '80s, not now.
If you weren't doing this, how would you make a living?
That's a tough question. Probably get into coaching, high school teaching.
If you could meet anyone in the world, any point in time, who would it be?
These are brain teasers. I'd like to meet my great grandfather, Ivan Starsovich. I hear stories about how he was pretty awesome. It would be cool to sit down and chat with him.
Any guilty pleasures?
I like musicals. "West Side Story" is a great movie. "Grease." "Rock of Ages."
Are you going to see the new "Les Mis" with Russell Crowe and Hugh Jackman?
Oh, yeah! I saw the previews. Want to check that out.
Aside from your playbook, what's the last book you read and enjoyed?
"Water for Elephants."