Being a Patriots fan outside of New England can be tough, but being a Patriots fan outside of the United States can present an even greater challenge. 
The games are often late at night, early in the morning or in a different language, and getting to a Patriots game in Foxborough is a long flight and passport stamp away. But for a few lucky fans from around the world, the dream of catching their team in action became a reality last Saturday. 
The Patriots hosted a sweepstakes offering two tickets and pregame field passes to fans from Canada, Mexico, Germany and the U.K., and four winners and their guests flew in for a once-in-a-lifetime experience. 
Mike Ehnes and his daughter Tayler from Canada, Eduardo Ocampo Vital and his brother Carlos from Mexico, Lukas Ames from Germany and Daryl Crowther and  Scott Bradley from the U.K. all caught the Patriots in action live from Foxborough for the AFC Divisional game. The group stood along the sidelines to watch pregame warm ups, mostly in awe, and met Robert and Jonathan Kraft before heading up to their seats.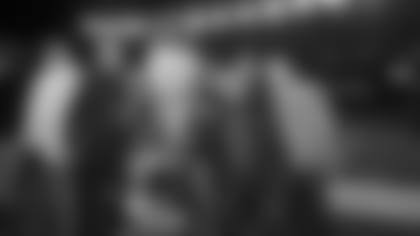 "It's amazing," Daryl said. "I go to my soccer team's games a lot, but I never expected I would be able to see the Patriots live at home on their grounds. Pitch-side as well. It's an extra level."
Daryl's been a fan since he got his hands on a copy of Madden in 2001. He picked a team with England in its name and hasn't looked back. 
"I picked a good time," he said. "It was about the same time Tom Brady broke through."
Tayler could barely contain her excitement as she and her father watched players warm up on the Gillette Stadium field. 
"I'm so pumped. I've never been to a game," she said. "Oh my God. I'm literally mind boggled. I'm so excited."
Even after their flight into Boston was cancelled, Tayler and Mike were determined to make it. They eventually caught another flight, but they had plans in motion -- just in case. 
"We were phoning rental car companies, other airlines. There's no way we were missing this," Mike said. "This is a memory we'll have for the rest of our lives."