When James Develin was on injured reserve in 2019, he woke up every morning to train at a local gym. He was up bright and early at 6 a.m. to stay in football shape. When he started kicking around the idea of running the Boston Marathon, asking trainers if they thought he could do it, the reaction was steadfast: there's no way a 250-pound fullback could handle 26.2 miles.
Two years and countless miles later, Develin is running the 125th Boston Marathon on Oct. 11 for the Joe Andruzzi Foundation, and he is eager to prove people wrong.
"I like the fact that people are like, 'Wow, what are you crazy? You're running 26.2 miles at 250-pounds. That doesn't really add up,'" Develin said. "I like the doubt. I like the fact that other people wouldn't do it or really believe or see the motivation behind it. Just personally, it's a cool challenge for myself."
Ironically, Patriots' Day in Massachusetts is a day the Patriots football team cannot typically enjoy. It usually falls on the start of their offseason workout program, so Develin's first "Marathon Monday" will be experienced as a runner. Of course, because of the pandemic, the Boston Marathon was moved from April to October, and when Develin saw that it was happening, he realized it could be his chance to give it a go.
In 2018, former Patriots player Ryan Wendell ran the marathon for the Joe Andruzzi Foundation. Develin filed this away, keeping it in mind for his own post-NFL "to-do list." He texted Andruzzi in late spring about joining the team, and Andruzzi got him a bib.
Then, Develin got to work.
"I thought I had plenty of time, but once I got into it, I realized that people were almost two months into their training schedules," Develin said. "I was definitely late, but I just immediately ramped all my training up."
To this point, Develin's furthest run has been 21 miles, averaging about a 10-minute mile. He's hoping to finish the race in under four and a half hours and without walking.
For the former fullback, this is a feat. The only competitive race he ever ran was a small 10-miler on the Jersey Shore. Other than that, Develin's stuck to a few miles here or there.
With the Boston Marathon, Develin was looking for a way to get out of his comfort zone. As it turns out, running became as much as a mental exercise as physical.
"I didn't really understand that before because I just had never been exposed to it, but what I really like is you get to this point of mental clarity," Develin said. "You can push past your body trying to tell your mind to stop or vice versa. There's a pretty cool place you can put your mind in when your body goes on autopilot ... I've really grown to enjoy it."
Develin said he uses his runs to catch up on podcasts and audio books, with some 90s hip hop sprinkled in. When he needs an extra push, he turns to his "guilty pleasure": motivational speeches. He'll have a playlist combining it all for Marathon Monday to help push him through.
While the training is wildly different from football, his NFL career helped prepare him for the mental side of running.
"Football really puts you through the wringer a little bit. It teaches you the sacrifices you can make for your body so that you can do what your team needs to do," Develin said. "Something like running, your team is yourself. I'm running for the Joe Andruzzi Foundation, so I'm running for them too. There's a sense of, I'm going to go out there and do it. It's going to be uncomfortable. I know there's going to be pain, but you have to push yourself to do it and get beyond that."
Keeping the Joe Andruzzi Foundation in mind is certainly a motivation, as well. As a cancer survivor, Andruzzi learned just how much a diagnosis can impact every aspect of one's life. He started the Joe Andruzzi Foundation to help patients and their families cover the costs of living while in treatment.
"It's a way to shine light and try to help support the foundation and Joe. The Joe Andruzzi Foundation is a big, big thing in New England, especially with the Patriots. He's got a lot of support from the guys in the locker room," Develin said. "It's really meant a lot to me to be able to represent them and help to them financially through donations. It's a really cool opportunity one that I really proud to kind of take on."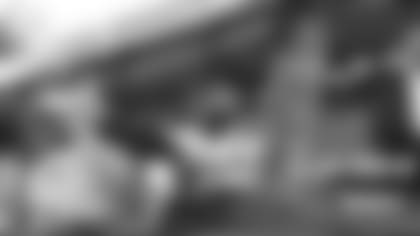 As a Patriot, Develin was a part of three Super Bowl parades through Boston, a route that includes crossing the Boston Marathon finish line. On Monday, he'll cross it by foot.
Anyone who has been in Boston for the marathon knows the energy in the city is electric. Spectators line the route and cheer runners on all day, regardless of pace. After the 2020 Boston Marathon took place virtually with runners completing their races all over the world, being back on the route will surely be something special.
"Hopefully it's an energy of humanity and togetherness and unity in all coming together for something really cool," Develin said. "Whether it's the elite athletes running and trying to compete or just people that are running for good causes, I think it's a good representation of just taking a risk in life and doing something worthwhile."
While the forecast has a chance of rain for race day, Develin is relishing the opportunity to run in the rain. You can take the football player out of Foxoborough, but Bill Belichick's idioms still echo in the back of his mind.
"Honestly though, if it rains, I think I'd like that. That's just so New England. If it is like a dreary rainy day like, I'll just embrace it," he said. "Like Bill always says, 'It is what it is outside. Just get ready to go.'"