Usually when an NFL player is huddled around a tablet, he is reviewing a previous play or getting tips from a coach before heading back into the game, but on Dec. 10, Jonathan Jones is staring intently at a screen with a group of teenagers for another important mission: designing the perfect custom sneaker.
As a surprise, Jones is treating a group teenagers from MissionSAFE, an after-school program for high-risk youth in Roxbury, to brand new sneakers of their own design. The night is part of Jones's Next Step Foundation, which he started in January to mentor kids and teenagers, and with a name like Next Step, a shoe giveaway just fits.
"Shoes are something that I'm big into, and it kind of went along with the theme of my foundation," Jones said. "I'm just trying to help the youth take their next step."
More than a new pair of shoes, which are a hit among the group, Jones wants to connect with them, talk with them and help in any way he can. So, for more than a half an hour before they are picking styles, colors and patterns, Jones sits in the basement of MissionSAFE and talks frankly.
He and the people in the room have their differences. Jones grew up in the Georgia country, a small town where everyone knew everyone and trouble came from having nothing to do. Growing up in Boston, these kids are used to the city life, a world that moves quicker, but regardless of where they grew up, Jones notes they have more in common than not.
"Everybody is dealing with life. I don't care what you've got going on," he said. "That's one of the things that you realize when you get older. Everybody is dealing with life. Everybody. White, black, rich, poor, it don't matter. You're dealing with life."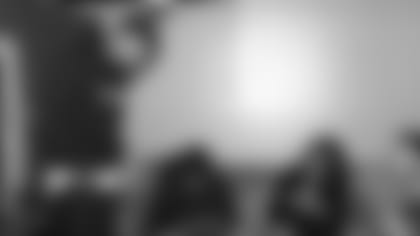 Slowly at first, then with less reservation, hands go up with questions, everything from how Jones spent his first paycheck – which is still in the bank – to how to get by when you are the only person of color in your classroom.
"Being in the class with nobody who looked like you, it's different. It was like, you can't relate to me," Jones said, recalling from his own experience. "You don't really know, so who I really am, I'm going to keep that boxed in and just participate. The older I got, I learned to show who I really was a little bit more."
The talk shifts to success – what it means to be successful, who to surround yourself with, what it takes to make a dream reality. From finding people who will implement tough love to keep you in line to thinking critically about the messages you receive from people who don't want you to succeed, it is hard work to stay on course.
This is something that Jones is still learning. This year, one of his favorite artists, Rod Wave, dropped "Tru Story," and one line in the song stood out to Jones: "Jeezy told us trap or die but told his son to go to college."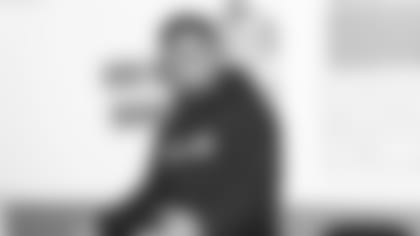 "That was big to me. I grew up listening to Jeezy. Jeezy is one of my favorite artists, but there's a next step to it. That's a long conversation. We can get into it," Jones said, and he does. "As I got older, I started studying what was around me. When you're younger, you're just growing up in it. I think when you're young you don't really realize. When you're young, you're just trying to have fun. You're going with the flow. It's so easy to do. My pop told me and it always stuck with me. Trouble is easy to get into. It's hard to get out. One of the easiest things to get into is trouble. It's not hard. You ain't got to go find it. It'll find you."
This, at its core, is why Jones started Next Step to begin with. It wasn't too long ago that he was sitting in their seats, listening to a mentor or someone who cared enough. Now, Jones can be that for the next generation.
"It feels good to be coming full circle. There are people in my life that I definitely wouldn't be here without them, just that mentorship," he said. "That aspect in itself is big. Just me bringing it full circle and me being here and be the other part of that, I think that's kind of what life is all about, taking what you're given from someone else, making something good and handing that to someone else and letting them carry it on."