Q: **Were you surprised to get the call from New England?
JB:Not too much. I was just happy they gave me a call and I get a chance to play for a great organization.
Q:How many pre-draft connections did you have with New England?
JB:I have a couple of them because me and Tom [Brady] have the same agent so that worked out great.
Q:So you go from Robert Griffin III to Andy Dalton to Tom Brady at quarterback?
JB:It's great. All three of them are great guys, great quarterbacks. I've been blessed to play with great quarterbacks my whole career.
Q:How is your foot? Is it healed up?
JB:Yes, just day-to-day. I'll be ready to go.
Q:You had a foot injury at the combine and you ran a 4.38. Is that right?
Q:Do you feel like your combine performance brought you into the national spotlight a bit and drew interest from more teams?
JB:I think it did because I know a lot of people that day didn't run as fast as I did. I think the combine helped me out a lot.
Q:Would you have run faster with a healthy foot?
JB:Probably but you never know. I'm just glad it worked out.
Q:Did you work out for the Patriots?
JB:No sir. I took a visit but I didn't work out.
Q:What went into your decision to come out early?
JB:I had my degree already – that played a major part. Then I could have gotten injured or you don't know what is going to happen so I just came out.
Q:What is your degree in?
Q:Other than your relationship with Tom Brady's agent, do you have any connections with guys who are already on the team?
JB:I worked out a little bit with [Julian] Edelman and then Marcus Cannon and Malcolm Williams, I played with them at TCU.
Q:Where did you line up on offense – inside, outside?
JB:I played both – inside and outside.
Q:Are you comfortable playing both?
Q:Did you consider yourself to be a deep threat?
JB:Some people call it that. I just think I'm a receiver. Whatever they need me to do, I can do.
Q:Are you able to gain separation downfield?
Q:Do you realize they're looking for someone like that here?
Q:Do you know Aaron Dobson at all?
JB:I don't know him like that. When I went to visit the Patriots I met him, but I don't know him as far as a personal basis
Q:Did you do a lot of in-route adjustments at TCU?
JB:Yes sir. You see different coverages and adjust the route according.
Q:What do you feel is your strength as a player?
JB:I'm really smart so I think I can pick up things pretty quick. I see a lot of things before they happen, so I think my mind is what's working for me a lot of times.
Q:Do you have any history returning kicks or punts?
JB:I did it when they needed me to. If that's what they need me to do then I can do it, no problem.
Q:What do you do away from the field?
JB:Just relax, hang out with my girlfriend, hang out with my family. That's about it.
Q:Were you watching the draft with your family?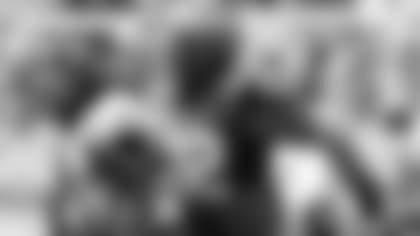 Q:What was their reaction?
JB:They were really excited. They were just happy that all the hard work finally paid off.
Q:How about yourself? You seem like a pretty even-keeled guy.
JB:I don't think it's sunk in yet. I'm excited but it hasn't really sunk in yet.
Q:Do you have any experience playing in cold weather?
JB:Yes sir. I played at Air Force and I played at West Virginia this year, played up at Boise, so I'm pretty comfortable in cold weather.
Q:Are you excited to catch passes from Tom Brady?
JB:Yes, I'm excited just to be a part of an NFL team but it's great, talking about a great quarterback like Tom Brady.
Q:I know you share an agent, but have you met Tom Brady yet?
JB:I met him on the visit and when we were introduced I told him we had the same agent and everything, so yeah, I met him there.
Q:Have you met any other players on the team yet?
JB:Not besides [Julian] Edelman, Marcus Cannon and Malcolm Williams.