A typical field trip allows students to take the lessons they have learned in a classroom and see how they apply to real life. What students and parents alike might not realize is how basic math and science principles apply to America's most-watched professional sport.
That is what around 24,000 students from more than 200 different schools have been able to experience since The Hall at Patriot Place presented by Raytheon opened its doors to school field trips in September of 2008.
The Hall prides itself on its interactive learning environment and showing students, ranging from third grade to high school, football-related math and science skills. It is an approach that reaches down from the top of the Patriots organization.
"The Kraft family is committed to The Hall education mission and is incredibly supportive of educators, in general," said Bryan Morry, the Executive Director of The Hall. "I have heard Mr. Kraft speak about his affinity and respect for the service teachers provide and that attitude drives us to implement programs that aid the classroom experience."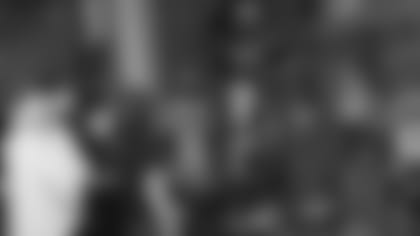 ]()A field trip to The Hall does just that. Hall education coordinator Peg Myers, a former school principal, creates science and math modules that apply what the students are learning in their classrooms to football. The modules are based on the Massachusetts' and national curriculum framework math and science standards.
A typical journey to Gillette lasts about three hours. The students spend time exploring the historical and interactive exhibits that The Hall has to offer, take a break for a lunch at Patriot Place and spend another hour or so working on science and math modules.
One such module involves the ever-evolving football helmet, receiving attention of late because of concussion awareness. The students are posed with the question, "How can you construct a helmet that will help distribute the force of an impact or cushion a blow to the head?" Given every day materials, they use the engineering design process and work in groups to come up with a prototype. And it's not easy: the helmet materials are soft and the object that can crush the helmet is definitely heavy.
"It is fascinating to watch the thinking and listen to the processing that goes on and how clever the kids are," said Peg Myers. "The modules foster a cooperative group activity and after the test, they all start to talk about how they should have designed it, which is ultimately the goal: to work cooperatively and come up with a solution using the engineering design process."
As the kids are walking away, the feedback from the teachers is overwhelmingly supportive.
"The force, mass, acceleration, speed, distance and all those things are things that we learn in class," said Kate Muzuruk, a sixth grade science teacher from Weymouth Middle School. "The kids think it's really cool to see how class relates to the things that they love, like football."
Another module involves the students building a fictional expansion franchise. Using authentic statistical data from NFL.com, the students are given a budget and salary information and are asked to pick five current NFL players that they would choose for their expansion team. They also select a team name and design a logo for marketing purposes. Additionally, using Gillette Stadium facts and information, they select two stadium amenities which they would want to implement in their own team's stadium. The students write a press release and hold a press conference presenting the team name, logo and stadium elements, introduce their five players and explain the reasons those players were chosen.
A separate design challenge kicked off last spring. In conjunction with The Hall's presenting partner, Raytheon, The Hall hosted a challenge in which middle and high school students from around New England were asked to create a parabolic microphone like those used by radio and television broadcasts during NFL games to capture sounds from the sideline. The teams from the participating schools came to Gillette and presented their microphones to a panel from Raytheon. The reward: the winner was able to use their design at Patriots training camp this past fall.
"Our partnership with Raytheon has provided us access to talented volunteers who help us drive home the impact of math and science education in particular," said Morry.
Although math and science are the main focus of The Hall's education program, a new marketing module was recently introduced for high school students that are taking sports entertainment and marketing courses. With the cooperation of a number of departments within the Patriots organization, students are invited to the stadium to present a prepared Power Point presentation using the four principles of marketing. They are asked to put together a proposal to market an element of Patriot Place, something about The Hall or a commodity they want to sell in their school. Demonstrating their understanding of the marketing principals, they present their ideas in front of marketing staff from the Patriots and receive immediate professional feedback.
The students also are given the opportunity to discuss their career paths with representatives from other departments within the organization such as Kraft Sports Productions, public relations and Patriot Place management.
"They're getting a lot of good, healthy information, particularly for those considering going into public relations and marketing," said Myers. "The choices they make in high school might ultimately influence the decisions to get into an organization such as this one in the future."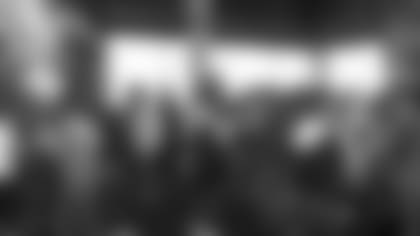 ]()The focus of school visits and The Hall education program is to create activities that complement the classroom experience and offer exposure to basic skills that can relate to football. It is important to The Hall staff that the visits present a well-rounded experience.
"We're always looking to enhance and build on what we already have in place and work with schools to create new activities that facilitate their needs," said Myers. "It's exciting. This is a wonderful place. There are so many opportunities if we are open and creative in thinking outside the box, and that's what we're doing."
The challenge is certainly not lost on Myers and nothing gives her more pleasure than to see a student, teacher or administrator walking away with a smile and, more importantly, a sense of accomplishment with the day well spent.
"We are fortunate to have an education coordinator in Peg Myers that has a wealth of experience, works wonderfully with administrators, teachers, students and parents, and is enthusiastic and energetic about creating and implementing relevant, useful educational programming that is consistent with our vision," Morry said.
The hard work is paying off. Schools from around the area have declared The Hall as their "annual field trip." This past December, there was only one school day the entire month with no scheduled class trip and next year's calendar is already filling up.
When The Hall opened, the Kraft family and Raytheon made a commitment to schools. They wanted to provide an experience at low admission for students to see the wonderful history while receiving a valuable experience. If the faces on the kids walking back on the bus are any indicator, they are doing just that.