The Patriots were in the midst of a difficult stretch of the 2018 regular season when they suffered another last-second loss in Pittsburgh.
Coming off a stunning loss to the Dolphins, New England's consecutive defeats were their final losses of the season, one that ended with five-straight wins en route to their sixth Super Bowl championship.
Although the end result in Pittsburgh is a footnote in a championship season, the game left an impression that seven years later led free-agent addition JuJu Smith-Schuster to sign with New England.
Head coach Bill Belichick occasionally implemented double-team coverage on the second-year star in the game. In his first two seasons, the now 26-year-old wide receiver had over 2,300 yards and 14 touchdowns and was having a Pro Bowl season in 2018. 
Belichick respected Smith-Schuster's game enough to deploy double teams on the Patriots newest playmaker, and that mutual respect has now led the former Steelers and Chiefs to Foxboro. 
"When I was in Pittsburgh for five years, we crossed paths multiple times. I respect his game. One thing I've learned playing against Bill is that if he ever double teams you, obviously, you're a key player in his eyes." 
"Being at a place where he's a great head coach, and as far as everything else goes, I just feel like I fit here," Smith-Schuster told reporters in his first press conference since joining the Patriots. "Just being here, honestly, I love it. Being a part of this team. We have something special here. I feel like it's going to show. It's going to show this year."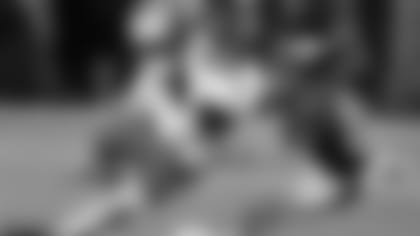 Formerly a second-round selection by Pittsburgh, Smith-Schuster shared that playing for Belichick drew him to New England as an unrestricted free agent. The Pats wideout signed a three-year deal to upgrade quarterback Mac Jones's supporting cast.
Although questions remain about the offensive firepower in New England, Smith-Schuster is confident that the Patriots have enough offensively to put points on the scoreboard.
When asked about the doubts outside the building, Smith-Schuster replied that the Patriots "most definitely" have enough playmakers to contend with playoff-caliber teams offensively.
"We've got guys who can run down the field. We've got guys that can do a lot of different things. What's crazy about this offense that I didn't even know about until I got here was that there's guys that play both ways. There's guys that can play receiver, that can play in the backfield. Seeing that you can have so many different weapons with these players, it gives Mac [Jones] opportunities to do whatever he wants."
As for Smith-Schuster's role and schematic fit in Bill O'Brien's offense, New England is only in the early stages of the offseason program. But the veteran receiver described his playing style as "doing the dirty work." 
"I love blocking. I love doing the dirty work as far as going across the middle and catching the ball in traffic. Whatever Coach [Belichick] has me do, I'm willing to do. No questions asked."
Along with his toughness between the numbers, the Patriots hope that Smith-Schuster will bring explosiveness after the catch. Over the years, the Pats wideout has averaged 5.4 yards after the catch per reception, forcing nine missed tackles with the Chiefs in 2022 as a ball carrier.
Despite coming from an elite offense in Kansas City, Smith-Schuster marveled at the intricacies of offensive coordinator Bill O'Brien's offense. Last season, coaches and players spoke about a "streamlined" offense. However, Smith-Schuster's interpretation of O'Brien's playbook sounds more on par with the Josh McDaniels era.
"I feel like I'm back in college or school again. After this, I'm going to go home, put a couple hours in," Smith-Schuster said. "I'm making flashcards. I got a lot of flashcards. It's awesome. If you saw what we study, we should get a college degree for doing that."
Patriots players using flashcards to quiz themselves on offensive concepts is not new. It's been a tactic handed down by veterans to grasp a complex word-based offensive system. But it should be music to fans' ears that Smith-Schuster is putting in the time to learn and that the volume of the playbook is more in line with the usual standard.
Besides believing in the offensive talent and O'Brien's system, Smith-Schuster is also a fan of his new quarterback. The Pats wideout noted that he first met Mac Jones in March, adding that the quarterback is routinely in the building.
"Mac was in the building already [when Smith-Schuster signed in March]. He was in the building, constantly in, putting in the time and work. His role, his leadership is something that I've seen from afar," Smith-Schuster said. "His work ethic is hard — he's a hard-working guy. Very, very smart at what he does in just working on his craft. But for Mac, though, the sky is the limit. I think with the guys that we have here and all the weapons, it's going to be a fun year."
Smith-Schuster joins a group of pass-catchers that includes fellow newcomers Mike Gesicki, Tyquan Thornton, DeVante Parker, Kendrick Bourne, veteran tight end Hunter Henry, and top running back Rhamondre Stevenson, among others.
The group is already bonding on and off the field, as is most teams' goals in the spring, with outings at local bowling alleys and attending a Celtics playoff game.
During the Celtics second-round opening matchup against the 76ers, Smith-Schuster got a taste of a dedicated Boston fanbase that'll bring the energy to Gillette Stadium in the fall. 
"The fan base here is nuts. I can't wait to see how it is for camp or for the season. Definitely, a place where the fan base is nuts. I've never been a part of a city like this," he said. 
After having their worst offensive season in nearly 30 years, the Patriots are back on the right track with a new go-to receiver and seasoned coordinator at the helm.
DISCLAIMER: The views and thoughts expressed in this article are those of the writer and don't necessarily reflect those of the organization. Read Full Disclaimer