Patriots players, alumni and cheerleaders got into the spirit of the season on Tuesday night. Fully armed with shopping carts, checklists and calculators, they transformed into personal shoppers to help 50 children from local homeless shelter programs find winter necessities and to kick-start their holiday shopping.
Devin McCourty, The New England Patriots Charitable Foundation, The New England Patriots Alumni Club and Bass Pro Shops all teamed up to sponsor the annual "Gifts from the Gridiron" event, and more than 25 current Patriots and 15 alumni volunteered.
The 50 kids who attended the event were selected from Old Colony YMCA, The Friendly House, Crossroads, Community Care Alliance and Victory Programs. They were all given $400 gift cards to Bass Pro Shop in Patriot Place, which they used to by themselves a coat, gloves, a hat and a gift for someone else. They could use the rest of the gift card to buy items for themselves or their loved ones.
After a dinner and holiday music, the Patriots were partnered up with their buddy for the night, took a photo with Santa, did some shopping and packaged up the gifts at a wrapping station. With help from their Patriot personal shoppers, the kids were all smiles as they tried on jackets and checked items off of their shopping lists.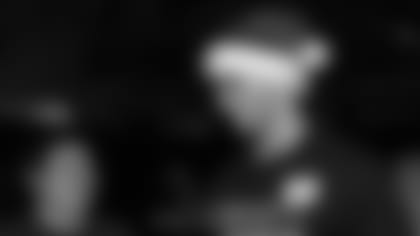 The floor of the store was a flurry of laughs, style guidance and gratitude.
Malcolm Mitchell helped his buddy Marcus try on coats, deciding which one was just right. Dont'a Hightower and his girlfriend helped their new friend decide between hats. Jacoby Brissett and his partner did a dab with Santa Claus before taking off on their shopping spree. Jordan Richards and his partner, Lily, scoured the toy section of Bass Pro Shop for the perfect gifts for her younger sister and cousin.
"This is for my baby sister," she said, holding up a barnyard animal toy set. "She wants to be a vet."
When Jordan commented that she was an expert gift-giver, Lily smiled and said she "had a lot of experience."
As Jordan and Lily sifted through stuffed animals and added up their totals, Dion Lewis offered his new friend Alexus "great advice on style," he said. With a new jacket, matching boots and hoodies, Alexus said Dion was an excellent shopping partner.
"It was awesome. It was a great experience," she said.
"I had a great time," Dion said. "She's a good girl and a great person, so we had a lot of laughs."
Jimmy Garoppolo helped his partner David pick out all of his necessities but said he really lit up when they shopped for a new fishing pole. Throughout the night, David and Jimmy hunted for the perfect gifts for his family, and Jimmy said he was struck by David's willingness to give.
"This is my favorite event that we do. These kids, you ask them what they want, and David kept saying, 'I want to get something for my sister. I want to get something for my mom,'" Jimmy said. "It's unbelievable. He doesn't have much, and he wants to keep giving. It's an eye opener."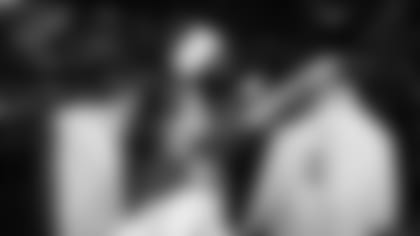 Patriots veterans like Devin, David Andrews, Nate Solder and Duron Harmon came out to volunteer, knowing it was a special night, like Jimmy said, but they also spread the word to their new teammates. Rookies like Malcolm and Jacoby, as well as relatively new Patriots like Kyle Van Noy and Barkevious Mingo learned quickly what the hype was about.
Malcolm said he had heard about it from his teammates, and after spending time shopping with Marcus and seeing him put items in his cart for other people, Malcom was in awe.
"It's humbling because even now when we're placed in certain situations, you don't always think, as Marcus did, about giving," Malcolm said. "Even when he doesn't have much, that's the first thing on his mind."
For Devin, this event is one he looks forward to. Each year, he hopes that he can help kids have a special holiday season. That desire to create a special atmosphere was embedded in him from a young age as he watched his mother work hard to give his family a great Christmas.
"She would pick up extra shifts. She would put stuff on layaway because she just felt we deserved to have a special Christmas, and that stuck with me," he said. "These kids come from all different backgrounds, but they come with a big heart, wanting to give back, wanting to do for others and their family members, maybe someone that watches out for them. It's a great event, and I think it has great meaning."
For more pictures from the event, check out the photo gallery below.
FULL GALLERY:
Patriots players, alumni and cheerleaders participated in the annual Gifts From The Gridiron shopping spree for 50 children in need at the Bass Pro Shop at Patriot Place on Tuesday, Dec. 6, 2016.