Walked out to my car this around 6:30 Saturday and was greeted by frost on my windshield which I had to scrape off. Am I in Florida? As the day progessed and the sun headed upwards, things warmed up and it turned out to be a great day.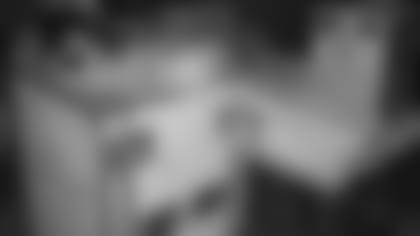 ]()Our job this morning was to pack up. The entire footprint of the hotel that we and all the rest of the Patriots staff -- including football ops -- have been occupying for the week is going to be used for the after-game party Sunday night. That means we needed to get our stuff out of the way for the transformation. Once again, having done this twice before was a huge edge as we were done by 1:00 leaving the rest of the day to do some sightseeing.
I stuck around my room but most of the PFW and Patriots.com staff headed into Jacksonville and the NFL Experience. Reports were good. The hotel situation in Jacksonville may not be ideal but the setting for the Experience and the area called Superfest couldn't be better. Everything's outdoors along the St. John's River as opposed to past Super Bowls I've been to when the Experience was indoors. Actually, you can check out the Video Vignette Bob Heim and Alicia Mullin put together on Patriots.com and see for yourself.
I hadn't had a chance to watch any of the talking heads all week so I flipped on the TV to catch up. The first thing I see on ESPN is Sean Salisbury and Merril Hoge predicting an easy Patriots win. That scared me. Aren't these guys always wrong? On ESPN's website, even Mike Golic and Mark Schlereth picked the Pats. In fact, of the talking heads only former Eagle Ron Jaworski and Sal Paolantonio picked the Eagles.
Well, I'm going to rely on my own analysis, forget what anyone else is saying and stick with the Pats. I think the Eagles are just too QB-heavy and I don't think Terrell Owens will be able to help out that much. That being the case, the Patriots defense will keep McNabb under wraps and this may in fact be a relatively comfortable win.
Saturday night I went out to dinner in St. Augustine. Say what you want about Jacksonville, but St. Augustine is a great little tourist city. Unique stores, excellent restaurants and plenty of history made this the place to hang out once all the football-related sites were taken in.
Early to bed Saturday night. It's going to be a long Sunday.