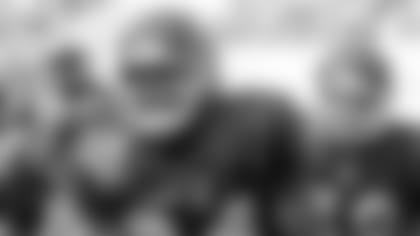 ]()I am glad to be back. It's lovely here. It's just the atmosphere and being back around these great guys, it made me realize that I really missed being back in the States. Now I am just trying to watch and learn and take everything in.
Overall I think my experience in Europe was very positive. I feel like I matured a little bit more. I got my confidence up. So I feel like whenever I get my chance I can come out here and perform comfortably and more confidently.
There wasn't doubt in my mind heading to Europe, I just wanted that opportunity to get out here and show what I can do. Baltimore gave me the opportunity to get myself in this league [as an undrafted rookie free agent last summer] and now it's on me to try to keep myself in the league. I went over there and I learned a little bit. Now it's just time to come over here and learn things here.
Basically I feel like I am more patient now. I can wait on things. I learned how to appreciate a lot of things as far as sitting on the sidelines watching the schemes, watching film and all that. I can also learn a lot from watching a guy like Corey Dillon, especially how he runs and his moves. I feel like we are kind of built on the same structure, he's just bigger than me. So I watch his game and I feel like I can mature and learn a lot from him. He and Kevin Faulk, when I feel like I am kind of lost in the offense a little bit or I have a question, I ask those guys.
Now I am just looking forward to training camp. And we'll just have to see how it goes when I get out there.