Like I said last week, we were going to put things together and hopefully come out here and cling as a team [last] weekend. That's what we did and we came out with another win.
Basically we felt like we dominated in the running game a whole lot this week [against Rhein]. That was the other side of the offense that we got to show this week as compared to the opening game. Hopefully next week we can put both the passing and running game together and maybe we can explode to put more points on the scoreboard.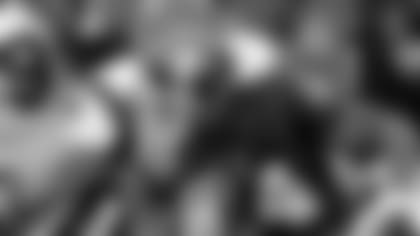 ]()We felt like we could compete for the World Bowl since we first got here. But we are not going to get ahead of ourselves right now and say that we are the best team over here. We are just going to continue to take each game one at a time and see what happens.
A lot of my runs have been coming on the inside then I bounce it to the outside. So far I feel like I have shown that I can pound the ball a little bit. I think that's helping the offense to gel a whole lot. So I am just building my confidence up week by week.
It didn't bother me that our quarterback ended up scoring two touchdowns on short runs to finish a pair of drives. That's the coach's call. I just do what I can when he calls my number. I let him run the playbook. I would love to get in the end zone, but you can't score in all the games. I just do my part and my role and I am just happy with the win.
On the other side of the ball our defense has been playing really well, especially in the red zone. Last week the team was in the red zone quite a few times and we stopped them to force them to just a field goal. So the defense ahs been doing a real good job.
As a team we are more of a family. So if we are not in the hotel together we are probably out in the city in little restaurant eating or something. We found a little place where we can go hang out and play pool and video games. So we kind of stick together as a team when we do all that stuff. I think we are trying to learn each other and fit in with each other's game style and how everybody is living. So we kind of just hang together as a family so that we are one. If one goes somewhere then we all try to go and be supportive of that person.
That atmosphere includes the national players. They are right there with us. Whatever we do they do it. We don't treat them any differently and they don't treat us any differently. We all are just one big family. And on the field the [nationals] that we have on our team blend in perfectly. If you watch them on the field you can't tell that they haven't been exposed to football as much. We have a couple of receivers that have made plays throughout the first two games and we have a safety who is on special teams and he is making plays. So you really can't tell the nationals from the rest of us.
Looking ahead to this week's game against Frankfurt, each and every week we are trying to get better on the field. So we are just going out there taking one game at a time. We are not even looking at the records; we are just trying to improve and get better as a squad and hopefully make ourselves better. That's all we are looking at. Our coaches just tell us to go out there and have fun and show the world what you can do. That's basically what we do -- we just go out there and have fun.
As told to Patriots Football Weekly's Andy Hart.