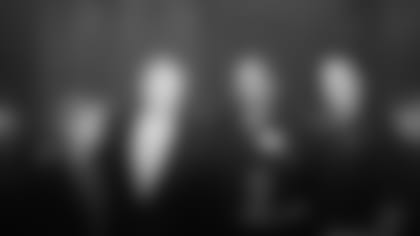 ]()Robert Kraft calls the day one of his favorite events of the year. For a guy who has made the pilgrimage to the Super Bowl an almost annual happening, that's saying something.
Kraft, joined by his wife, Myra, and Patriots vice president of community affairs and corporate philanthropy Rena Clark, convened on Wednesday to honor 20 "Community Quarterbacks" in the Fidelity Investments Clubhouse at Gillette Stadium.
"One of the privileges of owning a team is it helps us make an impact in the community," Kraft said in his opening remarks. "It wouldn't be the same if we didn't have a team with good people playing together as a team, doing what all of you did. They do it with a lot of ceremony. The reason we love this event is you're doing it without the attention. That's the reason this particular event is so meaningful to us. Personally I want to thank you for your efforts."
The Krafts recognize the community quarterbacks for their contributions and commitments to improving their communities through volunteerism. This year, Kraft presented checks totaling $50,000 to benefit the favorite charities of this year's honorees.
The overall winner for 2004 is Dr. Ulric Johnson of Boston. Dr. Johnson is the founder and director of Teens Against Gang Violence (TAGV) in Dorchester. TAGV is a grassroots youth-leadership organization committed to peace and justice work among youth. For several years Johnson supported the group financially and offered his home as both an office and youth center.
"Dr. Johnson epitomizes the very best qualities of our community quarterbacks," Kraft said. "He has demonstrated remarkable vision, persistence, compassion and an unwavering commitment to improving our community."
In addition to Johnson, 19 runners-up and finalists were also honored and presented grants of either $3,500 or $1,500 for their respective organizations. Among the finalists were Dorothy Dwyer of Needham (Aid to Incarcerated Mothers), Karen Milliken of Hudson, N.H., (Rape Crisis Services of Greater Lowell), Ethel Snell of Webster (Tri-Valley Elder Services), Steven Key of Dorchester (Colonel Daniel Marr Boys & Girls Club), Manuela Estevez of Charlestown (The John F. Kennedy Family Service Center), Julia Rivera of Holyoke (Nuestras Raices), Carol Hancock of Brockton (The Ronald McDonald House), Ruth Taeger of Norwood (Ecumenical Food Pantry of Norwood), Sara Garran of White River Junction, Vt., (Upper Valley Haven), Kenneth LaFoe of Burlington, Vt., (Champlain ARC), Dan Burns of Burlington, Vt., (Outright Vermont), Alex Saylor of Windsor, Conn., (The Fun in Learning Tutorial Program), Jose Alves of Cranston, R.I., (Federal Hill House Association), John Parolin of Nashua, N.H., (Marguerite's Place) and Marnie Verville of Concord, N.H., (Concord Regional Visiting Nurse Association Hospice House).
The four runners-up included Shelie Richardson of Bethel, Vt., (Bethel After School Program), Sharelle Thornton of Hartford, Conn., (Positive Momentum, Inc.), Prudy Silvia of Middletown, R.I., (Stopover Services of Newport County, Inc.) and Deanna Missert of Windham, N.H., (The Devon Nicole House).
At the conclusion of the ceremony, Kraft introduced one of the newest Patriots – backup quarterback Doug Flutie. Flutie, a Natick resident and active member in the community through his involvement in the Doug Flutie Jr. Foundation for Autism, made a short address to the honorees, posed for photos and signed autographs.
"First of all, I'd like to thank all of you that are involved, and the charity work you're doing," Flutie said. "Obviously my wife and I have our foundation for autism in our son's name that's very important to us. It's amazing how once we became involved in it, we found what a close-knit group it was that works throughout this community. It's people like you that get it all started."
Flutie also expressed his pleasure with returning to his home for what in all likelihood will be the final stop of his 20-plus-year professional career.
"For my family, it makes your day-to-day life so much nicer," he said. "Rolling out of my own bed, driving down to Foxborough, working out, going through whatever meetings we have. To be home is nice. The fans here have been very supportive. No matter where I've been they've sort of kept an eye on me, seen where I've gone. They know the whole trip. It makes it a little more special.
"I think when the day comes to walk out on the field, or be in that stadium with this crowd, it'll be a great feeling. It's nice. It's definitely taken the recognition factor to a higher level again, which there are plusses and minuses to that. But just to be home, and around family and friends is the most important."
Brown officially on board
The Patriots officially announced the signing of linebacker Chad Brown. The former Pittsburgh and Seattle standout is entering his 13th NFL season and figures to add to the depth to a growing corps of linebackers that now totals 17.
Brown is a three-time Pro Bowler with 78 career sacks to his credit. He spent time playing inside in a 3-4 early in his career with the Steelers but has been mostly an outside edge rusher since. He's battled several injuries in recent seasons, which have caused him to miss 19 games over the past three years.
Brown, 34, is 6-2, 245 pounds and has started 156 of the 163 games he's played during his career. Over that time he's accumulated 1,043 tackles, six interceptions, 19 forced fumbles, 15 fumble recoveries, 43 passes defensed plus the 78 sacks.
Kraft was predictably pleased to have quarterback Tom Brady locked up for the future. Brady recently signed a six-year deal with a reported $60 million with $26.5 million of that coming in a two-tiered bonus. Reports have Brady receiving $14.5 million upon signing, plus an additional $12 million due in an option bonus in 2006.
"I think we're all happy that he will be a New England Patriot for, I hope, all of his career," Kraft said. "We tried to do it in a way that still was respectful of the team and allowed us to compete long-term and also treat him fairly. Our objective is to win football games [and] to win off the field and I think this allowed us to do that.
"I think since he's been starting at quarterback we've won three of the last four Super Bowls so I don't think we need Albert Einstein to figure out that it's a good move to have him signed up long term. We have a very special situation here that's going on, to win three of the last four Super Bowls – and have the quality of people we have on this team and to have the organization and stability that we've been able to have – and he's one of the important parts of that. I know speaking for the organization and the fans of New England, we're happy it's behind us and we can concentrate on what's going to go on, on the field now."