INDIANAPOLIS – Last spring four safeties were drafted in the first round of the NFL Draft, showing the impact talent available at the position.
Despite the fact that many outside observers thought the Patriots were a team that needed to add a young, impact player at the safety spot next to Devin McCourty, New England not only didn't target the perceived need high in the draft it didn't take a true safety at any point on draft weekend.
A year later, the crop of talent in the back end of the defense isn't nearly as impressive. And while not much has changed at the safety position in New England – although veteran Patrick Chung did re-sign with the team last March and signed an extension during an impressive 2014 campaign – there doesn't seem to be the same analytical fervor suggesting the Patriots should target the safety spot.
McCourty is set to be a free agent, though, so his status as the captain, leader and communicator in the back end is a bit up in the air. Still, many assume that if the team can't reach a deal with the former first-round pick and Pro Bowl cornerback that he'll be slapped with the New England franchise tag.
Chung was a solid force as a strong safety last season, fitting in well with the new look secondary buoyed by the cornerback additions of veteran free agents Darrelle Revis and Brandon Browner.
The depth at the spot also includes former third-round pick Duron Harmon, former second-round pick Tavon Wilson and special teamer Nate Ebner.
If McCourty remains in the mix, New England may feel confident with its talent at depth at safety. Or, the team could once again look to upgrade the middle of the back end as Wilson, in particular, may be in a fight for his roster spot next summer as a guy who's done little to prove himself on defense in his three seasons.
According to NFLDraftScout.com the combination of strong and free safety types this spring could produce as many as 29 draft picks, split almost equally between the two categories. The only player thought to be a first-round prospect at this point, though, is Alabama underclassman Landon Collins (6-0, 222). He's a strong safety type looking to follow Ha Ha Clinton Dix from the Tide to a top pick in the NFL, some feeling Collins could be as high as a top-10 pick.
Collins played a hybrid linebacker role early in his career at Alabama and he patterns his game after Seattle's Kam Chancellor. Like the Seahawks Pro Bowler, Collins also watches highlights of former Miami and Redskins star Sean Taylor before every game to get himself in the proper mindset.
"People fear him," Collins said of Chancellor, "and that's what we like to do."
While his physical play is his key on the field, Collins is hoping to prove that he's also a cerebral assassin type. And that he, like Clinton-Dix, can have an immediate positive impact at the next level.
"That I know my stuff," Collins said of what he's looking to show scouts and coaches. "That I'm accountable on the field."
Following Collins as the clear top safety, the next group of potential second- or third-round picks includes strong safety types like Virginia's Anthony Harris (6-1, 190), Samford's (6-1, 220) and Northwestern's Ibraheim Campbell (6-0,210).
Free safeties in that range include Mississippi's Cody Prewitt (6-2, 212), TCU's Chris Hackett (6-2, 195), Louisville's Gerod Holliman (6-0, 201) and Fresno State's Derron Smith (5-11, 200).
Prewitt's production dropped a bit as a senior from his SEC-best six interceptions a year earlier. But he was a true leader in the talented Ole Miss secondary and is looking to prove his overall game to scouts this week.
"I'm just here to prove I can be as versatile as some people think," Prewitt said. "And those that don't think I'm versatile, prove them wrong."
Prewitt enjoys watching Pittsburgh's Troy Polamalu. He also wears his hair long like his idol, joking that, "I'm gonna see where the hair takes me."
Beyond his talents, Prewitt brought maybe the most refreshing, honest answer to a Combine atmosphere filled with at times misplaced bravado.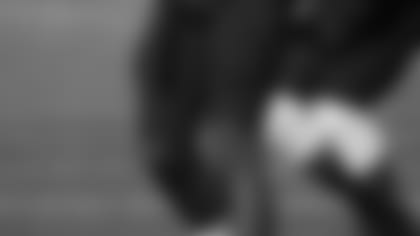 Asked if he was the top free-safety prospect in the draft, Prewitt responded simply, "I don't know. I haven't checked."
While most safeties do their best to emphasize their versatility to fill different roles in the defensive backfield, Campbell was required to do just that for the Wildcats.
"I think that's one of my strengths is my versatility," he said. "At Northwestern we played right and left safety, so I was strong and free on different plays."
He says that meeting with teams, the opinions on his future NFL role have varied.
"Some teams like my physicality and the way I come down hill," Campbell says. "Some people see me as a free safety. I don't really prefer one over the other."
After a strong week of work at the Senior Bowl, Campbell was listed by NFL Network among guys analyst Mike Mayock said made themselves money in Mobile.
"That's to be determined," the safety said with a smile.
Smith won't be able to work out at the Combine as he recovers from sports hernia surgery, but his ball skills on tape are surely something that teams will enjoy seeing.
"I've just always been able to get my hands on the ball and hold onto it," he said of those skills. "Maybe it's from my basketball background in high school."
There was no safety in the country who did a better job getting his hands on the football last fall than Holliman, who led the country with an incredible 14 interceptions for the Cardinals. He made it clear, though, that those picks were about more than just physical skills.
"Through watching film and knowing tendencies that really helped me get into position to make plays," he said of his statistical success.
And Holliman is well aware that despite the impressive interception numbers, his own versatility in terms of being able to come up and tackle will be questioned by teams this week.
"That's an area I want to improve," Holliman said of run support. "A lot of teams ask me about it. I want to make sure that everybody knows I can tackle. That I do whatever it takes to win."
Hackett headed to the Combine as an early entry after three years starting in the back end for the Horned Frogs. The school has begun the produce more defensive backs in recent years and he's looking to extend that tradition as a playmaker in the deep part of the field.
"I think I bring a long of ball-hawking skill," Hackett said. "I'm a playmaker. I think the defense will like me and the offense will like me, too, because I'm trying to get the ball back."
The later teams wait in the draft, the less likely it is to find a game-ready safety. While positions like wide receiver and running back may offer rookie contributors in the latter rounds this spring, the safeties at that point probably will fall into special teams contributors and backup types.
Middle-round strong safeties include Stanford's Jordan Richards (5-11, 211) and Central Florida's Clayton Geathers (6-1, 212). Free types in that area are the likes of Syracuse's Durrell Eskridge (6-3, 203), Michigan State's Kurtis Drummond (6-1, 205) and Penn State's versatile Adrian Amos (6-1, 214).
The final group of prospects would include UCLA's Anthony Jefferson (6-1, 194), Oregon's Erick Dargan (5-11, 217) Utah's Brian Blechen (6-2, 217) Virginia Tech's Kyshoen Jarrett (5-11, 192), James Madison's Dean Marlowe (6-2, 206) and Mississippi State's Justin Cox (6-2, 190), among others.
Jarrett is a late-round option who started 38 games for the Hokies and is a former cornerback. He also offers some experience in the return game. Like so many this year, he harps on his overall versatility.
"Being in the box is something I take pride in. But being deep is where I made a lot of plays. I can do both. Or play corner. I can do it all."
Which is exactly what he may have to prove to stick with a team early in his career.
The same could be said for Jefferson. A leader for the Bruins in the back end, he had to overcome foot and back injuries during his career in L.A. and feels blessed to even have the chance to prove himself worthy of taking his game to the next level.
"I think a lot of scouts like my versatility to play corner and safety," Jefferson said. "I feel like I can play nickel right away. Throw me in anywhere. I'll play kickoff, special teams, anything they need me to."
He also feels that his football IQ is what allows him to display his physical versatility.
"Range, versatility and my knowledge of the game," Jefferson said of his strengths. "To play all those positions you need to know them all, know all the ins and outs."
From box safeties to back end ball hawks and special teamers, the safety position for 2015 has a group of versatile players. Though it's not the most talented or deep position in the draft, it's a spot that the Patriots might need to consider for the future and to help fill out some depth in the back end.
Or, maybe the core of safeties that helped the team's resurgent secondary reach Super Bowl glory in 2014 will be kept intact to make another go of it.