Last week, Lawrence Guy was named the NFLPA Community MVP for the baby shower he and his wife Andrea threw for local single mothers on Nov. 12. The Guys hosted the shower at Gillette Stadium for new mothers from local organizations, and while it was a time provide moms with everything they would need for their newborns, it was more than just a celebration.
It was a time to connect and a time to heal, and it starts with Andrea.
In May, Andrea was expecting the couple's third child when she was rushed to the hospital for an emergency C-section. What followed was a dangerous few days for Andrea and their daughter, Isabela. While Isabela was in the NICU, Andrea was also hospitalized.
"I was going in and out, and I was just praying," Andrea said. "There's a reason why I'm here."
Lying in a hospital bed recovering, Andrea found why she was supposed to be there. Andrea briefly shared a room with another new mother, and though they were separated by a curtain, she couldn't help but hear as she called family, friends and her baby's father to tell them the baby was intubated in the NICU.
"She just kept calling people, telling them what happened, asking for help and support," Andrea said. "They were saying just really nasty things, and she was desperate for support."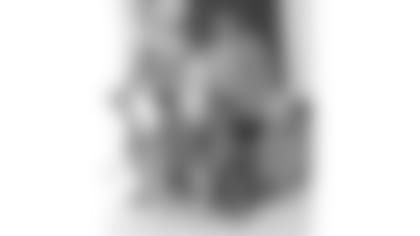 Andrea called the social worker into their room and let her know what she had heard. She knew the social worker couldn't reveal any information, but Andrea just needed to do something to let this mother know she was not alone, even if she felt like it. She wanted to buy her everything she would need to help her and her baby.
"The social worker went over and told her everything I said," Andrea said. "She burst into tears, and that was just enough for me to basically set that baby up for the first year of life."
In that moment, Andrea knew she and Lawrence would need to do more. She got home from the hospital and set plans in motion for a baby shower for 20 single mothers in the area.
"There are so many women out there that have no support, and they're just trying to make a safe space for their children," Andrea said. "They just want to feel loved and appreciated, so that's where the shower stems from."
Lawrence and Andrea paid for the baby shower of these mothers' dreams at Gillette Stadium. There were decorations, flowers, and a violinist playing as they ate lunch, making for a true party atmosphere. All of the mothers were gifted everything Andrea personally uses for her own children. From strollers to clothes, Andrea and Lawrence ensured these mothers would have everything they would need for their children.
"I wanted the baby shower to be like a baby shower I would want somebody to throw for me," Andrea said. "I wanted it to be special. I wanted it to be an escape from the stress of reality."
Robert Kraft showed up to the event to lend his support, and the Patriots Women's Association also showed up in full force for the Guys' event, including Michelle McCourty, Jen Belichick, Dana Blumberg, Kennedy Stidham, Shahrzad Slater, Parker Henry, and more.
More than anything, Andrea said their time was the most valuable resource they could contribute for these mothers. At the end of the day, that is what bonded these women, and after giving birth, there are physical, emotional and mental difficulties that plague mothers.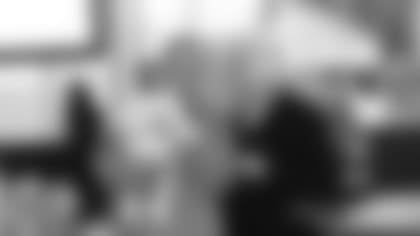 "I saw a lot of peace, a lot of joy, a lot of excitement. As mothers mental health is so important. Postpartum depression is real. We all deal with it one way or another, and sometimes you just need to be reassured that you're doing a great job and everything's going to be okay," Andrea said. "That was my emphasis of the event. As women, we all empower each other. We all have different stories and go through different situations. From the outside, somebody might think that my life is perfect, but it's not. As a mother, we both share the same struggles. There's nothing that makes me a better mother than the person next to me, so I wanted everyone to feel at peace and feel good."
In addition to gifts to make sure the babies were well taken care of, Andrea gave every mother a bag of self-care items that she uses to make sure they also were able to tend to themselves. At the end of the day, that's what this shower was all about. As much as it was to relieve some financial burden for these new moms, Andrea wanted to drive home the point that they will all be great mothers and that they are not alone.
"You are worthy. You will be the best mother," Andrea said. "We can't take our mental health for granted. This is a very stressful full-time job, and we're literally birthing the future. Take care of your mental health. Take care of yourself. You're going to be an excellent mother."
After a traumatic experience of her own giving birth to Isabela, bringing all these mothers together was empowering not only for the single moms attending the shower, but for Andrea herself.
"I've always felt like through life I've turned my pains into passions. For me to be with these women, I just felt so empowered by them," Andrea said. "I feel like they don't have any idea how much like healing they have done for me just by being there."