]()Day 2 of mini-camp featured a lot more of what took place on the practice fields at Gillette Stadium on Thursday with plenty of bodies shuffling in and out and from one position to another. Perhaps no area saw more mixing and matching than the linebackers, where labels like inside and outside appear to be endangered species around Foxborough.
During Friday's morning workout, the defense worked against Pepper Johnson's "Show Team" for roughly an hour. The Show Team, featuring veterans Larry Izzo at quarterback and Don Davis as his lead back, ran plays from a variety of formations as the defense lined up almost exclusively in its base 3-4.
While the three up front – Ty Warren, Vince Wilfork and Jarvis Green (in Richard Seymour's absence) – and the four members of the secondary – Randall Gay, Asante Samuel, Rodney Harrison and Eugene Wilson – remained in their "normal" spots, the four linebackers were in constant flux.
The series opened with Chad Brown and Matt Chatham inside and Tully Banta-Cain and Rosevelt Colvin outside. But both Brown and Chatham also took reps on the outside as Monty Beisel and Mike Vrabel rotated inside. Colvin and McGinest were the only two who seemed to stick to the outside while Beisel was the lone inside player.
"We're working players in a number of different positions – inside, outside linebackers, guards, tackles, centers, defensive ends, defensive tackles, corners, safeties, x, z [receivers], tight ends," Belichick said. "There are a lot of multiple crossover trainings going on, so that gives us more flexibility. In our system, we can play our players in different spots, but also it builds your depth for situations where you have to cover multiple spots with only a few players."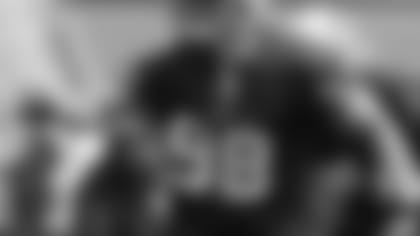 ]()Brown seems to be the guy with the most on his plate. The 13-year veteran is not only trying to learn a new system, and by most accounts a complicated one at that, but also seems to be getting groomed to play as many as three different spots.
"I've been around a lot of different systems during my career and I've pretty much played all of the linebacker spots with the exception of the true middle linebacker position," Brown said. "At times I still feel like a rookie as I'm trying to pick everything up. After practice the rookies usually stay with the coaches and I've found myself staying with them."
While Belichick's explanation of trying to build depth and preparing for the unexpected down the road is true, the movement among the linebackers in particular is intriguing. With the exception of the middle linebacker spot, which thus far has been manned by Beisel with Ted Johnson still on the sidelines, presumably due to an unspecified injury, the other three positions appear to be interchangeable.
The possibilities come September are endless. Belichick could be envisioning a unit with traditional outside guys McGinest, Vrabel and Colvin all on the field together. In such a lineup, Vrabel could be lined up inside next to Johnson but the defense would be hard-pressed to predict what assignments everyone would have. Any of the three could be asked to rush the passer, drop in coverage or provide support against the run. It's the kind of unpredictability that has made New England a very difficult team to prepare for in the recent past.
Linebacker is the most evident position in terms of flexibility, but by no means is it alone. Friday's morning practice saw some changes along the offensive line, where rookies Logan Mankins and Nick Kaczur spent time at both guard and tackle.
On Thursday, Mankins lined up at left guard with the "first" unit while Kaczur opened at right tackle with the "second" group. Friday saw Mankins move to left tackle on the second group behind Matt Light while Kaczur lined up next to him at left guard. Incidentally, Tom Ashworth worked with the first group at right tackle while Brandon Gorin backed him up.
"You do that and see how it goes," Belichick said. Some players are very adaptable to it and others aren't. We go to the game usually with seven, sometimes eight, offensive linemen. So somebody's doubling up somewhere. I think now is the time to do – put them in there and see how it goes, get a feel for it and get a sense of how it works. Then you do it again in training camp and make an evaluation on it."
Seymour was once again missing and Belichick continued his rather tight-lipped approach on the situation. "I think I pretty much had everything I could say about Richard yesterday," the coach said. "I don't have anything to add."
]()Safety Rodney Harrison spent quite a bit of time discussing Seymour after practice and was forthcoming with many of his responses.
"I really haven't talked to [Seymour]," Harrison said. "He's a tremendous player. We definitely miss him. He's handling his business the way he wants to handle it. … We love Seymour. He's the best in the business. He's my man. If you feel like you have to stand for something, you have to stand for something. That's where he took his stand."
Harrison is an interesting player to discuss Seymour's situation because he, too, could be considered a bargain. He signed a six-year deal with the Patriots as a free agent two years ago. He is slated to earn $1.55 million in base salary for 2005, which is well below what a safety with his recent production could demand on the open market. But unlike Seymour, Harrison chose to put his personal situation on the backburner.
"I've always said you get back what you put into it," Harrison said. "You can look at that a number of ways. You can look at it as money, financially. You can look at that as victories, or how many tackles you have. Personal accolades. I can look in the mirror and say I've done everything I possibly can to help this team, this organization.
"I'm not one of the highest paid safeties. I don't think I'm even in the Top 10. Would I like to be? Yes, I would like to be. But what do you do? You just keep working hard, you keep fighting, you just keep going out there and doing the best you can do." …
For the second straight day, Seymour, Tedy Bruschi and Bethel Johnson were not present on the Gillette Stadium practice fields. There was an ESPN.com report that claims Bruschi has been cleared to work out, but not to practice or play football and the linebacker's status remains unclear.
Also, Ted Johnson, David Givens, Dexter Reid, Tim Dwight, Cedric James, Ricky Bryant, Kory Chapman and Earl Charles were all present but did not take part in the morning workout. …
Dan Klecko is a player who is certainly no stranger to switching positions. During his brief two-year career, he's lined up as a nose tackle, linebacker, defensive end and at fullback. Friday's practice saw him taking reps with the first offense at fullback, lining up in front of Corey Dillon while the group worked on the running game. …
New defensive coordinator Eric Mangini spent much of the early defense period talking to newcomers Duane Starks and Chad Scott. The veteran corners didn't receive many reps behind Samuel, Gay, Hank Poteat and Tyrone Poole – all of whom have experience in the Patriots system.
"It's definitely more involved here than it was in Baltimore and Arizona," said Starks, who was acquired through a trade with the Cardinals earlier in the offseason. "It was pretty simple, straightforward stuff there while here they ask you to not only learn your stuff but to know and understand what everyone else is doing, too."
Starks said he was adjusting fine to the added demands and is looking forward to training camp to begin his Patriots career. …
Troy Brown, Tyrone Poole, Kevin Faulk and Ellis Hobbs all took reps returning punt during some special teams work late in the morning practice. … Andy Stokes may have earned the moniker "Mr. Irrelevant" based on being the final pick of the 2005 draft, but it appears the tight end is first in another department. According to ESPN.com, Stokes became the Patriots first draft pick to sign when he inked a two-year deal worth $557,500, including a $17,500 signing bonus. According to the report, the bonus represents a 9.4 percent increase over that given to last year's Mr. Irrelevant, Andre Sommersell. ... Bethel Johnson made a wish come true Friday when he welcomed 12-year-old Joseph McCaffrey to Gillette Stadium as part of the Make-A-Wish Foundation of Massachusetts' wish-granting program, which serves children with life-threatening medical conditions. Joseph, a Middleboro, Mass., native, has been diagnosed with Hodgkin's disease and requested to meet Johnson, who has been his favorite player since he joined the team two years ago.