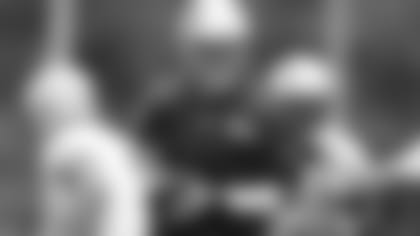 ](/node/46056)Backup quarterbacks rarely get attention, and when they do, it's usually because something bad happened to the starter.
Even rarer – unprecedented, even – is a backup being upstaged by a third-stringer.
But that's what happened to Ryan Mallett this week when the Patriots signed free agent Tim Tebow. Media attention was at a fevered pitch Tuesday when Tebow arrived for his first practice and gave a brief statement to reporters afterward.
Mallett had his moment on Wednesday, though, and the unusually large crowd of cameras, microphones, and reporters converging on him seemed to take him by surprise.
What was no surprise, to anyone, was the direction in which the media's questions went. They wanted Mallett's thoughts... on Tebow.
"There's always competition at every position. It's part of the job," the 25-year-old said matter-of-factly.
So, when he heard the news of Tebow's signing, he thought... ?
"Great... he's a great player, you know. We're going to go out every day and get better and do what we can to be a good team."
The Patriots now have two larger-than-life personalities among their three quarterbacks: one of the best QBs of all time as the starter, in Tom Brady, and the cultural phenomenon of Tebow, a Heisman Trophy winner and three-time finalist for college football's most prestigious award.
In the middle, there's Mallett.
"It's kind of unique, how it's set up [at the QB position]," Mallett conceded, "but we have three great players in that room who have the ability to help our team win. We'll get it done how we can."
Mallett claimed that all three players are helping each other out during this week's three-day mini-camp, the final formal practices before training camp opens late next month. Tebow, as is to be expected, is doing more watching than participating at this stage when the New England offense runs plays against the defense. The newcomer is relying heavily on Brady and Mallett for assistance in learning the offensive system, in which he worked briefly as a rookie when then-Broncos head coach (now Patriots offensive coordinator) Josh McDaniels drafted Tebow in the first round.
"He's a student of the game. He asks questions of me and Tom. He's had a little exposure [to the Patriots offense], not a lot. We're trying to help him out."
And what advice has he given to his new teammate?
"He would know better than me," Mallett grinned. "He's been doing this for a long time."
In fact, Tebow has only been doing this – playing in the NFL – for one season longer than Mallett. Now in his third season, Mallett enters 2013 as the incumbent backup to Brady. And when the subject of Mallett's own development finally came up in conversation Wednesday, he displayed a confidence that he's rarely exhibited in the past.
"I feel like I've continued to improve, get my body in shape, learn how to be the consummate pro. I've got some of the best guys to learn from, so, I'm trying to work hard every day and get better.
"I'm a work in progress," he acknowledged, "but I feel good. I feel comfortable. I feel like, if my number's called right now, I'm ready to go. Every day, I'm trying to come out here and fine-tune the small things and make progress in the small areas of the game." Small areas... like focusing on your job and tuning out distractions?
"I have tunnel vision, so, I don't know what y'all are talking about," Mallett playfully told reporters.
Jokes aside, this preseason will be critical for Mallett, either to cement his job as Brady's understudy if he beats out Tebow, or to audition for a job elsewhere in the NFL, perhaps. But while admitting the latter is a possibility, Mallett stressed that he has no desire to leave New England.
"Anytime you play a game, all 31 teams are going to see it. Obviously, you want to do your best to perform. I'm going out there to help the Patriots win. I'm a Patriot. All this other stuff that keeps being talked about, I don't have anything to do with it... I'm a Patriot. I'm happy being a Patriot."
Even, it seems, when he's being overshadowed.