Anyone that has watched a Colts game this season has witnessed the endless adjustments, audibles and histrionics that quarterback Peyton Manning goes through before every snap. Quite literally Indianapolis' high-powered offense, and any success it achieves, starts and ends with Manning.
And while questions sometimes arise as to how much of what Manning goes through is useful football strategy and how much is theater intended to confuse opponents, his pre-snap ritual is something the New England defense will have to deal with in its overall attempt to stop a Colts offense that has exploded through the first two games of the postseason.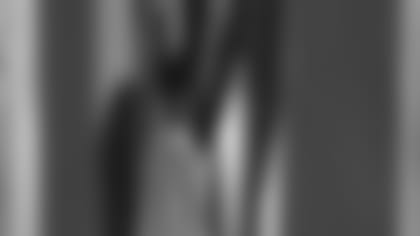 ]()
            "That's just Peyton being Peyton," linebacker **Tedy Bruschi** said. "That's just him running the show. He is a guy that tells people what play to run, how to run it, what snap count it's on and by the way OK let's change that and let's run this audible. That's just what he's done and that's what he's been successful with."  

Bruschi doesn't believe the Patriots can fall into the trap of trying to do too much disguising against Manning, at the cost of losing defensive focus on making plays.
"You are aware of it," Bruschi said. "You are aware of it and you are conscious of it, but the one thing you just have to be is focused on the defense that is called on that particular play and play that as best you can."
"You can't get caught up in what he's doing," linebacker Mike Vrabel said of Manning's antics. "You just have to understand what they're trying to do and execute your plan."
That execution and confidence to allow Manning to go through his motions begins with a defense that is properly prepared for the matchup.
"They are explosive at every position," Bruschi said. "The running backs, the receivers, (Marcus) Pollard is a good tight end also. So everyone is going to have to bring their best game this Sunday to win. We are going to watch our film and we'll be prepared, but going out there and executing on Sunday, that's the key thing."
MTV, the NFL and CBS announced that P. Diddy, Kid Rock and Nelly will join Janet Jackson during the Super Bowl XXXVIII halftime show at Reliant Stadium. … If the Patriots win Sunday's AFC Championship game against the Colts, the team will match the 1972 Dolphins as the only teams in history to win 14 games in a row in a single season. … The Patriots and Colts have combined for 29 wins this season, the second most total victories by AFC Championship Game participants in NFL history. … While Ty Law is completely focused on the Colts and all-world wide receiver Marvin Harrison right now, the Pro Bowl corner is also realistic enough to know that with his current contract situation—including a cap number that will approach $10 million for 2004—each game he plays could be his last in a Patriots uniform. "The best way to plead your case is to go out there and play well," Law said. "I'm just doing the best I can on the field and hopefully I'll make the organization say, 'You know what, he's worth it, let him stay around here.' Because this is the only place I know, this is where I want to be. But at the same time football's football and I feel like I can go anywhere and play the game." … A number of Colts missed practice due to injury on Wednesday, including tight end Marcus Pollard, cornerbacks Walt Harris and Nick Harper and safeties Idrees Bashir and Donald Strickland. Wide receiver Brandon Stokley missed practice to attend to the hospitalization of his month-old son, Cameron. Indianapolis head coach Tony Dungy declined to discuss the specifics of Stokley's situation, but reportedly advised the receiver that family comes first and the team would proceed without the receiver, who has caught eight passes for 201 yards and three touchdowns this postseason, if necessary. "(Cameron) is doing fine right now, doing better," Dungy told the Indy Star. "We'll just have to see hot it goes. It's a fairly serious deal." … Kicker Adam Vinatieri is sporting a thick beard heading into this weekend's game, but it has nothing to do with the postseason or the superstitions that some players fall victim to. "No, this is called it's colder than crap outside and I'm trying to stay warm," Vinatieri said. … Left tackle Matt Light knows he faces a stiff challenge this week from Colts defensive end Dwight Freeney, a guy who has one sack this postseason and has tallied 24 sacks in his first two seasons in the league. "Obviously the guy knows how to make a lot of big plays," Light said. "He's had a lot of sacks in a short amount of time. He's the kind of guy who can wreck a game for you and I think that he's one of those types of guys you can't ever let up on. He's always going to be giving you 100 percent. It's going to take a lot to block him.