The end of the year -- or in this case, football season -- offers a time of reflection for players and coaches. While the Patriots season didn't go the way the team wanted, there is still plenty of good to come from the year, and that includes the weekly "Monday meetings" that became a regular part of the team's schedule.
The virtual meeting rooms became places for Patriots players, coaches and staff to share their experiences with racism, social injustice and more. It was a space for education, learning each other's stories and listening to experts and local leaders.
In his final press conference of the season, Coach Bill Belichick pointed to these meetings and these moments as an important highlight.
"We worked hard throughout the course of the year to improve, to try to move to a higher level, which we did – again, still fell short of where we wanted to be, I'm not saying that – but I appreciate everybody's effort and we all learned a lot. I certainly learned a lot as a coach," Belichick said. "I had to coach and do things that I've never done before, do things differently, and I learned a lot about our players. This was a very educational year from all the social justice meetings and things that we had in the spring which carried over into the season."
With leadership from veteran players, Belichick said the open conversations were something that helped the team grow this year and in the future.
"I think our team did a great job of that. We had great leadership from Jason [McCourty], Devin [McCourty], Matt [Slater] and many others – Brandon King, guys that are involved in just many, many different aspects of that," Belichick said. "But, most importantly, just bringing the awareness within the team for each other and us getting to know each other and appreciate each other's background, story and thoughts. And that was very, again, educational for me, as well as everybody else. I think we all benefitted from it, and again, things that we've done this year that will help us going forward. That would certainly fall into that category – probably at the top of that category."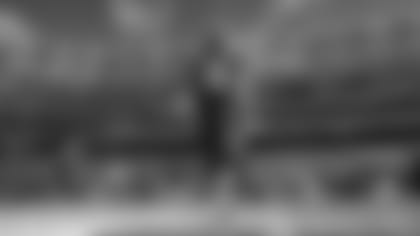 Matthew Slater said those conversations were a powerful way to connect in such a difficult and trying year.
"This year has challenged us in that regard quite a bit. I do think it was an opportunity for us to learn about each other. We all have had diff life experiences. We all come from different backgrounds and have gone through different things. I think it was great for us to learn about that. I think, for me to hear about Coach Belichick's experience growing up and for him to hear about mine and so on and so forth was powerful," Slater said.
"Ultimately, at the end of the day you were able to draw a link, that hey we spend a lot of time talking about differences in this country, but we really do have a lot more in common than what sets us apart. The capacity that we have for love, the need that we have for love, the need we have for relational connection just as people. We're wired very similarly, all of us," Slater continued. "It doesn't matter where you come from, who you are, how old you are. I think we saw that in a new way this year and it was powerful. I think it grew our team relationally I think we connected on deeper levels because we were talking more than just football."
This work went beyond just conversations. Throughout the year, the Kraft Family and Patriots Player Collaborative Fund has given organizations $100,000 donations to continue the fight for equality on a local level.
In a statement on Sunday, Patriots players, coaches and personnel announced they would be donating $500,000 to local organizations through the Player Social Justice Fund. Every year, Patriots players pool money together to thank the men and women who they work with who made the season possible for the holidays. After distributing those gifts, there was an extra $34,000 left over, which will be donated to Boston Healthcare for the Homeless.