Matthew Slater says he is a "man of few words," but he managed to find some on Friday to express his pride and to congratulate a special class of graduates in Boston. 
Matthew spoke at the graduation for Pine Street Inn's jobs program, where about 100 people completed job training and workforce development. Pine Street Inn is a Boston-based organization that partners with people struggling with homelessness to help them transition from the streets and shelters to more permanent housing and independence. Its job training programs are just one of many ways they assist and advocate for homeless individuals.
The graduation is a celebration for those who have completed Pine Street Inn's programs, and Matthew said the graduates would have many more days of excitement ahead of them.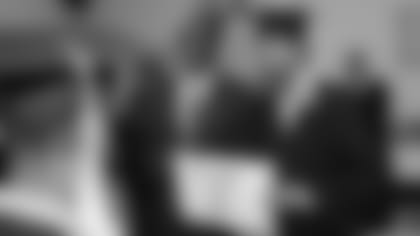 "I think this is just a stop on the journey to bigger and better for all of you, and why I say that is because you've already displayed the discipline, the fortitude, the belief to finish what you've started," Matthew said. "I think if you take those same mindsets and apply them in the future as you move on to whatever it is that you decide to do from here, whatever job it is, whatever challenge you're going to face because there will be more of them, if you take that same mentality, all of you can do something great. I truly believe that, but I need each and every one of you to believe that same thing. I need you to understand that today is a day to celebrate not only what you've done in the past but what you're going to do in the future."
For some of the graduates, the ceremony was the first time they put on a cap and gown, and it signified far more than completing a program. It means they accomplished what they set out to do, they took the twists and turns of life and managed to move forward and excel, even if at times it seemed impossible.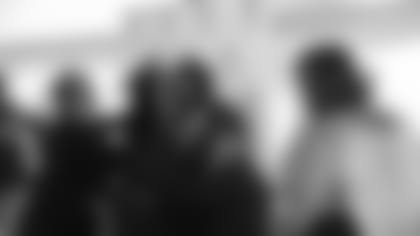 Matthew echoed this when he said life doesn't always go as you have it planned.
"I've found out that sometimes the plan you have for yourself isn't the best plan. Sometimes the unknown out there and the circumstances you can't control in life make you who you are and lead you to a better place, and I'm certainly convinced that's the case with you all here today," Matthew said. "I think each and every one of you has a unique story to tell. The journey has been different, challenging, trying at times but it's all brought you here to today. I'm sure there have been ups and downs, things maybe you would have liked to have done differently, things that you're proud of, but all of that is part of your story. All of that makes you unique." 
As the graduates walked across the stage and received their certificates, Matthew shook their hands and posed for pictures. The graduates beamed with pride knowing they overcame challenge after challenge to get where they are now. 
"Me playing in a football game on Sunday is nothing compared to that," Matthew said.
RELATED LINKS