It's a pretty simple routine for Jerod Mayoand his Patriots teammates these days.
"Weights and running – all day," he smiled as he told reporters this week, a day after the official start of New England's offseason strength and conditioning program.
As most in the media have learned, Mayo is a man of few words when it comes to interviews. Admittedly, he's like that with his teammates, too, even though he was elected one of five team captains last year in only his second NFL season.
With the unfortunate way last season ended for the Patriots, the subject of leadership has been a popular topic ever since. Mayo, a renowned lead-by-example kind of guy, indicated this week that one of his goals is to become a more vocal presence in the New England locker room this season.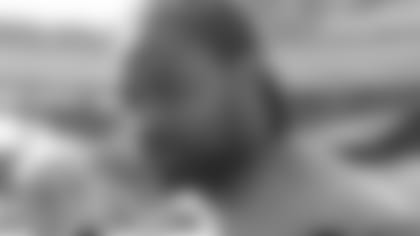 ]()"It was difficult at first, but I feel like I can be a much better leader this year than I was last year as far as on the vocal end," he maintained. "I will still lead with my actions, but I think being a bit more vocal will really help this team.
"I think I can definitely step my game up as far as being a vocal leader on this team. Last year, I still was a second-year player. I tried to still lead by my example. But this year I think losing guys like Junior [Seau] and Tedy [Bruschi] it is a void as far as having that vocal guy on this team in general. I think this is a year where guys can step up and say what they have to say. It's a young team as a whole and the young guys will listen."
Seau and Bruschi were notorious motivational speakers who had a knack for knowing how and when to unleash their best language. For Mayo, part of the challenge will be learning how to find that balance, or else risk his teammates not taking him seriously.
"It is a thin line between phony rah-rah speeches and genuine speeches that guys like Junior can do easily," Mayo said. "I have to find that line and hopefully get that point across.
"Being around here now for three years, you try to gain as much respect as you can from the other players. I learned a lot from Junior last year and the year before. He's left me some things to do this year."
Preparations for the 2010 season began in earnest for the Patriots on Monday, when most players under contract returned to Gillette Stadium for, as Mayo said, lots of lifting, running, and (Mayo's favorite) film study. When he and his teammates look back at 2009, they'll undoubtedly have to concentrate eventually on what went wrong down the stretch – notably in games in which they had leads entering the fourth quarter, only to lose at the bitter end.
Mayo said he understands that, as a leader – vocal or otherwise – he'll need to address in the long, offseason days ahead.
"We lost a lot of games in the fourth quarter ... That's one thing we have to change, and it starts now."