A staple of a Bill Belichick defense is a multi-talented outside linebacker capable of lining up in a two or three-point stance. One that is capable of playing the run, in space in coverage and rushing the passer. Over the last few years valuable guys such as Willie McGinest, Mike Vrabel and Rosevelt Colvin have made opposing offenses miserable with their big-play ability at the position.
The Patriots took a step toward finding the next in line to follow that valuable trio when, with their second of three picks in the second [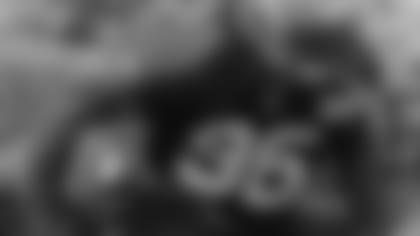 ]()round, they selected Florida outside linebacker Jermaine Cunningham.
The biggest question about Cunningham is whether he will be capable of making the switch from playing with his hand on the ground to standing up as a linebacker. To Cunningham it doesn't matter as he sees the issue simply. When asked which spot he prefers, he had an easy reply.
"Either one," he said. "I'm a football player, so as long as I'm on the field I think everything's fine."
Belichick didn't appear to be overly concerned with Cunningham's transition either.
"He played on the end of the line of scrimmage, let's put it that way," he said. "They did drop him into coverage some but I wouldn't say he was an outside linebacker. He was an end with some outside linebacker duties. I think he's an end-of-the-line player, whether that's up or down we will see."
At Florida, along with Carlos Dunlap, they terrorized Southeastern Conference quarterbacks as bookend pass rushing defensive ends, who fittingly ended their careers with identical sack totals (19.5). Coincidentally, they were drafted consecutively with Dunlap going to Cincinnati with the pick after Cunningham.
Last year the Patriots had a hard time generating a consistent pass rush. Cunningham will have every opportunity to help the team improve in this area but Belichick isn't focused on any one area.
"I hope he'll be able to contribute to us defensively running and passing," he said.
According to Belichick, Cunningham is a very instinctive player and the coach points out that he has been productive against a high level of competition in the talent-rich SEC.
"The guy's played against a lot of NFL tackles last year or this year — guys who are or will be playing in the NFL. I think you saw [that] at LSU or Alabama. Andre Smith from two years ago, Michael Oher from Mississippi. We saw him against a lot of good people."
Like McGinest and Vrabel, Cunningham will bring far more to the table than just his physical ability. Like his predecessors he is an outstanding leader and the ultimate team player. He put his team ahead of his career and played with an injured shoulder in his senior season, including in the SEC Championship against eventual national champion Alabama, which caused him to miss the workouts at the NFL Combine.
His selflessness and leadership abilities were very appealing Belichick, who has lost a ton of leadership off the defense over the last couple of years.
"He's a tough guy, a hard-working guy, very well respected on that football team in that program," Belichick said. "I think he was one of the real leaders for them on defense along with [fellow second-round pick] Brandon Spikes."
Since Belichick has taken over the Patriots he has followed one philosophy. He wants more than just talent when looking for players for his squad. He wants guys who love to play, that love to compete, who are smart and passionate about football. The guys at Florida fill that bill perfectly. Belichick also has an outstanding relationship with Florida coach Urban Meyer and has been to Gainsville, Fla., periodically to speak at clinics, which gives him a deeper look into the Gators players.
Belichick got to see Meyer's players the day after their Pro Day, so he had unfettered access to the entire swamp of Gator talent.
The Florida program is so loaded that the Gators had nine players selected in this year's draft, including five off the defense, which was one of the nation's best units.
"It was a good meeting like it always is with Florida," he said. "Those kids are very focused on football and football is important to [
]()them. It's important for them to win and they work hard both on and off the field. They're extremely well-coached by Coach Meyer and his staff, so it's a lot of fun to sit down and talk football with them."
For his part, Cunningham is eager to get up to New England and start learning the nuances of the Patriots defense so he can be ready to contribute when the season opens in September. Belichick's regular appearances in Florida has not been lost on him.
"Every year, Coach Belichick would come down and talk to the team. Coach Meyer would always talk about him and what a great coach he is and how the Patriots are great," he said.
Now Cunningham will get to experience Belichick and the New England Patriots firsthand.
This story first appeared in the May issue of Patriots Football Weekly.