Though they may not even know it, many Patriots fans may have already gotten a taste of what sixth-round pick (207th overall) defensive tackle Myron Pryorcan do on the football field. You see arguably the most impressive and telling play of his football career was also one of the more memorable NCAA highlights from last fall.
The play in question came late in the fourth quarter last August 31 when Pryor's Kentucky Wildcat's visited his hometown Louisville Cardinals. Already having a solid game by interior defensive line standards with three tackles, a tackle for a loss and forced fumble, the 6-1, 310 pounder put forth an effort that landed him on a nearly continuous loop of SportsCenter highlights when he picked up a fumble and rumbled 72 yards for a touchdown to put the stamp on the 27-2 victory.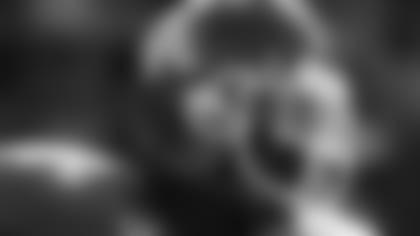 ]()"'Damn, I'm tired. I'm out of air,'" Kentucky defensive line coach Rick Petrirecalled with a laugh of how the quite big man Pryor reacted to the big play. "He was sucking after that run. But he ran a long way. He was excited. He's from that area. It was a very game for him. He played extremely well. I think that made it even more special that he was making those kind of plays late in the game.
"Being a senior, being form Louisville and playing against a lot of people that he knew. He played well. He was excited. He was really fired up about the play. He isn't always an outwardly emotional person, but he was grinning that day."
Pryor grinned once again recently when he was asked about that play upon arriving at what's now his professional home in New England.
"I mean it was a great play. I know that I'm athletic. I'm not boosting it up or anything like that," Pryor responded when asked what that play said about him. "But I feel like I am really athletic and that I am explosive. That's what helps me get an advantage over some guys that don't have that."
Now Pryor will have to take the explosive ability and athleticism and make it work as a nose tackle in New England's 3-4, two-gap defensive front. It's a similar transition as the one Vince Wilfork successfully made coming out of Miami. But Pryor won't have to wait until he watches Wilfork on the practice field this summer to begin learning from the guy in front of him a couple pegs on the depth chart.
"Growing up I always watched the best guys in the NFL," Pryor said. "So I knew him before I even came up here. I just recognized and watched the best guys to see what they do."
Patriots Head Coach Bill Belichickis often hesistant to compare players, especially rookies and veterans, but he admitted there are some similarities in the backgrounds of his Pro Bowl nose and his latest understudy.
"[Pryor] played in a pro-style of defense there with Coach[Rich] Brooks at Kentucky. So I think there are some elements of the things they've done to what we do and what we would do defensively," Belichick said of the transition. "But at the same time, I think there are some differences in the techniques. There might be similar defense, similar to Wilfork's defense in Miami. I'm sure there are some similarities.
"But again, he's had NFL type coaching. I would say that was true of Vince also at the University of Miami. So from that standpoint, I think he might be a little more acclimated with some of the techniques anyway that we'll see here and not necessarily the quality offensive line that we see. But that will come in time."
Over time, Petri thinks Pryor has both the physical and mental tools to succeed at the less than glamorous job of 3-4 nose tackle.
"I think he'll be fine," said Petri, who described Pryor as a quite kid. "We read last year. The last two years we were readers. So he's played ball keys, he's played that style and he's also played a read style. I think he'll be able to adjust from one style to the other because he's played them both.
"I think he has a suddenness where he could be a factor on pass rush. But I think he's strong, real strong in the lower body, which will help him take on the combination blocks that he'll have to defeat to succeed at that position. If you are going to be good at nose tackle you are going to have to play those kinds of blocks."
The quietly confident Pryor agrees.
"It's a hard a man's job. But I believe in myself that I can get it done. I believe that if I come in here and work hard every day and listen to what the coaches have to say I feel like I will have no problem being a great part of this system."
Plus, how many nose tackles have 72-yard fumble return touchdowns on their resume?