There are a handful of more experienced players on the practice field this weekend as part of New England's rookie mini-camp.
Beyond the team's seven draft picks, seven rookie free agents and a trio of tryout players, six veterans - somewhat ironically known in NFL lingo as "first-year players" - are also in the spring practice mix.
Maybe most interesting is a trio of defensive end/outside linebacker types that spent all or part of last fall in New England. That group includes 2011 sixth-round pick out of Central Arkansas Markell Carter as well as rookie free agents from a year ago in Aaron Lavarias (Idaho) and Alex Silvestro (Rutgers).
Unlike this year's rookies, youngsters a year ago missed out on rookie mini-camp and the entire offseason thanks to the NFL lockout and CBA negotiations. They had the unenviable misfortune of being thrown right into the training camp fire when a new CBA was reached.
Carter spent the entire fall on the New England practice squad, while Lavarias and Silvestro each spent portions of the year on the eight-man taxi squad.
Interestingly in their second season with the Patriots they're actually in their first actual offseason with the team. Given the unsettled nature of the team's depth chart on edge of the defensive front, all are also fighting with the likes of draft picks Chandler Jones and Jake Bequette for a job and potential playing time.
"I was happy," Lavarias said of his reaction to being told to attend rookie mini-camp. "I have a lot to learn playing in t his league. I was excited to get more of a one-on-one opportunity to be with the coaches. To sit down and learn the bare bone and basics of the defense.
"It's good. It's kind of a nice refresher course having been here last year. You feel like you are a little bit ahead of the curve. You know a little bit more."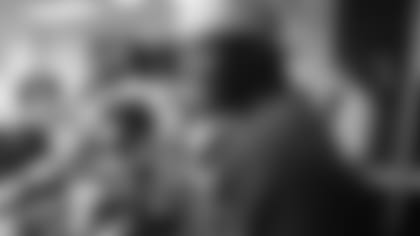 Carter -- who's bulked up to 275 pounds in his year in New England after playing his final college season at 250 – had a similar reaction.
"Whenever coach gives you the opportunity to learn more, you take it," Carter said. "So having these extra two days to just be in the meeting room, to be back on the field doing drills and stuff like that is going to give me a head start."
Carter admits that he could have used this weekend at this time a year ago, when he was at home working out alone.
"Of course, whenever you can get a couple months in before is going to help. I got here (last summer) and the first day I got a playbook about this thick (holding thumb and finger as far apart as possible) on my desk and the next morning I'm expected to know it all," Carter recalls.
Now Carter has had a full year to learn and grow, physically and mentally. The Patriots showed their interest in the rookie last December by choosing to double his practice squad salary to $306,000.
"Bill's a great coach and whenever he says I'm ready, I'm ready," Carter said of not getting promoted to the 53-man roster at any point last season. "Obviously the pay raise lets you know they are interested in you. And whenever your boss gives you a raise you are going to feel good about yourself. It was a little bit more motivation, but it was also … for me it was like they wanted me here, but they gave me this pay raise so I can see how much they invested in me so I need to invest more into them as well."
With Mark Anderson having moved on to Buffalo, Andre Carter remaining a free agent as he recovers from a torn quad and it unlikely that Shaun Ellis will be brought back, Carter, Lavarias and all the other young edge players clearly have a chance to show their stuff.
"You have a lot of young, fresh legs running around out there," Carter said. "You have a lot of eagerness out there. And you just have a lot of…we all want to prove ourselves. Being so young we haven't established ourselves in the league. So we just want to build on what some of the older guys like Andre , and Ellis and Money (Gerard Warren) and some of those guys did last year and just keep building on that."
"We're all going to push each other and work really hard to make each other better no matter how old you are," Lavarias added.
Carter may have the best shot at earning a role. Given his added weight, and the fact that he says he's retained his "forward and lateral quickness" while adding a lot of strength, he could be an option for the wide open edge of the front seven.
That said, he doesn't have any specific expectations heading into his sophomore season.
"Just to get better," he said. "I really don't know what's going to happen tomorrow. I don't know what's going to happen two weeks from now. All I can do is come into work today and work my tail off and get better today.
"Bill [Belichick] gives everybody…he's real straight forward that it doesn't matter what round you came in, if you are undrafted or were draft, if you come in and you work hard and you invest in Patriots Way you are going to get an opportunity. And that's all I ask for is an opportunity."
And for at least two days Carter and the other five first-year players are the veterans on the field. That means they might be able to offer a little bit of advice to their rookie teammates.
"It's a lot like your freshman year of college. You are a freshman, you are a rookie. The less you say and the less you're seen the more things can go better for you," Carter said. "The more time you can stay in your playbook and work about things you can control, like how hard you are working and how much you are improving, you are going to do well. Whenever you start worrying about the outside noises, it can get overwhelming.
That can be true whether you are a rookie, or a first-year "veteran."