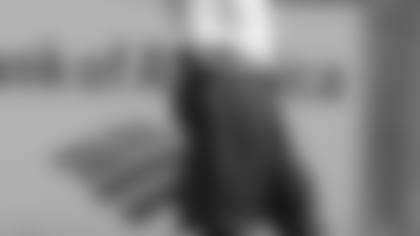 ]()The sight made Randy Moss anxious.
When he first set foot in the Patriots locker room, Moss saw his locker sandwiched between two legends. On one side, Super Bowl MVP Tom Brady. On the other, Vinny Testaverde, a former Heisman Trophy winner now entering his third decade of professional football.
"That's when the butterflies came in," Moss admitted.
Talking with the press corps doesn't seem to have quite the same effect on Moss.
Wednesday was the wide receiver's first face-to-face contact with members of the media since he joined the Patriots via a Draft-Day trade.
An overflowing throng of reporters and photographers awaited a jovial Moss as he left the practice field shortly after 12:30. The first question he took: What's it like to be a New England Patriot?
"I'm liking everything I see, and hopefully I can just fit in," he replied.
He credited his new teammates with being very fair and friendly to him, including quarterback Tom Brady, with whom he said he's developing a good relationship.
"This is a great group of guys. [They] are getting to know me and understand that I love to win and carry myself as a professional athlete. I love coming to work every single day and just being around these guys."
Is his expectation to win a championship with New England this season?
"A [Super Bowl] ring is really long term," Moss reasoned. "First of all, we have to make it through camp and then make it through preseason and then get through the regular season and then hopefully make the playoffs. We have to start from the bottom and climb our way up to the top.
"At the same time, I'm a 10-year veteran," he continued. "I'm not going to sit here and lie and say I don't want a ring. This organization has three, and the players know how hard they have the work to get back to that point."
Moss later acknowledged the bad rap he believes he's received in the past – a product, he said, of his not opening up to others about his true feelings.
"I don't really like to do interviews because that's not my job. My job is to catch touchdowns and help the team win. I don't really plan on being too much in front of this microphone all year."
Which may explain why so many reporters were anxious to talk to him today.
Running back Laurence Maroney made his first appearance at mini camp, though his action appeared limited. Notable absentees on Wednesday included defensive lineman Richard Seymour, safeties James Sanders and Brandon Meriweather, tight end David Thomas, and, yes, cornerback Asante Samuel.
During the 2-minute drill towards the end of practice, defensive players who were on the sideline started shouting in unison to simulate crowd noise. For the most part, quarterback Tom Brady and the offense handled the spontaneous outburst well. At one point, though, guard Logan Mankins false-started, much to the delight of the defense. The offense scored on the play, but Mankins was forced to run a lap around the field for his miscue.
An interesting tête-à-tête took place during 7-on-7 drills. Tight end Garrett Mills out-muscled cornerback Chad Scott to make an impressive touchdown grab. A play or two later, Scott redeemed himself by battling Mills for the ball and making a somersault interception.
In 11-on-11 play, wide receiver Jabar Gaffney broke free for a nice catch down the sideline. As he continued to run, fellow wideout Wes Welker raced to his aid to throw a heads-up block downfield.
Welker also had some more great catches Wednesday, and made a spectacular after-the-catch move on safety Eugene Wilson at one point, which sent Wilson to the ground.
Gaffney hauled in a pretty, arching touchdown pass from Brady from about 30 yards out during the 2-minute drill. Overall, the offense looked sharp today.
Linebacker Adalius Thomas showed some speed today. On one particular pass play, the 270-pounder followed rookie running back Justise Hairston stride-for-stride when Hairston came out of the backfield. Hairston was the intended receiver, and the quarterback wisely threw the ball out of bounds.
Kicker Stephen Gostkowski worked on short field goals (in the 30-yard range) at the start of practice (with Lonie Paxton snapping and Josh Miller holding), before switching to 50 yards later in the morning. He had a strong day from long distance. He also made the majority of his kicks during the team field goal session. Miller, however, had an on-and-off day punting the ball.
Safety Rodney Harrison picked off Brady during a 7-on-7 play.
The running backs worked on their receiving skills for part of practice.
Have we mentioned Welker's quickness and good hands lately?[
WR Kelley Washington had a rough day. He dropped several seemingly routine passes.
Rutgers head football coach Greg Schiano was a guest of the Patriots at Wednesday's practice. He was seen talking with Pats boss Bill Belichick and taking notes while watching drills.
QB Vinny Testaverde continues to practice with the team, even without a contract.
RB Sammy Morris is still wearing his red (no-contact) jersey.