The Patriots have reached what might be termed the second phase of training camp as they prepare for Friday night's preseason opener in Cincinnati. Head Coach Bill Belichick noted Monday morning that everything has been installed and that the team has focused its recent efforts on situational football.
"We've covered all the normal and some less frequent situations that can come up in a game," Belichick said. "Now we'll try to pull it together and get ready for Cincinnati. We'll take generic plays in our system that we've covered and adapt them for the game.
"The next couple of weeks are the most important of training camp. Now that everything is in, we'll see who has staying power and consistency and who can handle multiple things being thrown at them."
The Patriots, working in shorts, shoulder pads and helmets, continued working on some down-and-distance situations Monday afternoon in the day's only practice. Red zone passing was a focus during 7-on-7 work and the Patriots defensive backs did an excellent job for the most part during the segment.
Quarterback Tom Brady did hit Deion Branch for a touchdown against Tyrone Poole and then found David Terrell short of the end zone, but it appeared that Terrell curled into the end zone past Chad Scott's would-be tackle attempt. Brady unsuccessfully attempted a fade to a well-covered Kevin Faulk in what was at least his third read in the progression and also had to scramble another time with every receiver well covered.
Rookie quarterback Matt Cassel ran with the second group throughout the practice and he hit for a 7-yard touchdown to tight end Jed Weaver on his first attempt after looking off the inside coverage. He threw short of the end zone twice with Rodney Harrison making one stop and Chad Brown another. He also threw an ill-advised pass to Jason Anderson along the back end line, but Asante Samuel had excellent coverage and nearly intercepted the pass, which fell incomplete.
Doug Flutie complete one touchdown pass during his brief turn, hitting Bam Childress for the score, while Rohan Davey was shut out in his short turn.
The wide receivers and defensive backs ran against each other in a drill not seen used much in the past. Both the receiver and defensive back started aligned nearly side-by-side with both on the same side of the line of scrimmage. The defensive back was one step behind the receiver and both broke off the line simultaneously on a go-route straight down the field.
Branch dominated the drill beating Eugene Wilson, Chad Scott and Harrison. The receivers clearly had an edge during the segment, but the defensive backs held their own. Poole broke up a throw to David Givens while Samuel had Troy Brown blanketed on one play and deflected the pass away. Brown came back to beat Ellis Hobbs for a catch, Anderson grabbed one over Hank Poteat and Terrell out-jumped Samuel for another reception. Givens later dropped a throw after beating Poole down the field.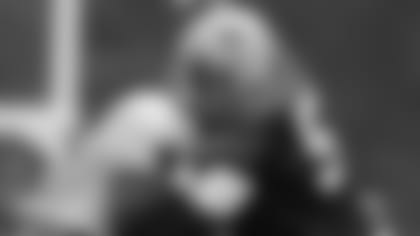 ]()Subpackages on defense and two-tight end, one-back and empty backfield formations on offense were a focus of full-team 11-on-11 work. The dime defense included Jarvis Green and Richard Seymour up front with Willie McGinest, Brown and Rosevelt Colvin at linebacker and Samuel, Hobbs, Wilson, Poole, Guss Scott and Harrison in the defensive backfield.
Daniel Graham made the catch of the day on the first play of full-team work. Brady, using a play action fake to Faulk, turned and had a streaking Graham open on the hash marks, but threw to the wrong side of his tight end, who made a terrific adjustment and a nice leaping catch.
Brady also threw a perfect pass to Brown, who gained a step on Hobbs and then turned up the sideline for what would have been a big gain. On one rollout pass, Brady fired the ball wide and out of bounds while on the run. Mike Vrabel busted through for a would-be sack when Flutie was at the helm and running a designed rollout to the his right.
Other notes: The Patriots had a walk-through session at the start of practice that included kickoff return work. Cedric Cobbs,Hobbs, Patrick Pass and Faulk all returned kickoffs although Cobbs had trouble handling them, bobbling one and fumbling another. They ran the same kickoff stuff at a faster tempo later in practice … The following players missed practice: wide receivers P.K. Sam and Bethel Johnson; running back Chad Morton; linebackers Andre Torrey, Tully Banta-Cain and Ryan Claridge; cornerback Randall Gay; defensive linemen Ty Warren and Santonio Thomas; and tight end Benjamin Watson. Linebacker Willie McGinest returned to practice and wore full pads while his teammates wore helmets, shoulder pads and shorts. Wideout Tim Dwight did not wear shoulder pads. … New tight end Matt Brandt, who replaced the released Andy Stokes on the roster, assumed Stokes' No. 46. Stokes, a.k.a. Mr. Irrelevant, was selected by the Patriots with the last pick of the 2005 draft. … Offensive lineman Ryan Krug changed from number 69 to 60 while receiver Eugene Baker switched from No. 1 to No. 19, which was formerly worn by Ricky Bryant, who also was released. … The team did some conditioning work at the end of practice running sprints at different distances. … Givens stayed very late after practice catching passes. … Patriots radio voice Gil Santos attended the workout … A fan donning a modern-day Patriots shirt with John Hannah's No. 73 had the name "Sporto" across the back. … Andy Hart reported one small geese flyover – a three-bird "flock."