The trajectory of Drew Bledsoe's career changed with one fateful hit from Mo Lewis on Sept. 23, 2001, and while that game is known as the beginning of the Tom Brady era in New England, a new "E60" feature shows the other side of the story.
The journey Bledsoe took since that game started out with anger and disappointment, but nearly 20 years and a thriving post-football business later, Bledsoe has found peace in his bittersweet past. "Better with Age" hosted by ESPN's Jeremy Schaap covers everything from his early days in Foxborough as the young, hot-shot franchise quarterback, the aftermath of his injury, dealing with losing his job and watching a Super Bowl from the sidelines -- all with the backdrop of his expansive vineyard in Walla Walla, Wash.
"We get enough of this, I might actually tell the truth," Bledsoe said, gesturing to a bottle of his own wine.
The entire feature is worth a watch, but here are some of the most memorable quotes from Bledsoe, his former teammates and his family.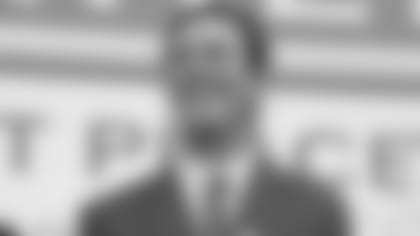 On Drew changing the game in New England
Robert Kraft: "I had dreamt about buying the team and having a franchise quarterback like that. It created a whole new feeling about the team and the potential."
Jonathan Kraft: "He gave sports fans a reason to believe. He was visible in the community. He made you excited to be a Patriots fan."
On the 2001 season and the aftermath of losing the starting quarterback role
Bledsoe: "The 2001 season, you couldn't go write that script because nobody would believe you."
"We had [Tom Brady] over for dinner probably at least every other week. I really liked this kid. He's never going to be a starter. He's going to be Jason Garrett or any of those guys who is just going to be around forever. He will be a good backup quarterback for a decade plus, but nobody outside of maybe Tom himself would have ever predicted that he was going to go on to be a starter in the league."
Robert Kraft: "I was heartbroken because I felt a connection, and I didn't think it was fair on a human basis. Drew came to me and expressed his frustration. I went and met with Bill, and Bill explained to me his thinking. I mean, I could have stepped in especially at that time. I had deep discussions with Bill. I was bothered, but I trusted Bill to make the final decision as he's more capable than I am. Although, emotionally it was very difficult."
Troy Brown: "I think it showed a level of professionalism there and I think unselfishness. He was probably our MVP because he could have easily torn our team down just by causing a stink about the whole situation, but he wasn't that kind of person."
On getting into the wine business
Brown: "He was one of the first people I ever saw to do the whole swirling it in the glass and sniffing it that type of thing. I'm like what's wrong with this guy? Obviously he was on to something."
Bledsoe: "I'm certain that we started drinking a little bit of wine once we were certain I wasn't getting my job back."
"I played football, I made a decision I knew right away if it was a good decision or a bad decision. If our guys caught it, that was a good decision. If the other guys caught it, that was a bad decision. In the wine business, a lot of the time, it'll be a decade before you know the true implications of decision you make."
While the path to get to where he and his wife are now wasn't always easy, Bledsoe found his way and found peace along the way.
"Life's too short to spend time being bitter," he said. "By handling it that way, I've been able to be at peace. I truly wouldn't trade my life for anybody's in the entire world."