In 2009, Raytheon and the New England Patriots teamed to launch the "Science of Sports" Science Fair, a program designed to engage students in math and science principles through the lens of sports. Raytheon employees team with students from Boys and Girls Clubs across New England for a five-month program that ends with a science fair at Gillette Stadium. To celebrate the fifth anniversary of the program, Raytheon Chairman and CEO William H. Swanson and the Chairman and CEO of the New England Patriots, Robert Kraft, sat down to reflect on their favorite moments.
1. Question: Five years into the program, what is/are your favorite memory(ies) from the Fair?
Kraft:Though each year is memorable, one of my favorite memories is meeting the grand prize winners from last year's "Science of Sports" Science Fair. The "Las Ultimate Twirlers" were an all-girl team from Lawrence, Mass. that explored the use of science in the sport of gymnastics. When I met the team, I could sense their passion for their project, their excitement about what they were learning and interest in how it applied to their every-day life. They were full of enthusiasm, which gets me excited about helping to build futures in math and science. Not only did I enjoy their energetic presentation, but when we announced them as the grand prize winners, it was fun to see their excitement as they ran onto the stage to receive their trophy and scholarships.
Swanson:I love watching these young students being selected and recognized for their achievements. I have so much fun being a judge and hearing them explain to me what they are doing. Then I get to ask questions to see how well they understand the principals of science they use to reach a conclusion. When you see them "light up" explaining their projects, it is something special.
2. Question: Why did you partner with Raytheon to develop the Science of Sports Science Fair?
Kraft:First of all, I have great respect and admiration for Raytheon's Chairman and CEO Bill Swanson. He has done tremendous things with Raytheon. With the resource of the dozens of Raytheon mentors who volunteer to work with these students on their projects, I can't think of a better company to partner with for a science fair. Raytheon continues to set the bar in technology and innovation and plays a key role in ke eping our country safe through developments in defense and security. They truly live the phrase, "continuous innovation," always looking for new ways to maintain their competitive advantage. We enjoy a shared vision for excellence in the business community as well as a fervent commitment to philanthropy and communities in our region and around the world. One of the projects we have worked together to develop is The Hall at Patriot Place presented by Raytheon, which opened in 2008. Not only is The Hall a unique place to learn and remember Patriots history, but we partnered with Raytheon to utilize math and science to promote education through family-centered games, activities and STEM education. Throughout the school year, thousands of students visit The Hall to learn about the Patriots. Through sports, we can attract students to engage in the study of science in a way that most really enjoy. As part of wanting to do more, five years ago we implemented this "Science of Sports" Science Fair which engages hundreds of youth at New England Boys & Girls Clubs and pairs them with more than 70 Raytheon volunteer mentors to brainstorm, create and host their project at our annual "Science of Sports" Science Fair. Each year, Bill and I are joined by a Patriots player to serve as judges. We enjoy meeting the students, learning about their projects and awarding scholarships for the best projects. We couldn't have a better partner for the "Science of Sports" Science Fair and for other math and science educational opportunities at The Hall at Patriot Place presented by Raytheon.
Swanson:I have had the good fortune of knowing Robert Kraft for many years. We have much in common, and I've been consistently impressed with his leadership, business acumen and integrity. So we're often looking for areas where we can work together and partner. After we teamed up for The Hall at Patriot Place presented by Raytheon, we were discussing how we might partner to help the youth of New England, and the concept of the Science Fair came up. Robert and the Kraft family are renowned for giving back to the community, and Raytheon has long been focused on supporting math and science education. We combined these interests to benefit the students at area Boys and Girls Clubs. Raytheon has our passionate employee volunteers who mentor the students, and the Patriots provide the venue, the players and make the students feel like superstars. It's far exceeded our initial expectations, and it's become one of the events I most look forward to each year.
3. Question: Patriots players Danny Woodhead, Patrick Chung, Sebastian Vollmer and Jerod Mayo have all participated as guest judges; do you have any memorable stories about them?
Kraft:I am always amazed at how much science is utilized in the sport of football. That is one of the things the judges talk about before each science fair. It's one of the conversations I really enjoy having with each of the players that participate from year to year. It brings it back to the importance of education, which is the reason we implemented this program. Each of the players bring their own personality to the judging process. Jerod Mayo dove into the projects and spent a lot of time laughing with the students. Patrick Chung really pored over the scores and debated while trying to make the right decision. Last year, when Danny Woodhead joined us we joked that he met the height requirement of being a judge. This year will be a little different when we are joined by 6-foot-7-inch offensive tackle Nate Solder. I am looking forward to it and I know Nate is, too.
Swanson:It was fun having Danny Woodhead last year, because he was one player I was taller than. It's good knowing that I'm bigger than a professional football player, and I hope Robert Kraft has let Coach Belichick know that I'm available if needed.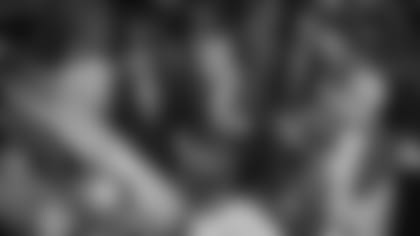 Question: What about the Science of Sports Program are you most proud?**
Kraft:I think one of my favorite elements of this program is the idea that investing in our youth reaps numerous rewards and creates a positive ripple effect for the future. The "Science of Sports" Science Fair utilizes many different groups of volunteers, including more than 70 Raytheon mentors. Through these sports-themed projects, the mentors make science fun. I am sure, through this science fair, seeds of interest have sprouted from students who otherwise might have never taken an interest in math or sciences. Inspiring study in STEM fields is so important to our future. I am just proud to see the engagement and excitement these students have about their projects and hope it inspires greatness in the future.
Swanson:The partnership with the Kraft family, the Patriots organization, and seeing how working together we all make a difference in the lives of others. Robert and I share a concern for growing the "pipeline" of students pursuing studies and careers in science, technology, engineering and math (STEM). STEM careers are wonderfully rewarding and challenging, and they are also much needed for our nation to continue as innovation leaders in this era of global competitiveness. It is our hope that this Science Fair serves to inspire the students to develop an interest in STEM so they'll be excited to pursue STEM education. Sometimes all it takes is a single moment or spark to inspire a future engineer or scientist to pursue a STEM career. What a great "spark" to pair science and sports together.
5. Question: What are you looking forward to most for the 2013 Science of Sports Science Fair?
Kraft:One of my big concerns is that we have a shortage of young people in the study of math and science and we don't fill the engineering needs of this country. I think this program plants the seeds in young, talented people who hopefully will be inspired to continue study in the field. At this year's "Science of Sports" Science Fair, we welcome one of the largest groups of students and Raytheon mentors in the five years since we created this program. Each year, I am impressed as the projects get more creative. I am looking forward to seeing this year's projects, meeting the students and encouraging them to continue their educational pursuits in math and sciences.
Swanson:Seeing these young students get excited about the Science of Sports. It never gets old. They work so hard on these projects and are so proud of their work. Then they get to experience Gillette Stadium, which brings their experience to a whole other level. Their enthusiasm is truly infectious, which really makes you feel good about the future – since our nation needs to inspire a new generation of scientists, technologists and engineers to drive innovation and U.S. economic growth. And of course, I always look forward to strengthening our partnership with Robert, the Kraft family and the Patriots.