Other than some lingering perspiration, Dan Koppenshowed no signs of fatigue from his just-ended workout.
"Yeah, it's good to be back," the smiling Patriots center told a small group of reporters inside Gillette Stadium. Apparently, he got an early start to the team's offseason strength and conditioning program, which officially started last week.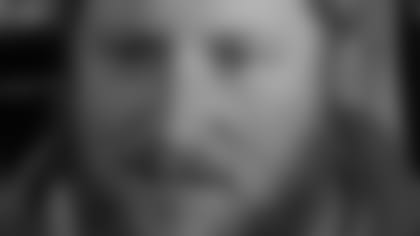 ]()"There's been a bunch of us in here, probably the last month or so, just trying to get the soreness out. But seeing all the guys come back and get back lifting and running, it's fun. The start of the offseason's always fun just to get things building for next year."
Part of Koppen's anxiousness to get going again can be attributed to New England's longer-than-usual offseason, which began a few days before New Year's.
"It was long. It was really long," he acknowledged. "You got to mid-February and you're like, 'Gosh, we've still got a month to go till we get back.' So, it was different, but sometimes you need that time to rest up and recharge and use it well."
Interesting choice of words by Koppen, seeing how he's had very little time to rest or recharge of late. In early February, he and his wife, Amber, welcomed their first child – a boy they named Cambell … without the 'p.'
"He keeps us up at night. We hear stories of people's kids who sleep through the night at six weeks, seven weeks … I don't think we're anywhere close to that. We're getting up twice, three times a night with him. But it's fun."
It's also been fun for Koppen to follow the many moves his team has made to improve its roster so far this year. On offense, the Pats have added two wide receivers (veterans Joey Gallowayand Greg Lewis), a tight end (Chris Baker), extra depth at offensive linemen, and perhaps the most intriguing prospect, long-time Jacksonville Jaguars running back Fred Taylor.
"It's exciting," said Koppen. "I've heard nothing but good things about Fred. I've never met him, but from watching him play, I've always admired how he played and what he could do on the football field.
"And the receivers, obviously, Joey Galloway speaks for himself, what he's done over his career. Greg Lewis, what he's done in Philadelphia, I've heard good things about him as a person and what he can do for us. Bill [Belichick, the Pats head coach] does a great job of that every year, bringing in new guys and retooling things and giving us a better chance to win, hopefully."
]()And lest we forget, Koppen is equally excited about getting reacquainted with his quarterback, Tom Brady.
"Yeah, and I think the one person looking forward to that more than you guys [in the media] is him," Koppen noted. "Just knowing him and how competitive he is, how much it killed him to be on the sidelines last year. He's really excited … how hard Tom works in the offseason, I think he's just going to flow right back into it, and we're going to go out and do our thing."
Until then, Koppen has plenty to keep him occupied at home.
"You know, everybody says how quickly your life changes in a second. They couldn't be more right," he mused about fatherhood. "It's just an amazing experience. We really don't know what we'd do without him now. It's fun, it's cool, and every day's new and exciting. He's starting to smile now. It's awesome."
So, what's with the unorthodox spelling of Cambell?
"We kind of messed him up with that," Koppen admitted with a laugh. "He's going to be saying 'Cambell without the 'p' for the rest of his life."