Foxborough – New England's defense scored two touchdowns, recorded nine sacks and forced Dan Marino out of the game after just three passes. Unfortunately, a completely inept offense ruined a strong defensive effort as New England allowed a touchdown with 23 seconds remaining and fell 31-30 to Miami Sunday.
Damon Huard, Miami's backup quarterback, threw a 5-yard touchdown pass to Stanley Pritchett with under one minute left to cap a comeback that caused a Foxboro crowd to boo the home team as the game ended. Huard, who had nine career pass attempts before Sunday, threw two touchdown passes and ran for 54 yards on six carries.
Cornerback Ty Law said it straight when assessing Huard's performance.
"He was good," Law said. "Good for their team, bad for our team."
While Miami made the plays it needed to win, the Patriots did very little on offense. Despite coming into the game second in the NFL in third-down conversions, New England converted just two-of-11 third downs against the Dolphins. Of the 13 possessions the Patriots had, 10 went four plays or less.
"We are just not making the ball move," Head Coach Pete Carroll said. "We're just in there and out of there so quick."
New England ran the ball just 14 times for a paltry 46 yards. The passing game wasn't much better, as Drew Bledsoe completed 17-of-36 attempts for 225 yards. Terry Glenn, who entered the game as the league's leading receiver, was shut out by the Dolphins secondary, and tight end Ben Coates managed just two catches for eight yards.
"I don't know the answer," Bledsoe said when asked why the offense has continued to struggle. "If I knew it, I'd give it to you."
"In the second and third quarter you still have to be playing, and you have to put the nail in the coffin," said wide receiver Tony Simmons, who had three catches, including the lone touchdown on offense.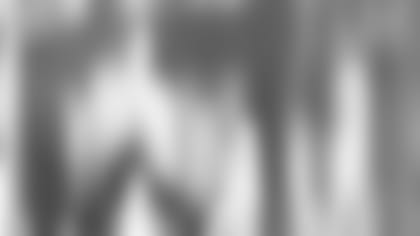 ]()
            The strong play of the defense made the loss even harder to swallow. Rookie linebacker Andy Katzenmoyer and Law each returned interceptions for touchdowns that staked the Patriots to a 14-0 lead. Katzenmoyer's first career pick came on Miami's first drive of the game and went for 57 yards. Law's 27-yard return came on the first pass of the game by Huard.  

"When your defense scores twice, there is no way you should lose a ballgame," Bledsoe said. "They came and spotted us 14 points. Offensively we couldn't put up enough or hold the ball long enough to come away with a victory, and that should never happen."
Besides the interceptions, the Patriots came up with nine sacks, coming just one short of the team record for one game. Katzenmoyer, Chris Slade and Willie McGinest each had two sacks. Chris Carter had one, while Law, Chad Eaton, Brandon Mitchell and Greg Spires were each credited with a half-sack.
Like the offense, the special teams coverage units also played poorly for New England. Miami kick returner Brock Marion averaged 28 yards on five returns, including a long of 58 yards. Punt returner Nate Jacquet gained 86 yards on four returns, including a 45-yarder.
"We just have to make plays [on special teams] and today we didn't," special teams player Jerry Ellison said. "We had a lot of returns go for big yards. They had good field position and got the field goals. It was terrible. [Punt returns] should never go more than five yards. You get 30 yards like that and it is going to kill you, and it did."
Miami place kicker Olindo Mare set an NFL record by kicking four or more field goals for the fourth straight game. Mare made all six of his field goal attempts