FOXBOROUGH, Mass. - The Kraft family and New England Patriots Charitable Foundation's Myra Kraft Community MVP Awards place a spotlight on those who give their time to help others and exemplify leadership, dedication and a commitment to improving their communities through volunteerism. Each year, the Kraft family and the New England Patriots Charitable Foundation host the awards program as part of the ongoing Celebrate Volunteerism initiative in honor of Myra Kraft's example of being a lifelong volunteer.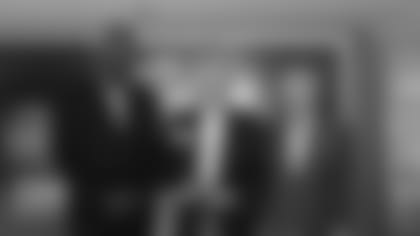 On Thursday, June 2, 26 volunteers were recognized for their contributions at a luncheon and awards ceremony at Gillette Stadium. Each Community MVP received grants for their respective nonprofit organizations. Fifteen New England-based organizations were presented with $5,000 grants in honor of their volunteers' work. Ten others received grants of $10,000 and one grand prize winner was presented $25,000. 
"This event will always be one of my favorite community programs that we do," said Patriots Chairman and CEO Robert Kraft. "The story of each recipient and the cause they are supporting is so unique and inspiring. I know that, just like Myra, none of these winners were looking for any recognition but we are happy to shine some light on the great work they are doing in their communities. We are thrilled to offer our support to each of these 26 nonprofits in honor of their outstanding volunteers."
On hand to congratulate the award winners were Patriots Chairman and CEO Robert Kraft, New England Patriots Charitable Foundation President Joshua Kraft and Patriots and Pro Football Hall of Famer and Patriots Executive Director of Community Affairs Andre Tippett.
Barry Clayman of South Yarmouth, Mass. was selected as this year's $25,000 grand prize winner. 
"I would like to thank the Myra Kraft Community MVP Awards committee for being recognized as a worthy volunteer," said Clayman. "I have been fortunate, with the support of my family, to be able to participate in volunteering efforts for many years." 
Clayman has been actively volunteering in the community for more than 50 years and served in a wide variety of roles for various nonprofit organizations. Most recently, he helped start the Yarmouth Food Pantry in 2010. Clayman and members of the board learned that more than 50 percent of students in the area were receiving free or reduced lunch. They vowed to help and what started as a small organization has since grown to serve thousands of children and families in need.
"Having our volunteer selected for the Myra Kraft award recognizes the hard work and dedication that all of the volunteers of the Yarmouth Food Pantry contribute to its success in our community," said Susan Martin, executive director of the Yarmouth Food Pantry. "Without Barry and the almost 100 volunteers of the Yarmouth Food Pantry, we would not be able to serve the more than 5,000 residents that it currently serves."
"Since retiring to Yarmouth on Cape Cod, my efforts have been directed to the establishment and continuing success of the Yarmouth Food Pantry," said Clayman. "The pantry is so important in that it meets the nutritional needs of families, young and old.  Every week, we have new families seeking the assistance of the pantry. The financial support, provided by the Myra Kraft Community MVP Award, will assist in the pantry's goal of meeting the needs of our client families."
In addition to his work at the Yarmouth Food Pantry, Clayman has played a major leadership role in the Rotary Club since the mid-1980s. He established Adult Day Health Programs to help raise funds and provide scholarships to families who are struggling with health expenses. Clayman also traveled to India in 2004 to assist with an immunization program to help eradicate Polio. To top it all off, he has personally donated more than 28 gallons of blood to local hospitals.
"The Old Testament speaks of 'Tzedakah' in reference to charity," Clayman said. "The path that I have followed is based upon Rotary International's motto of 'Service Above Self' and my inner-understanding that it is more important to give than to receive."
The 2016 MVPs represent all six New England states, a variety of nonprofit organizations and range in age from 17 to 93 years old. The Kraft family and New England Patriots Charitable Foundation received a record number of applications this year from nonprofit organizations looking to recognize their outstanding volunteers. Nominations open each spring and the awards are open to all nonprofit organizations in the New England region. For more information on the Myra Kraft Community MVP Awards, please visit www.patriots.com/community. 
Below is a complete list of the 2016 Myra Kraft Community MVP Award Winners:
**NAME**
**HOMETOWN**
**ORGANIZATION NAME & TOWN**
**$25,000 GRAND PRIZE WINNER**
Barry Clayman
S. Yarmouth, Mass.
Yarmouth Food Pantry (W. Yarmouth Mass.)
 
**$10,000 SECOND PRIZE WINNERS**
Cara Belvin
Scituate, Mass
EmpowerHER (Scituate, Mass.)
Kathleen Boni
Milford, Mass.
Green Zinnia, Inc. (Milford, Mass.)
Rita Guariglia
New Milford, Conn.
Literacy Volunteers on the Green (New Milford, Conn.)
Floyd Hastings
Saco, Maine
Southern Maine Agency on Aging (Scarborough, Maine)
Sarah Marchiso
Rochester, Mass.
Waterville Valley Adaptive Sports (Waterville Valley, N.H.)
Kevin McKenna
Hanson, Mass.
Prom Angels (Hanson, Mass.)
James Orcutt
S. Easton, Mass.
My Brother's Keeper (N. Easton, Mass.)
Melissa Pandolfi
Branford, Conn.
Camp Rising Sun (Branford, Conn.)
Lauren Richardt
Acton, Mass.
Miracle League of Mass.  (Acton, Mass.)
Susan Zuker
Natick, Mass.
Conquer Cancer Coalition (Framingham, Mass.)
 
**$5,000 THIRD PRIZE WINNERS**
Bartolomeo Cammuso
Southington, Conn.
Bread for Life (Southington, Conn.)
Susan Chaityn Lebovits
Newton, Mass.
Boston Cancer Support (Newton, Mass.)
Lisa Drew
Tilton, N.H.
Every Child is Ours (Tilton, N.H.)
Raven Ferri
Newport, R.I.
Community Housing Resource Board (Newport, R.I.)
Stephanie Frazier
Grimm Middletown, R.I.
The Confetti Foundation (Newport, R.I.)
Vicky I
Somerville, Mass
Community Cooks (Somerville, Mass.)
Judi Alperin King
Dedham, Mass.
The Wily Network (Dedham, Mass.)
Rebecca Marcoux
Fair Haven, Vt.
Rutland County Women's Network & Shelter (Rutland, Vt.)
Michael Mastroni
Trumbull, Conn.
Conn. Fallen Heroes Foundation (Trumbull, Conn.)
Ida May Molitor
E. Falmouth, Mass.
Norton Community Theatre (Norton, Mass)
Michael Padulsky
Woburn, Mass.
Gift of Life Bone Marrow Foundation (Boston, Mass. )
Wendy Rocca
Watertown, Mass.
Operation American Soldier (Watertown, Mass.)
Mary Ellen Wessell
Rochdale, Mass.
Children's Smile Coalition (Worcester, Mass.)
Eric Whitmore
Ellsworth, Maine
Next Step Domestic Violence Project (Ellsworth, Maine)
Joanne Wilkinson
Walpole, Mass.
Forever Home Rescue New England (Walpole, Mass.)