Whether Mac Jones' last pass for the Patriots took place in Germany or not one fact remains: it's time for a change. Bill Belichick said as much in his postgame press conference, and then reiterated that point during his interviews upon returning to the states.
At this point Jones looks broken, and while there are many reasons for that, some of which may or may not be his fault, it's clear that a change needs to happen. Bailey Zappe entering the 10-6 loss to the Colts with 1:52 left and no timeouts needing to go 86 yards to do something the team hadn't accomplished all day – score a touchdown – was probably not fair to the backup. But honestly can anyone argue with Belichick's decision?
Jones hasn't looked like a solid NFL starter on a consistent basis since November of his rookie year. In the two-plus seasons since, he's looked mostly like a jittery indecisive quarterback with a limited physical skillset that opposing defenses seem to have figured out. All too often Jones hasn't been able to get the ball out on time with conviction, the latter point bringing the limited skillset into focus as too many off-balance, backfoot lollipops have resulted in disaster.
The dying quail he tossed 5 yards short of Mike Gesicki, who was alone in the end zone at the time, looks like the final straw. That came after a misfire on the previous possession that was nearly picked in the end zone when Hunter Henry was in the clear. Those two series followed one where Jones recklessly underhanded the ball toward Rhamondre Stevenson as he was being sacked, nearly causing another turnover.
It was at that point where Bill O'Brien had enough. The offensive coordinator lit into his quarterback on the bench, showing his trademark temper in front of the NFL Network cameras. It was an explosion that was likely a longtime coming after 10 games of mostly unproductive play.
Jones has 10 touchdowns and 10 interceptions on the season and a passer rating hovering just above 80, which is among the worst in the league. The Patriots scored more than 20 points just once all season, which came in Jones' best game by far, the 29-25 win over Buffalo. Otherwise, it's been dreadful, and that's why Zappe was called into action and why he likely will be once again at the Meadowlands against the Giants after the bye.
The problem for the Patriots is neither Zappe nor Will Grier, the third quarterback, has given anyone reason for optimism. Jones has been benched three times this season and Zappe hasn't looked great in relief each time. Sunday was probably his best glimpse, when he fired an 11-yard strike to Henry to convert on third-and-5, then followed with another tight throw to Demario Douglas on third-and-10 for 9 yards. But after Stevenson picked up the first down, Zappe tried a fake spike and then threw into a defensive team meeting and was intercepted by Rodney Thomas to end the game. In three games Zappe is completing just 40 percent of his passes and has yet to lead a scoring drive.
But that's where we are at this stage – Zappe probably represents the team's best chance to win. Grier could also factor into the equation if Belichick feels he's acclimated enough to warrant an opportunity. Malik Cunningham remains on the practice squad, mostly as a wide receiver, and aside from some wildcat options he doesn't appear to be a realistic option.
Jones needs to sit and watch for at least a game to clear his head and figure out how to avoid the mistakes that have plagued him. Until or unless that happens, it makes sense to continue to evaluate the roster and figure out which pieces might be part of the future.
So, for better or worse it should be Zappe against the Giants. And it also wouldn't hurt to keep an eye on the quarterback class coming out in the draft.
The Patriots waived Jack Jones shortly after returning from Germany, marking an end to his Patriots career in just his second season. The corner was selected in the fourth round on the 2022 draft and showed some promise as a rookie, picking off a pair of passes in his first five games. But as the season progressed his play began to drop before an injury landed him on injured reserve.
He closed his rookie year in disappointing fashion as questions about his rehab from the injury eventually led to a team suspension. Then he was arrested in June after being stopped at Logan Airport with guns in his bag. Although the gun charges were dropped, Jones still struggled. He opened the season on injured reserve, missing the first six game with a sore hamstring. When he returned, his play was sporadic, particularly during an egregious coverage bust on a Jaylen Waddle touchdown in Miami.
Then he reportedly missed curfew before the Commanders game on November 5, and opened that contest on the bench with a towel over his head. He joined the team in Germany but opened the Colts game in similar fashion, disengaged from his teammates while sitting on the bench.
Belichick was asked about Jones' level of commitment, and the coach wouldn't elaborate, saying only "I'm not going to get into any of the players' personal situations." However, it was clear Jones had fallen out of favor.
Cornerback J.C. Jackson also reportedly missed curfew before the Washington game and didn't make the trip to Germany with the team citing personal reasons. Less than 12 hours after returning, the Patriots let Jones go. It remains to be seen what happens with Jackson.
The bottom line is the Patriots put themselves in a position where they needed to rely on players who have shown to be unreliable, and the outcome with Jones seemed inevitable. In fact, the lone surprise is wondering why it took this long to make the move.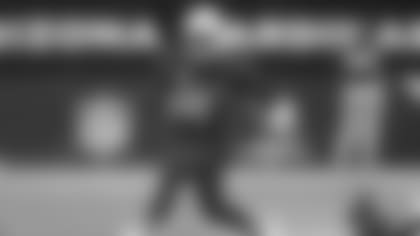 It was nice to see Kyler Murray make his return after tearing his ACL last December in a Monday night loss to the Patriots. Murray gave the Cardinals a lift, showing excellent mobility in Arizona's 25-23 win over Atlanta that saw the quarterback lead a last-second drive to a field goal at the buzzer. He wasn't always sharp, completing 19 of 32 passes for 249 yards with an interception, but he was effective with his legs, picking up 33 yards and a touchdown on six carries.
Arizona currently is tied with the Patriots and Giants at 2-8, but based on how competitive the Cardinals have been in most weeks it's possible that Murray will lead them to more wins. Arizona has games with the Texans, Rams and Bears remaining, and Murray's return could affect the team's draft status.
C.J. Stroud continues to impress in Houston, leading the Texans to a last-second upset win in Cincinnati. He finished 23 of 39 for 356 yards with a touchdown and an interception in the 30-27 victory. But what stood out was the manner in which Stroud performed after what could have been a disastrous sequence.
The Bengals appeared dead, trailing 27-17 with less than four minutes remaining when Stroud tried to convert a third down with a short pass but was picked off by Cam Taylor-Britt, who returned it inside the Texans 5. Soon thereafter the Bengals cut the lead to 27-24, and after a three-and-out the Bengals had a chance to take the lead. Tyler Boyd couldn't hold onto a Joe Burrow pass in the end zone, but Cincy still managed to tie it with 1:33 to go on a field goal.
Facing a hostile crowd that was now in a frenzy, Stroud moved Houston 55 yards into field goal range, where Matt Ammendola ended it with a 38-yarder at the buzzer. Impressive bounce back for the rookie after what could have been a killer mistake.
The Cardinals and Texans were just two of the teams that won on walk-off field goals as time expired. The Browns, Lions, Seahawks and Broncos also won in similar fashion, making Week 10 historic in that regard.
Philadelphia (8-1) – The Eagles were one of several top teams enjoying the bye.
Kansas City (7-2) – Kansas City also had some rest after its big win over Miami.
Detroit (7-2) – Impressive offensive performance on the road for the Lions.
Baltimore (7-3) – Terrible home loss for the Ravens, blowing a 14-point fourth quarter lead.
San Francisco (6-3) – Putting some faith in the Niners after an impressive road blowout of the Jags.
DISCLAIMER: The views and thoughts expressed in this article are those of the writer and don't necessarily reflect those of the organization. Read Full Disclaimer