"Don't just be in the game. Win the game."
The No.1 U.S compression wraps and tapes manufacturer, Healit™, has joined forces with the New England Patriots to bring fans health, fitness and Patriots-inspired content throughout the 2017 season.
Healit™ systems are the next generation of therapeutic sports and medical compression wraps. Their unique self-adhesive compression wraps and tapes are designed to prepare the body, prevent injury, protect against re-injury and enhance performance. Healit™  wraps and tapes help to reduce swelling, improve blood flow and increase oxygen and nutrient delivery to damaged tissues so you can go faster, work harder and last longer.
The "Patriots Wrap-Up presented by Healit™" will be available on Patriots.com and Patriots social media channels throughout the season. Additionally, Healit™ will have a monthly series published right here on the Lifestyle section of Patriots.com, in which Patriots fans are provided with beneficial health and fitness tips.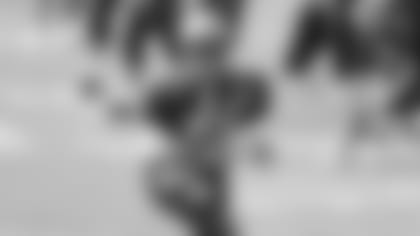 Common NFL Injuries - Treating IT Band Syndrome with Compression
Knee injuries are the most common and often the most debilitating of injuries faced by athletes - IT Band Syndrome being one of them. Almost every player at one time or another has experienced this condition and none of our football heroes are immune.
IT Brand Syndrome can completely derail your training if it is not managed properly. The good news is that it can be overcome by regular stretching and supported by using compression wrapping techniques. If you take care of this injury properly, you won't have to sit on the sidelines for too long.
Condition/Symptoms
Your Iliotibial (IT) band runs from your hip down to your shin and attaches to the knee to help stabilize and move the joint. IT band syndrome is what we refer to when the tendon becomes inflamed. It is very common, especially among running backs, wide receivers and quarterbacks who train hard to make those incredible running plays.
How you can overcome IT Band Syndrome
Visit https://healitwrap.com/how-to-use/it-band-syndrome/ for a how to video on IT Band Syndrome wrapping.
Products: Healit™ SelfGrip® and Healit™ Easy Rip™ Trainers Tape
Application
1. Hold Healit™ SelfGrip® about two inches above your knee joint.
2. Wrap around the leg moving upward.
3. When wrapping, add more tension when pulling on the outside to help stabilize the ITB.
4. Continue to wrap up around the leg until you have covered the spot that is in pain.
5. Press the self-adhesive SelfGrip® to itself to secure or secure the end with Healit™ EasyRip™ Trainers Tape for extra support.
Check out our latest video and use this simple compression wrapping technique to perform in comfort, with confidence and most importantly, #winthegame.
Patriots fans get 10 percent off all orders and FREE shipping when you enter the code PATRIOTS10 at checkout.