"Don't just be in the game. Win the game."
The No.1 U.S compression wraps and tapes manufacturer, Healit™, has joined forces with the New England Patriots to bring fans health, fitness and Patriots-inspired content throughout the 2017 season.
Healit™ systems are the next generation of therapeutic sports and medical compression wraps. Their unique self-adhesive compression wraps and tapes are designed to prepare the body, prevent injury, protect against re-injury and enhance performance. Healit™  wraps and tapes help to reduce swelling, improve blood flow and increase oxygen and nutrient delivery to damaged tissues so you can go faster, work harder and last longer.
The "Patriots Wrap-Up presented by Healit™" will be available on Patriots.com and Patriots social media channels throughout the season. Additionally, Healit™ will have a monthly series published right here on the Lifestyle section of Patriots.com, in which Patriots fans are provided with beneficial health and fitness tips.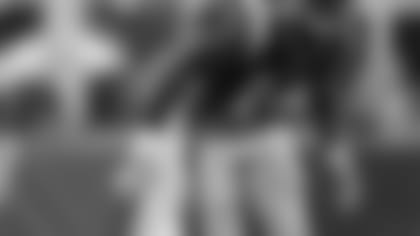 Strength Training Patriots Style
Football is a game of dynamic strength and power. Without explosive force, you won't be able to push through a block or stand strong against a big hit from your opponent.
In this month's edition of No Days Off Health Tips presented by Healit, we look at three core principles of weight training that will help you increase your strength. To succeed you need to be consistent and stick to the rules to achieve your goals.
1. Push your body to get better
To improve your strength, you need to overload your muscles so they tear, repair and come back stronger. When you ask your body to do things beyond its capabilities, such as increasing the difficulty, intensity or duration or that training, you can be sure to gain strength. Doing the same thing day in and day out will do nothing but plateau your gains. Whatever your training program, get that heart rate up and push, push, push!
2. Tear, repair and go again
When we increase the demand on our muscles through explosive weight training, we create 'managed damage' to our muscles. This damage is vital if we are to get stronger and improve our muscle mass. Overtraining doesn't give our muscles time to recover so if you do too much, too soon you will end up working against yourself. Eat, sleep, rest, then train.
3. Focused training and rest gives the best results
For football players, prolonged training to achieve muscular endurance will only work if you allow yourself time for adequate recovery. The process of building muscle requires you to go through a period of restoration. Over-training can therefore do more harm than good and actually slow you down. So make sure that when writing your program that it is focused and rigid but with plenty of rest built in.
Above all else though, strength and conditioning requires dedication and the will to win, so remember: "Don't just be in the game. Win the game".
Check out our latest Healit™ 'How to' videos at www.healitwrap.com/how-to-use/ for simple compression wrapping techniques so you can perform in comfort, with confidence and most importantly, #winthegame.
Healit™ compression wraps and tapes are available from www.healitwrap.com. Don't forget to use your PATRIOTS10 Code to get 10 percent off your orders.