"Don't just be in the game. Win the game."
The No.1 U.S compression wraps and tapes manufacturer, Healit™, has joined forces with the New England Patriots to bring fans health, fitness and Patriots-inspired content throughout the 2017 season.
Healit™ systems are the next generation of therapeutic sports and medical compression wraps. Their unique self-adhesive compression wraps and tapes are designed to prepare the body, prevent injury, protect against re-injury and enhance performance. Healit™  wraps and tapes help to reduce swelling, improve blood flow and increase oxygen and nutrient delivery to damaged tissues so you can go faster, work harder and last longer.
The "Patriots Wrap-Up presented by Healit™" will be available on Patriots.com and Patriots social media channels throughout the season. Additionally, Healit™ will have a monthly series published right here on the Lifestyle section of Patriots.com, in which Patriots fans are provided with beneficial health and fitness tips.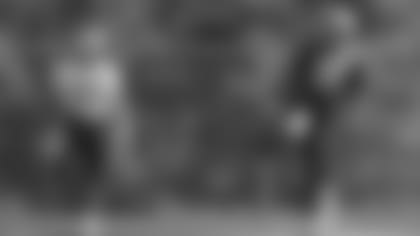 Treating Patellofemoral Knee Syndrome with Compression
Knee injuries are the most common and often most debilitating injuries faced by players in the NFL. However, by using compression wrapping techniques, you can prepare your body in the right way to prevent injuries occurring or protect existing injuries so as not to make them worse.
We all know that putting in the miles during training pays dividends, but the balance between being able to last the game and overtraining is very fine. There isn't a player out there who hasn't felt the onset of a sore knee at one point or another. If managed the right way, Patellofemoral Knee Syndrome should not stop you from going out to perform.
It's important to remember that while a knee injury might show no visible signs of damage on an x-ray or MRI, this doesn't mean a serious problem does not exist. If you feel a dull pain behind your knee cap while playing, it is imperative that you inform your athletic trainer immediately. Even if the pain is very minor, it could be the start of something much worse if not treated effectively.
More often than not, the treatment for this condition relates to a strengthening of the quad muscle, which helps to correct an imbalance that causes the knee cap to move smoothly through the range of motion. If this is corrected and managed properly, effective recovery is a realistic achievement, however, if you try to train through the pain, bigger problems can ensue, until eventually the knee pain will persist even when at rest.
We don't want you to get to that point though, so here are the tell tale signs of Patellofemoral Knee Syndrome and our guide on how you can use compression wrapping techniques to avoid potentially career threatening injury.
Condition/ Symptoms
This condition is classically characterized by a constant ache underneath your kneecap. The condition links back to movement around the patella or an inability of the tissues surrounding the patella to recover effectively between activity.
Product:ProFoam
Application
Take the HealIt ProFoam and put it just below the knee
Wrap it around the leg, not to tight but good tension
Go around about 5-6 times
Roll it up the knee so the band sits between the knee cap and the notch right below
Don't forget… Healit™ compression wraps and tapes are available at www.healitwrap.com/shop. Patriots fans get 10 percent off all orders and FREE shipping when you enter the code PATRIOTS10 at checkout. So go forth, get wrapped and "Don't just be in the game… Win the game"