Some good news for the at practice today, as defensive tackle Alan Branch returned to action after sitting out the past couple of sessions.
When asked for the reason behind his absences, Branch grinned coyly.
"You guys know [head coach] Bill Belichick. You know I can't talk about it. Guess."
It seemed the implication was that Branch was dealing with something medical in nature, but he wouldn't elaborate. The* Boston Herald* reported later in the afternoon that the veteran missed the time due to a birth of a child.
"I feel good. I feel ready to go," he reassured reporters.
The 32-year-old veteran has earned plaudits of late from the aforementioned Belichick for being one of New England's most reliable defenders this season. In fact, Branch posted the most impressive statistics of his 10-year NFL career in 2016. His 49 total tackles were his highest as a pro, while his 26 solo tackles were just one shy of his career best (set in 2010 with Arizona).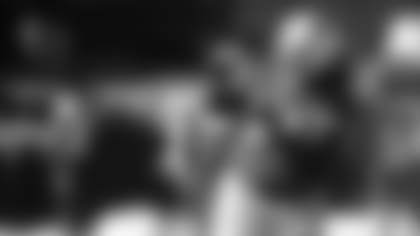 "It's nice, you know," Branch admitted, "to put those types of numbers up later on in my career. I definitely feel I could have done a lot more when I was a rookie, my first four years, but I didn't have those opportunities."
After four seasons with the Cardinals, Branch joined the Seahawks in 2011, before spending a season in Buffalo in 2013. He arrived in Foxborough midway through the Patriots' Super Bowl-winning season of 2014 and has seen an increased role ever since.
"It's fun to be out here with these guys. I've got a good group here," he added. "They tolerate my goofiness. It's a good time… I like to live in the moment. These guys are awesome to be around."
Practice Report
While Branch's return was a positive development, the Patriots didn't quite have perfect practice attendance. It's unclear why, but RB LeGarrette Blount was the only Patriot unable to suit up today when the club went back to its grass field behind Gillette Stadium. They practiced on the game surface on Tuesday.
Floyd fitting in
It's been nearly a month since WR Michael Floyd joined the Patriots, and watching him interact with teammates in the locker room, it seems like he's been here for much longer than that.
"I feel good here. I feel welcomed," he acknowledged. "I actually like the culture, the chemistry with the guys."
The veteran revealed that he's been doing little more than studying his playbook since coming to Foxborough in mid-December.
"Where I stay right now, I can just focus in on football and get to work in less than three minutes. I like it. That's good for me," Floyd chuckled. "Strictly focused on football, learning this offense. That takes up most of my time."
Coaching connections
January is the season not just for NFL playoff football, but also college all-star games. You've got the Senior Bowl, East-West Shrine, and NFLPA Collegiate Bowls all taking place this month.
The latter just announced its coaching staffs for the Jan. 21 contest, to be held just outside Los Angeles, and among them are several with recent ties to the Patriots.
Jackie Slater, father of co-captain Matthew Slater and a Pro Football Hall of Famer, will help coach the National Team's offensive line. Lamont Jordan, who ran the ball for New England in 2008, will coach that squad's running back unit. Former Rams receiver Torry Holt, who was in Patriots training camp in 2010, is one of three wide receiver coaches on the National side. And Leonard Myers, a Patriots cornerback from 2001-03, is the National's cornerbacks coach.