The newest Patriots receiver, Michael Floyd, joined his New England teammates on the practice field for the first time Friday. The veteran was claimed off waivers from Arizona late Thursday. He was sporting jersey number 14, the number previously assigned to WR Griff Whalen, the player who was released to make room for Floyd on the 53-man roster.
The 27-year-old Floyd was the 13th overall pick in the 2012 NFL Draft, but was let go by the Cardinals this week after a run-in with the law. He was arrested on DUI charges Monday in the Phoenix suburb of Scottsdale. Naturally, head coach Bill Belichick addressed the matter in his opening remarks to the media Friday morning.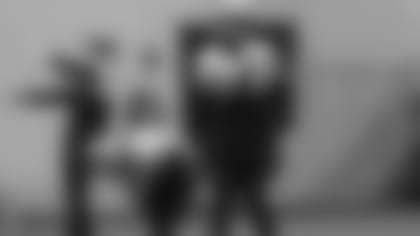 "This is really similar to the Whalen situation last week, a position that we don't have a lot of depth at," he explained. "We felt that obviously we'd rather work with Floyd at this point in time. We're aware of the situation that came up earlier in the week. We'll let that legal situation play itself out, but really we'll just see how it goes. He's a player that we haven't had before. We look forward to working with him and we'll just see how it goes."
Floyd also had similar troubles during his college days at Notre Dame, which Belichick acknowledged.
"We're aware of whatever the past is. We're moving forward with the player and [we'll] see how it goes. As we always do, we take the information we have and make what we feel like is the best decision for the team."
Cornerback Logan Ryan is one of a number of Patriots who works out in the Phoenix area during the offseason and is acquainted already with Floyd because of that connection.
"He's a good guy," Ryan maintained when reporters questioned him this morning. "I'm happy he's here, and I'm sure he's hungry for a second chance. I know he was excited about this year. He put a lot of work in, so I'm excited that he gets a chance to do something with it, and maybe when he gets here to play in some big games."
New England's offense is notoriously complex, to the point that even some of the league's most talented veteran pass catchers have had difficulty learning it upon being signed by the Patriots. It remains to be seen, therefore, how quickly Floyd can absorb the playbook and potentially contribute on the field in the Patriots' remaining 2016 contests.
"I'm sure there will be some type of adjustment. This is a tough place to just transition to," added Ryan. "I know a lot of guys aren't used to how we do things here, but he's a good football player, and he's a good guy in the sense that, I trained with this guy in the months out of the year that we're not even in season, where a lot of guys might be just relaxing. We're in Arizona trying to get the best out of each other and going hard every day. I know he's willing to do that, willing to put that into it, and I think that goes a long way."
Belichick revealed to reporters that Floyd will make the trip to Denver with the Patriots today. Whether he is active on Sunday afternoon, however, is unclear at this point. Historically, most players who arrive late in the week are deactivated for at least their first game.
Practice Report
Before they depart for Denver this afternoon, the Patriots are conducting one final practice session, as noted above. This time, instead of tackling Mother Nature, the team elected to work under the cover of their indoor practice facility behind Gillette Stadium. Temperatures in New England have sunk into the teens, making long-term exposure outdoors a considerable risk.
Coming off their Monday night victory over Baltimore, the Patriots had a short turnaround to prepare for the Broncos this week. They held a walk-through in their practice bubble on Wednesday, went outside in full pads and freezing temperatures yesterday, then went with shells (lighter, smaller pads) indoors today.
"We could practice for [Denver] for another week if we had it, but we don't," Belichick pointed out. "You try to take the time you have and use it as efficiently as possible. Could you use more time? Absolutely, but we have what we have. They have what they have, and we try to use it the best that we can. That's definitely a balance between preparation, practice reps, rest, travel in this case, whatever the components are that play into that week. You try to take them all into consideration. The ones you can control you can make a decision on. Travel – we can't control that. We've got to go to Denver."
At this morning's practice, WR Danny Amendola remained the only player not able to take part. He's been dealing with a right ankle injury sustained while fielding a punt versus the Los Angeles Rams two weeks ago and has not played or practiced ever since.
Meanwhile, LB/co-captain Dont'a Hightower, who was added to the injury report Thursday with a knee issue, appeared to be active in the early going. He was seen spending most of his time at yesterday's practice riding a stationary bike while his teammates stretched and went through position drills.
According to the Boston Herald, Hightower was given most of yesterday's practice off for routine maintenance of the knee, which has given him some problems periodically the past couple of seasons.