The Patriots normally don full pads for Thursday practice sessions, and today was no exception. What was different were the conditions in which they practiced.
An arriving cold front has seen high temperatures in New England plummet into the low 20s, accompanied by gusty, frigid winds.
Similar conditions are expected this weekend in Denver, where the Patriots will travel to face the Broncos on Sunday afternoon. So, the timing of today's weather system couldn't have been better from a preparation standpoint.
"The more you think about it, the worse it'll be," special teams co-captain remarked about the cold conditions. "As best you can, you focus on executing your job. A lot of us have played in some tough weather here over the years. Fortunately, we're going to have some practice in it today and try to acclimate ourselves. We'll see how it goes on Sunday."
Before today's practice in Foxborough, players packed on layers of clothing in order to keep comfortable, yet still perform athletically. Which is different from what you typically see during games, when players frequently go sleeveless in frosty weather.
"Oh, during a game, I don't wear much," TE Martellus Bennett proclaimed. "But in practice, I bundle up. In a game, you tough it out on the field. If you think of warm places, your body might get warm. We play through everything. That's what makes this sport so cool."
Why the different standards for games and practices, Marty?
"Same reason women wear less on Halloween," he smirked. "It's sexier."
Elements aside, the Patriots insist their more focused on their human opponents, the Broncos, and their rabid fans at Mile High.
"Great fan base. Always out there supporting them," DE Rob Ninkovich said. "It's a really loud stadium. Tough environment."
"It's one of the best fan bases in the NFL. They really get behind their team," echoed Slater. "They appreciate that football team and they make it tough to play in there. When [the Broncos] get rolling, the fans get going.
"You work hard and prepare hard to play in games like these – meaningful games late in the season against good football teams. This is what you signed up for: the competition, the hostile environment. It really makes for a fun outing. So, hopefully, we can go out here and execute at a high level and see where that gets us."
Practice Report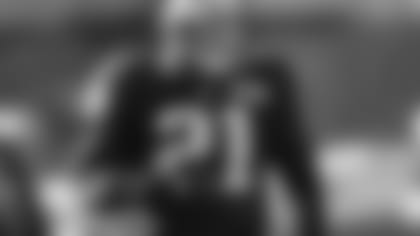 Every Patriot, save WR Danny Amendola (right ankle), was able to practice, at least on a limited basis Thursday. However, LB/co-captain Dont'a Hightower spent a considerable portion of the 20-minute viewing window granted to media riding an exercise bicycle on the sideline. He was not listed on yesterday's injury report, which makes his actions today worth monitoring.
Meanwhile, cornerback Malcolm Butler, who's dealing with a right hip injury suffered Monday night against Baltimore, told reporters that he's feeling good and looking forward to Sunday's contest in Denver.
"Got to show that toughness," Butler declared.
Hester tester?
According to NFL Network, the Patriots gave a workout today to return specialist Devin Hester, who played against New England just this past Monday night before the Ravens released him. However, the report indicated that a signing of Hester was not forthcoming.
New England did, though, claim veteran wide receiver Michael Floyd off waivers from Arizona, according to ESPN.