How does an undrafted player last a decade in the NFL?
"Play hard," Tommy Kelly answered immediately when the question was posed to him.
That's how he says he lasted nine years as an Oakland Raider before coming to New England this offseason as a free agent this spring. Kelly's arrival at first seemed similar to that of Gerard Warren a few years back – a veteran with significant starting experience who could fill a backup role at a position where New England had several young players on the roster.
But the 6-6, 325-pound Kelly has quickly vaulted to what looks like a starting role at defensive tackle next to co-captain Vince Wilfork. New England has cut several young players – Kyle Love, Brandon Deaderick, Myron Pryor – recently, meaning Kelly, by default if not by merit, finds himself playing a key role during spring organized team activity (OTA) practices here in Foxborough.
Yet, the savvy vet knows that means nothing right now.
"I have to make the team first," he chuckled. "Bill [Belichick] doesn't guarantee anybody anything… You see how many people they get rid of around here?"
Kelly added that he hasn't felt this insecure about his status on a team since his rookie year in 2004.
"That's how I feel right now, coming in as a free agent. Nothing's guaranteed to you. You're at the bottom of the totem pole. You could easily be replaced. That's how I feel."
"I'm just trying to learn the playbook and get all my plays down so I don't have to think, you know. Me, I'm just in my playbook every night, make sure I'm on my Ps and Qs. I don't worry about anybody else. I have to handle mine."
At the other end of the spectrum is Rob Ninkovich. Once a fifth-round draft choice of New Orleans, he bounced around the league for a few years (mostly because of a knee in jury) before landing in New England. He's since carved out a nice niche for himself as a versatile starter at defensive end and outside linebacker, depending on the formation.
Ninkovich, entering his eighth NFL campaign, now finds himself in a mentor-like role to young defensive players like second year defensive end Jake Bequette and rookie Michael Buchanan.
"I think I've done a good amount of things around here to be considered a leader right now," a confident Ninkovich declared. "Again, I'm just trying to do everything I can to help the young guys out and get them acclimated to their new surroundings. It's a whole new team for them, and for the guys coming out of college, it'll be a whole new experience for them. Just help them out in the whole aspect of being a pro."
Though it's still so early in the season that the players aren't wearing pads other than helmets at practice, Ninkovich says it's important to begin the process of thinking like a team, or at least a defensive unit, in these no-contact practices.
"This is the core group of guys we're going to have for this year, so it starts now. We have to come together. It's a new bunch of guys and we all have to come together as a team and get going for the season."
Even someone as established as Ninkovich, though, doesn't take anything for granted when it comes to a roster spot.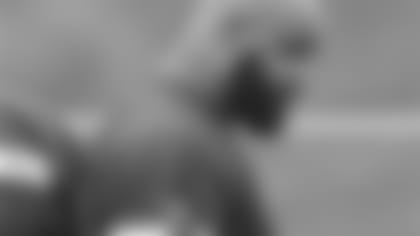 "Every year is different. You definitely have to make sure you're on the top of your game. There's always young guys who are hungry, so you have to make sure you stay just as hungry."
Among the newcomers to the Patriots D this year is Kelly. Playing as much as he has beside Wilfork this spring has been beneficial to him as he transitions to a new system.
"Oh, I love Vince. He makes my job much easier," Kelly asserted. "He makes most of the line calls. It's easy to play with somebody who's got experience and can really, really play. He's lunch-pail to me. He's reliable, consistent, you know he's going to be out there every Sunday, you know he's going to give you everything he's got. And as a d-tackle, that's all you can ask, because being in the trenches all day, you get beat up a lot. He gives out his share, too."
Kelly was a captain on last year's Raiders, but claims he's not looking to take an active leadership role just yet here in Foxborough.
"Pretty much here, the leaders are already set," he laughed. "You know, with Big Vince and Tom [Brady]. I just fall in. Do my job and don't be a distraction… I just keep my head down, learn the playbook, and just try to stay out of everybody's way."
Despite his protestations to the contrary, the reality is that Kelly is one of the few remaining defensive tackles with any experience on the current Patriots roster, meaning his chances of sticking around – provided he is competitive on the field – are pretty good. He seemed to acknowledge that, if only tacitly, as his conversation with reporters wound down Wednesday.
"I mean, it's big when you play d-tackle, you have to be reliable. It's a physically draining and mentally draining position. So, when you've got a guy you know you can depend on – and that's what I pride myself on, is being dependable, and I'm going to give my teammates all I've got – if you're out there with someone you can rely on, it makes your job much easier.
"I can play [in a 3-4 or 4-3], so I'm not worried about it. I think I can fit in any defense. It doesn't matter to me. Tell me what I've got to do, and I'm going to try to get it done."
As was the case last week, tight end Rob Gronkowski, linebacker Brandon Spikes, wide receiver/returner Julian Edelman, and running back Brandon Bolden were not seen on the field this Wednesday. Joining them among the missing were o-linemen Nick McDonald and Will Svitek.
Tight end Aaron Hernandez, right tackle Sebastian Vollmer, defensive back Devin McCourty, right guard Dan Connolly, linebacker Niko Koutouvides, and safety Nate Ebner spent the beginning portion of practice on the far end of the field doing injury rehabilitation exercises under the direction of the team's medical staff.
Three players – rookie receivers Josh Boyce and Mark Harrison and rookie safety Duron Harmon – rode stationary bikes at the beginning of practice while the rest of the team was doing warm-up drills.
The next OTA session will take place on Thursday, but media will not have access again until next Tuesday, June 4.