The buses pulled up to The Hall at Patriot Place Monday morning around 9:30, carrying some 200 8th-grade students from Hanover (Mass.) Middle School.
Each had read Tedy Bruschi'sbook, Never Give Up, as part of their academic support period – a 30-minute window each school day when the kids are supposed to read a book of their choosing.
But recently, their English teacher, Martha Stamper(a self-proclaimed die-hard Bruschi fan), suggested they all read the Patriots linebacker's account of his stroke, subsequent recovery, and return to the NFL.
"Many times, it's a struggle to get them to sit down and read," Stamper explained. "They have a really busy schedule and often need that break in between classes. Sometimes they just want to chat."
When they started reading Bruschi's book, however, "you could walk through any room and hear a pin drop," Stamper added.
"It really grabbed their attention and focused on a lot of current issues that kids these days might be going through. And it's the Patriots, so it made that real-world connection. We read a lot of good literature, but it's not often we get to read about somebody who's alive, who's an active member of a team. So, it was all of those things put together that really made it just the perfect choice."
In order to arrange any type of field trip these days, teachers have to tie it somehow to their curriculum. So, a visit to Foxborough (about a 45-minute drive from Hanover) was justifiable after the kids had read Bruschi's book.
The date on the calendar made sense, too. It was sandwiched in between Patriots home games, and the following day (Veterans Day) would be a day off for the kids. None of them – teachers included – expected Bruschi himself to show up and greet them when they arrived – as evidenced by the chorus of "ooohs," "Oh, my Gods," and teenage-girl screams that went up when Bruschi, clad in a rugby shirt and blue jeans, strode into the building.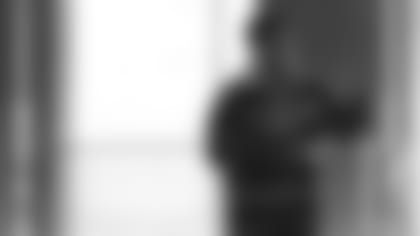 ]()For the next 45 minutes, a patient Bruschi, who was clearly enjoying himself, answered questions from his appreciative audience. Nearly every question he fielded was a serious one, and many dealt with his life-altering stroke.
"I don't have a lot of experience being around middle school kids. So, I didn't know what questions to expect," Bruschi admitted later. "It was a wide range of questions. I was very impressed by their knowledge of my situation, that they could read a book like that and get something from it."
They asked about any side effects he may still experience, what inspired him to come back, and what he would have done with his life if returning to football were not an option.
There were some light-hearted queries as well, like what his favorite team was growing up (the Dallas Cowboys, he said, because he wanted to be different than his brother, a Niners fan), why he wears the number 54, and if he enjoys having paparazzi.
Bruschi received a huge applause from the assembly when he answered one student's request for football tips by picking a kid from the front row to help demonstrate his point.
"It's all about leverage and balance," he told the young player, before asking his assistant to bend his knees.
"What's your name?" he asked the boy.
"Dan," came the shrill, obviously nervous reply, which drew laughter from his classmates.
"OK, Dan, now drive through my chest," Bruschi instructed him, and as he did, the young man saw how, with his relatively tiny frame, he could move the 6-1, 240-pound linebacker.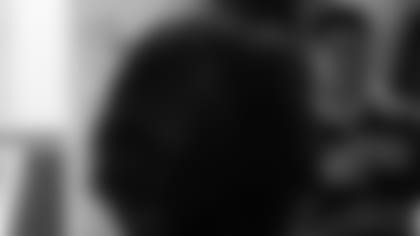 ]()When the Q&A session ended, Bruschi asked if he could take a group photo with his new camera phone. As the kids huddled around him, their teacher snapped the picture. He then obliged a few requests for hugs before it was time for the kids to continue with their tour of the facility.
Bruschi then spent a few minutes with Patriots.com and the video crew from Patriots Today. He was asked if he might consider going into teaching when his playing days are over.
"Teaching is very fulfilling, to be able to help mold young people," he replied. "It would be an honor to be in that profession. Whether I'd go to it or not, I don't know. I don't know where my life's going to take me. I've learned to take things one day at a time at this point in my life. But wherever I go, I hope I still have that ability to make a difference in some people's lives."
He certainly did on this day.