The Patriots held their second OTA practice of the spring on Tuesday, offering the media its first chance to check out the 2013 squad. One player taking part in his first offseason with the team is Aqib Talib, and the veteran cornerback is happy to be back in Foxborough after signing a one-year deal earlier this spring.
"I just let it play out how it played out," Talib said of his brief dalliance with free agency. "I wanted to be back, I'm happy I'm here and I'm ready to get to work.
"This is a great organization, great team, great teammates," Talib added when asked why he chose to remain in New England.
Talib signed a one-year deal worth as much as $5 million dollars after watching a subpar free agent market, particularly at the cornerback position, unfold. Talib arrived with a checkered past following his trade deadline deal from Tampa last fall, and obviously fit in well enough with his new teammates for Bill Belichick to be comfortable retaining him.
As was the case at the time, Talib may once again have to prove his long-term value with another "prove-it" season in preparation of becoming a free agent for a second time in 2014. However, the 27-year-old corner isn't thinking in those terms at this time.
"It's time to get in shape, that's all I'm worried about right now, getting in good shape man, best shape I can be in," Talib said.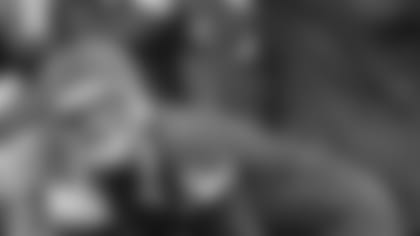 Talib figures to be part of a secondary that may include Alfonzo Dennard at the other corner, along with Devin McCourty and either Steve Gregory, Adrian Wilson orTavon Wilson at safety. Kyle Arrington also is back to work as a potential starter at corner or in the slot, giving the Patriots the possibility of opening 2013 with largely the same group it closed last season with.
When asked if he felt the secondary improved down the stretch following his acquisition last year, Talib agreed but cautioned that 2013 is a new season.
"We don't let ourselves feel like that," Talib said. "We start it all over, we start it from scratch. Got to pick it up from square one and get it started right now."
Wearing multiple layers despite humid conditions in Foxborough, Talib explained he was trying to "get a good sweat" as he looked to get in the best possible shape.
Speaking of attire, he and the rest of his teammates were not donning their normal practice jerseys with numbers on them, but rather wore blank blue and white shirts indicating offense and defense.
"Numbers or no numbers … it makes no difference," Talib said of the uniforms. "We all know each other anyway. You all are the ones who need the numbers."