Carolina Panthers Head Coach John Fox and six players, including quarterback Jake Delhomme, wide receiver Muhsin Muhammad, guard Kevin Donnalley, strong safety Mike Minter, linebacker Dan Morgan and defensive end Mike Rucker, all met with the press on Monday afternoon at the Super Bowl XXXVIII media center at the George R. Brown Convention Center in Houston. The first thing that became quite evident, led off by Fox's press conference, is that this Carolina team bears many similarities to the New England team it will face on Sunday, especially in terms of the amount of professionalism the teams bring to the preparation process and the confidence the two units have in their head coaches.
Through just over 15 minutes of questions, Fox answered each in a rather matter of fact manner, generally glossing over or deflecting any questions that didn't necessarily pertain to the coming game. The style was very similar to that which Patriots Head Coach Bill Belichick has become known for in his time in New England.
When asked to compare his highly skilled defensive unit to the one his offense will face at Reliant Stadium this Sunday, Fox responded in a way that many Patriots fans could probably imagine Belichick handling a similar question.
"Well at the end of the day I think we both play well," Fox said of the units that ranked seventh and eighth in the NFL this season. "Not just against yards, but also in points. They are two different styles, but the end result is the same. They do a fine job there in New England and I think my staff does a fine job also."
Fox, in his Belichick-south handling of the session, also dispersed the focus of a question about how he has turned a group that went 1-15 and lost 15 games in a row just two seasons ago into the NFC Champions. The confident coach went about spreading the praise of the turnaround to the entire organization in Carolina.
"Ownership is excellent," Fox said of Panthers owner and founder Jerry Richardson. "He's been outstanding. He gives us everything we want. The facilities are second to none. We have a fantastic stadium and facilities. The city of Charlotte is a very easy place to recruit to. So really the only thing we were missing was winning. Whether it was decision making, I can't really speak exactly on all the exacts, but I felt like if we put some good people together who made some good decisions both in the personnel aspect and in the coaching aspect, then we could get it turned. I found a very willing group of players. After experiencing 15 straight losses they were pretty much willing to try anything. We had to adjust the talent level and we did and that is the big reason why we are standing here."
And in talking to those players, some who were a part of the 1-15 times and others who weren't, one common thread is an undying dedication and belief in the head coach who has turned things around in Charlotte.
]()
            "He's a great coach and we love him," Morgan said. "He's the kind of coach you love to play for. He's real involved with all the guys. He knows everybody's name in the locker room, a lot of coaches don't know their players' names. We love playing for him. He's an inspirational coach and a coach that you can count on week in and week out.  

"What coach Fox has done here in the past couple of years is amazing. Turning a 1-15 team around to 7-9 last year to going to the Super Bowl this year, that's pretty amazing and you have to give a lot of credit to him."
Many of Fox's players don't believe the coach gets the credit he deserves, even this week as the media compares and contrasts him with Belichick, the 2003 NFL coach of the year and a guy with a Super Bowl ring on his finger from New England's own rags to riches story of 2001.
"He's the coach of the year in my book," Muhammad said of Fox. "I don't think he got the credit that he should be getting for what he's done for this team in the last two years. We've done leaps and bounds and come over great obstacles. So I think he should have some more considerations."
But just as Belichick and the Patriots knew in 2001, credit and respect come after you win not before hand. These Panthers know that the only way they will leave Houston with more respect is to walk away with the Lombardi Trophy.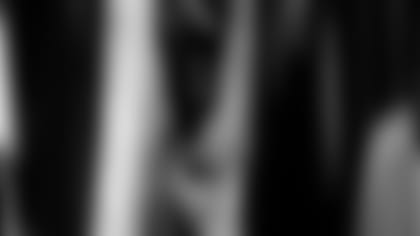 ]()
            "I think some people respect us, but there are a lot of people out there that still don't respect us, which is fine," Rucker said. "You have your opinion. But you win this ballgame and you will get your respect because there are no question marks left. We are just going to go out there and play our style of football.  

"We don't care about respect. I don't think (Coach Fox) cares about respect. But you win this game and you will get respect."
"I think the uniqueness of the National Football League and the landscape that we are currently under you can do that," Fox said of his team's quick turnaround. "I think that's why it's as popular as it is. You can go from the outhouse to the penthouse."
For Fox and the Panthers though, there is one floor left before they can claim the high life of the penthouse. Belichick's similarly hungry Patriots stand between them and football immortality