Patriots running back Patrick Pass. Photo by David Silverman.


It's not often that the Patriots sign a player who's been out of football for the better part of two years. Especially one who's in his 30s.
But the team made an exception last week when they brought back fullback/tailback Patrick Pass.
From 2000-06, the former seventh-round draft pick appeared in 78 regular season games (11 starts) and 10 playoff contests (one start). He was also a valuable kick returner and coverage player on special teams.
In '07, he signed an unrestricted free agent deal with Houston, but was later released and picked up by the New York Giants, for whom he played in one game and registered a single tackle. He was released and spent all of last year out of football.
So, even he admitted it surprised him when the Pats called to ask him to return.
"It really does, it really does, but I'm happy to be back with my old teammates and trying to go out there and do the best I can," he said after Tuesday's organized team activity (OTA) practice.
"I never thought I would get another call. As a football player, we're never done until we feel like we can't go anymore. I always thought I could still play this game at a high level."
He added that because of that, he's kept himself in shape on the off chance that he'd have another opportunity.
"Watching the guys go out there and play football, I was kind of sad because I felt like I should still be out there with those guys. But I'm here now. I always knew that I could still play this game, despite my age. It just takes one phone call and to come up here and have a workout. That's what I did."
Despite the two-year absence from New England, Pass claimed it's been easy to re-learn the Pats offense.
"Because it's pretty much the same plays, same offense that I'm used to," he explained. "Once I hear plays, it automatically sticks in my head. I just need to go out there and play hard and not make mistakes."
With fullback and specials teams stalwart Heath Evans now in New Orleans, Pass expects to be asked to perform a similar role to what he did in his first stint here in New England.
"Fullback, running back, special teams … wherever they need me I'm more than willing to do what they need me to do."
]()Light thinks Pats offense could shine
Left tackle Matt Light was asked after practice about the additions to the Patriots offense – including the return of Tom Brady – and the buzz they're helping generate.
Light said it's a bit difficult to assess right now because the players aren't allowed to wear full pads or hit one another. But he still senses the optimism among Patriots fans.
"We went to the charity golf tournament yesterday and a lot of the sponsors were telling us they're ampped up for the guys we have here and the guys we brought in. It's exciting as always. It's the start of a new season. The new guys, and now getting a chance to install the new offense to see what these guys can do. I think it'll be a lot of fun.
"You can't tell anything until the first time for real," Light continued. "Until we get to that point, when we actually can hit, we'll see how everything looks in real time. And that's why the preseason's so huge. I'm not sure everyone here would jump up and down for preseason games, but that's where you get your real look at what's going to happen in the regular season."
He just wants to be Wright
With no Vince Wilforkat practice due to his contract negotiations, versatile d-lineman Mike Wrightwas a popular man among reporters Tuesday. Wright has experience playing both end and nose for the Pats and credits Wilfork and other teammates on the d-line for helping the former rookie free agent make an impact for the Pats.
"I been watching all the guys in front of me – Vince, Ty [Warren], Jarvis [Green] – they've helped me develop into what I am, and everytime I go out there, I try to do what they do. Those are the guys that are doing it every down. That's what I'm trying to do."
(playing nose, different build than 75) Because Wright is taller and lighter than Wilfork, his technique as a nose tackle is subtly different than Wilforks, but different nonetheless.
"Yeah, I definitely have to use my leverage differently. He's a tree stump, so he can just sit in there and throw people around. I've got to get a little bit low and use my hands differently. But I still take a lot from Vince."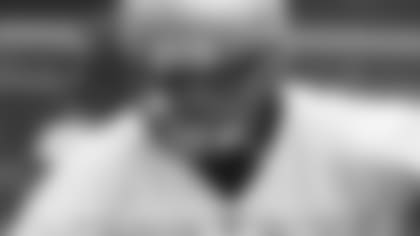 … Seventy-three players took part in Tuesday's OTA (44 offense, 29 defense), fifteen shy of the team's current roster total. In addition to Wilfork, the missing included: WRs Tyree Barnes, Shun White, and Brandon Tate; DB Brandon Meriweather; RB Sammy Morris; CB Mike Richardson; WR/DB Ray Ventrone; safety Brandon McGowan; LBs Jerod Mayo, Tyrone McKenzie, and Adalius Thomas; OL Mark LeVoir; DLs Ty Warren and Jarvis Green.
… The Pats practiced outside, despite the constant, steady rain and chilly temperatures (upper 50s). Despite a few errant passes from the QBs and slippery footing for the receivers and backs, the team ran what seemed to be a fairly crisp practice.