If you follow Patrick Chung on Instagram, you know he spends a lot of time in the kitchen. He often posts pictures of his culinary creations, and on May 11, he was in the kitchen for a cause.
Patrick hosted an event at Ocean Prime in Boston to raise money for Asperger/Autism Network (AANE). He acted as the restaurant's general manager all night, and those looking to give back opted for a pre-fixed menu, with all of the proceeds going directly AANE. 
Before greeting those who came out to support his event, Patrick donned a personalized chef's coat and headed back into the kitchen. Patrick shucked oysters, learned the art of spreading sauce in the name of presentation and seared a steak to perfection. 
"I'm in my element right now," Patrick said. "I like to cook. It's a stress reliever for me. I never knew how to cook, but I went to college, started messing my food up and eventually learned. It's fun to make a meal and people like that. You can say, 'I did that.'"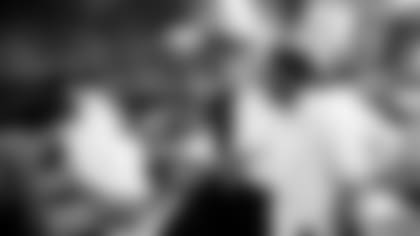 Of course, being able to experiment in a full-functioning restaurant kitchen was only part of the fun. 
Every year the Patriots Foundation honors exceptional organizations in the community, and in 2011, AANE was the recipient of the Myra Kraft Community MVP Grand Prize. AANE "works with individuals, families, and professionals to help people with Asperger Syndrome or similar autism spectrum profiles build meaningful, connected lives," according to its website. 
Though this is Patrick's first event raising money for the non-profit, he has always felt strongly about working with kids with autism. A family friend is a teacher who works closely with students with autism, and Patrick often visits her classroom. He made a connection with one student that cemented his dedication to raising awareness.
"They're geniuses. People suck and will say nasty things about other people," Patrick said. "The reason I feel so strongly about autism is because there was a kid in her class, and he just loved football. He knew everything about football, things I didn't even know. He was funny and cool, and I brought in my jersey, framed it and gave it to him."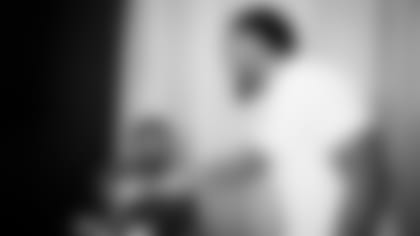 Since that day, a strong bond was formed, and AANE is happy to have Patrick as an ally.
"The CDC released a report just a few weeks ago showing an increase in the identification of children from 1 in 68 in 2016, to 1 in 59 this year. So it is no surprise that requests for information, guidance, and support keep coming and coming at about 150 inquiries per week at AANE," AANE's Director of Development, Erica Remi said in a statement. "The need for our services is more important now than ever before as we all continue to understand and embrace our neurodiverse world. Through the generosity of people like Patrick, we can ensure that our programs not only sustain but grow to meet the increasing demand."
Those who came out for a nice dinner at Ocean Prime got more than great food, too. They were able to help AANE.
"You can help people by having fun. People think if you're going to help someone you have to do things you really don't want to do," Patrick said. "People are here, eating food, having a good time and helping kids and people with autism."