TAMPA – Except for the palm trees, you might've thought you were in New England.
It was hot, humid, overcast, with a thunderstorm threatening at any moment, just as it had been for much of the past month at Patriots training camp. But this is Florida, where such weather conditions are commonplace year-round.
Though training camp is officially over, today's practice had a camp-like feel to it, not only due to the climate. Just 36 hours after finishing their second preseason game Monday night against Philadelphia, the Patriots wrapped up a full pads, joint practice session with their next preseason opponent, the Tampa Bay Buccaneers.
"We got great work today, yeah, it was really good. Had to push through some stuff but it was good," observed offensive line coach/assistant head coach Dante Scarnecchia afterward.
"It's great to be here in Tampa with Coach [Greg] Schiano and the Bucs. I think it will be a real productive couple days for us," predicted head coach Bill Belichick before their teams took the field.
"We're going to improve our football team and work on some things against a different opponent with good competition. It's a quick turnaround, but I know our guys are excited to be down here and I think we're going to get a lot out of it. So I'm looking forward to it. I have a good relationship with this organization and I think it will be mutually beneficial."
Sharing practice facilities with another team is nothing new for New England. In fact, this is the fourth time the Patriots have done so in the past three seasons. In 2010, the Patriots invited the New Orleans Saints to practice with them in Foxborough for a couple of days before they faced each other in a preseason game. The following week, the Patriots were guests of the Atlanta Falcons for similar workouts before their preseason contest.
Earlier this month, New England again welcomed New Orleans for joint practices, which both teams dubbed another triumph. Now, the Patriots are coordinating with the Bucs for the first time, but it has a familiar feel to it, not only because Belichick and Schiano, for a variety of reasons, already enjoy a close relationship. The set-up at Tampa's headquarters is also similar to that of the Falcons' facilities in Flowery Branch, Ga., including the trio of adjoining practice fields.
There's one minor inconvenience at One Buc Place that the Patriots didn't have to overcome at Flowery Branch: there are locker rooms only for the Bucs here in Tampa. The Patriots must be transported between headquarters and Raymond James Stadium, where the Bucs play their home games about a mile away (but in full view of the practice fields), to suit up, shower, and change clothes. The Falcons had an indoor practice facility adjacent to the practice fields where the Patriots could get ready for practice.
Everything else, however, met with Belichick's approval.
"I was at the old [Buccaneers] facility many times. It's the first time I've been here. It looks great," he raved. "Spent a little time in the weight room this morning and the fields look good. It's great. Good operations, good facility – they've got a good program and like I said we're excited to be here and working with Tampa. It's a great opportunity for our team and we're going to try to make the most of it."
Scarnecchia certainly sounded pleased as well. The more times they've done it, the more comfortable the Patriots seem to be with the arrangement, which he said adds to both the intensity and productivity of what would otherwise be a routine practice session.
"I think really comfortable and I think a lot of it, the onus actually goes on both teams. We're going to take care of one of another, but yet practice fast, practice hard. Clearly they did that and hopefully we did the same thing and I think both teams got a lot out of it. I know we did. We got a lot of out of it."
"[Our players are] tired of hitting each other at this point," added Scarnecchia, the long-time Patriots assistant, "so, it's nice to be able to play against somebody else that does different things and it only enhances it. I just think it's a great thing and I know our players, I don't know if they enjoy it, but I know we enjoy doing it and I think it's clearly different for them."
The benefits of practicing jointly, and under such a condensed timetable, will be advantageous for New England not just now, but later this season, too, as Belichick went on to explain.
For one, there's not as much lag time between plays when two teams are involved because both squads want to maximize the time they have to face one another. Then, there are the different looks on both sides of the ball. Teams can get accustomed to seeing the same personnel and formations when they line up against teammates, but against a new roster of foes, the practice takes on more of a game-like atmosphere.
"In all honesty, there are certain plays that we can recognize," admitted Belichick. "Our offense can recognize certain blitzes that we run, our defense can recognize certain formations and motions. They start to anticipate and play the plays… We kind of know who our go-to guys are.
"When you play against a different team, you don't recognize those things as quickly. It changes the whole dynamic of the game really, the matchups and the recognition, the anticipation, the communication. It just puts more stress on those areas. And that's the way it is in game conditions."
Game conditions without the biggest drawback – full-contact hitting and the potential for serious injuries. As Scarnecchia noted, the tempo is full-speed, except for the tackling. So, both teams get good looks and repetitions without the potentially damaging results.
New England's game Friday night will be the second of three in a 10-day stretch for the Patriots – good training, Belichick reasoned, for when his team plays on Thanksgiving later this year.
"That's what training camp is for, to suck it up. It's to be mentally tough and whatever situations you have – you're tired, you're sore, you didn't get enough sleep, you travel, whatever it is – you block that out and you focus on what you can control, which is your performance and your effort. You go out there and you work through it, as a team and individually. That's the way it's going to be during the season.
"Then you look back," concluded Belichick, "and say, 'You know what? We went through a lot tougher stretch than this in camp.' You have the confidence you can do it. I'm not really worried about that. These guys came to camp in good condition, we've had a good camp, they've worked hard. We're going to put a challenge in front of them and I expect them to meet it."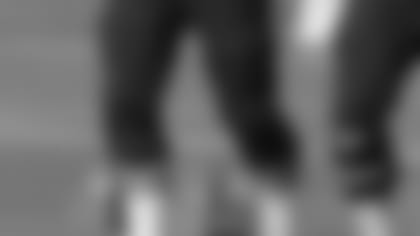 Right tackle Sebastian Vollmer and tight end Daniel Fells saw their first full-pads action of the summer. Both have been activated from the physically unable to perform (PUP) list and took part in Wednesday's joint practice with the Buccaneers.
"Feels good to get some stuff done," said Vollmer, who had been recovering from back and ankle injuries lingering from last season. The fourth-year player did some 1-on-1 drills, but no team-related activities. Vollmer would not say if he'll play Friday night against Tampa Bay.
"No idea. Obviously I'm making progress," he acknowledged. "When I'm ready I'm ready. If not, I'm not. Whatever I have to do, I do, and we'll see how it goes tomorrow."
For Fells, the free agent tight donned his Patriots uniform for the first time since joining the club this past offseason. It's unclear what was keeping him off the field, and Fells would not get specific. He did, however, admit to being anxious to get back on the field, as he had never missed any training camp practices in his previous five NFL seasons.
"It's always frustrating to be out of the game, but we've got a great training staff, and, so, they made sure to get me back in time," Fells remarked. "You want to get out there as soon as you can and help out any way that you can. Whether that's easing into it, it's up to the medical staff."
At this late stage of the preseason, the biggest question for Fells now may be, what can he contribute to the position, which is already one of the best in the league?
"Anything I can," he replied. "I came here with the intent of helping the team any way I can whether it was blocking, running routes... any way I can contribute."
Remember Tiquan Underwood?
The wide receiver with the Kid-n-Play high-top fade hairdo was a popular member of the 2011 Patriots, both on and off the field. Polite, positive, and poised, Underwood may have been understated, but the young man from Rutgers made some valuable catches for New England when they needed him most late in the season.
His attitude and approach endeared him to many in the locker room and among those who cover it professionally. Then, on the eve of Super Bowl XLVI, the Patriots released him to make room for then-defensive end Alex Silvestro, who's now playing tight end for New England.
Underwood has since hooked on again with his college coach at Rutgers, who just happens to be the boss now in Tampa Bay. By all local accounts, Underwood appears headed for a spot on the Bucs' final 53-man roster, and when asked today about the Super Bowl slight, he insisted he harbored no ill will toward Belichick and the Patriots.
"Coach handles his depth chart decisions on Saturday, the day before a game, whether it's Week 1, Week 5, the playoffs, and I just happened to be one of the latter guys on the depth chart," he maintained. "They brought up Alex from the practice squad and I got released, but it's part of the business. I understand that. Now I'm trying to put myself in a better position so that when those decisions are made I'm not one of the guys that can be released.
"[The Patriots] are a great organization," Underwood emphasized. "I'm just thankful to have played there for the time I did. I learned so much as a player and as a person. It's no secret why they're so successful. Those guys work so hard, the attention to detail and that's really helped me as a player. I've brought it down here and I'm trying to work on my craft."
For more details about today's joint practice with the Bucs in Tampa, please visit the PFW blog.