Mondays can be rough, but some Patriots started the week off right: volunteering.
Matthew Slater, David Andrews, Jordan Richards, Joe Thuney, Ted Karras, D.J. Foster and practice squad receiver Devin Lucien spent the day painting, building and laying cement in Providence, R.I. to ready the site of the new Ridge Street Park playground.
The Patriots teamed up with volunteers from the neighborhood, The Patriots Women's Association, UnitedHealthcare and KaBOOM!, a nonprofit that is dedicated to building community playgrounds, to revamp the neighborhood park. The playground itself was completed on Tuesday with Patriots cheerleaders and alumni, including Mark LeVoir, Thomas Clayton, Rick Buffington and Ilia Jarsochuk.
On Monday, the players laid the groundwork – literally.
They mixed concrete, shoveled woodchips and assembled some of the new equipment. They even channeled their inner artists to paint a 70 ft. mural on the wall outside the park, which Joe said was "very soothing." With the help of UnitedHealthcare and KaBOOM! volunteers, as well as families in the neighborhood, the group created a place for kids in the surrounding area to play.
Matthew said a playground like this one does a lot of good for families in a community.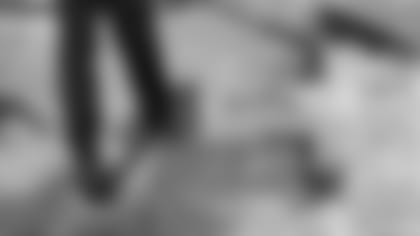 "I think they go a long way especially at a young age. It gives a nice, safe place for the kids to come and get outside, play, have fun, build friendships and stay active," Matthew said. "I think all those things are important at a young age. Hopefully some of what we did today will make a difference in one kid's life. If that's the case then it was well worth it." 
Shannon Loecher is the executive director of UnitedHealthcare's charitable platform, "Do Good. Live Well," and she said one of its missions is to get kids outside and running around. Providing the neighborhood with a space for kids to play aligns with that goal.
"We're in a neighborhood that doesn't have a good place to play anywhere within walking distance of the kids," Shannon said. "We want to be sure that everybody has a safe, happy, healthy, fun place to play." 
This is the seventh year that UnitedHealthcare has partnered with the Patriots and KaBOOM! to build playgrounds in the community. While days like this have become the weekly norm for Matthew, David, and Jordan, the rookies are just starting to get used to the prevalence of volunteering within the organization.
Matthew said they have been eager to give back, and he's happy to spend the day showing them the way.
"It's great to get a chance to be with these guys outside of football and continue to build our relationship, our friendship," Matthew said. "It means a lot to me and I'm thankful to be out here with these young guys spending time with them."
Joe was one of four rookies that jumped at the offer to volunteer on Monday. They wasted no time immersing themselves in the event with enthusiasm, playing catch with kids and testing out the new playground equipment.
These interactions, he said, show children that though they may be professional football players, they are just people who want to give back and have fun while they're doing it.
"A lot of these kids look up to NFL players. We just try to set a good example and give back to the community, that you're never too big to do something like this," he said.
For more pictures from the Patriots day in Providence, take a look at the photo gallery below. 
FUN GALLERY
Patriots players, alumni and cheerleaders teammed up with United Health Care, KaBoom! and community volunteers to build a playground at Ridge St. Park in Providence on Monday and Tuesday. The group also painted a 70-foot wide murual.