Who knew superhero capes come in extra extra tall?
Well, apparently they do. Patriots players, without hesitation, put on the Captain America, Batman and Flash costumes to join the Patriots Foundation's inaugural Children's Halloween Party on Monday. More than 30 kids and their families were invited for a day of Halloween activities, and the kids, who are patients at Dana Farber and Boston Children's or attend Camp Sunshine, had a chance to dress up and have fun alongside their favorite Patriots players.
The pack of superheroes included Devin McCourty, Duron Harmon, Rex Burkhead, Matthew Slater, Deatrich Wise, Johnson Bademosi, Ted Karras, Lawrence Guy, Cameron Fleming, Derek Rivers and Geneo Grissom. Nate Solder dressed as a wizard, and his son Hudson also attended as Waldo.
Rob Gronkowski, instead of taking inspiration from a comic book,  got into the spooky spirit as Gronkenstein.
"Usually you know can never find an outfit my size but the Patriots organization came through and they did a great job. I'm glad I finally have an outfit that fits me," Gronk said.
The guys let loose, decorated cookies and pumpkins, played games and colored with the kids, and while they were there to make the kids' days even better, they ended up getting to act like kids themselves.
"You wear some costumes and act like superheroes. It's pretty awesome," Rex said with a smile.
"Actually I was laughing while I was putting this on because I don't know if this was for the kids or for us. We were running around like kids. It was awesome," Nate said.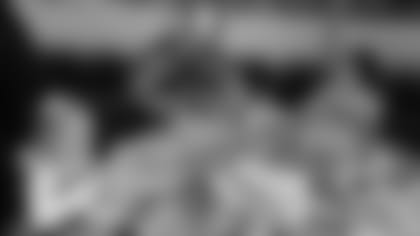 Though the Patriots were having a blast, they knew these families needed a day to relax and enjoy themselves, as they are fighting battles that many cannot imagine. No one knows this better than Nate. His son, who just turned 2-years-old this summer, has bilateral kidney tumors which were discovered when he was just three months old.
"Well, having kids has put life into perspective in general, but now Hudson going through all this stuff, I'm just glad we get to have fun tonight. This is such a a special night," Nate said. "All of these kids are here, all going through really difficult circumstances. But we all go through it together and we get to have some fun and be kids tonight."
With the Patriots in full-fledged costumes, they may not be easy to recognize, but for the night, they were superheroes sharing laughs with a special group of kids.
For more photos from the Halloween party, check out the gallery below.
FULL GALLERY
The Patriots hosted a Halloween night for pediatric cancer patients and their families on Monday, Oct. 30, 2017 at Gillette Stadium. The children got to meet and spend time with superheroes Duron Harmon, Devin McCourty, Matthew Slater, Ted Karras, Cameron Fleming, Deatrich Wise, Nate Solder, Rex Burkhead, Derek Rivers, Lawrence Guy, Johnson Bademosi, Geneo Grissom and Rob Gronkowski, a.k.a. Gronkenstein.